CELEBRATE DOOR BUDDY'S 7TH BIRTHDAY & WIN!
We can't believe we're celebrating seven years of Door Buddy, fur-ends! As they say, time flies when you're having fun, and we've absolutely loved helping many pawsome furmilies with our adjustable door strap. So, to mark Door Buddy's seventh year and to thank our ameowzing customers, we're hosting a meow-vellous giveaway. How would you like to win a Litter-Robot 4? 
That's right! This state-of-the-art automatic litter box could be yours, thanks to Door Buddy. Door Buddy's door latch keeps doggos and little ones out of the cat poop, and Litter-Robot ensures you don't have to scoop poop again. What could be better?
Now that you're getting excited let's get into our #doorbuddyturns7 giveaway's details. In one simple click, you could be the one lucky winner that takes home a Litter-Robot 4. 
OUR 7TH BIRTHDAY GIVEAWAY PRIZES
We might only be giving away one Litter-Robot litter box worth $649, but everyone who enters our birthday giveaway will be a winner! When you enter your email address to put yourself in the running, you'll automatically receive a 30% off coupon code for your next Door Buddy door latch purchase. This is our BIGGEST discount ever (bigger than Black Friday, even), and you've got until the end of November 2022 to use it. 
Whether you're using an automatic litter tray or not, our adjustable door latch will help you create the purrrfect dog-proof cat feeding station and litter box. 
What's to Love about the Litter-Robot 4?
When it comes to the automatic litter box market, Litter-Robot is as good as it gets! If you'd like never to scoop litter again, this is the automatic litter box for you. 
Elegantly designed to accommodate cats of all shapes and sizes, Litter-Robot 4 is WiFi enabled and boasts advanced litter-sifting technology. It also helps to reduce litter tracking and odors and makes it paws-ible to monitor waste and litter levels. 
Don't just take our word for it; read their furtastic reviews here.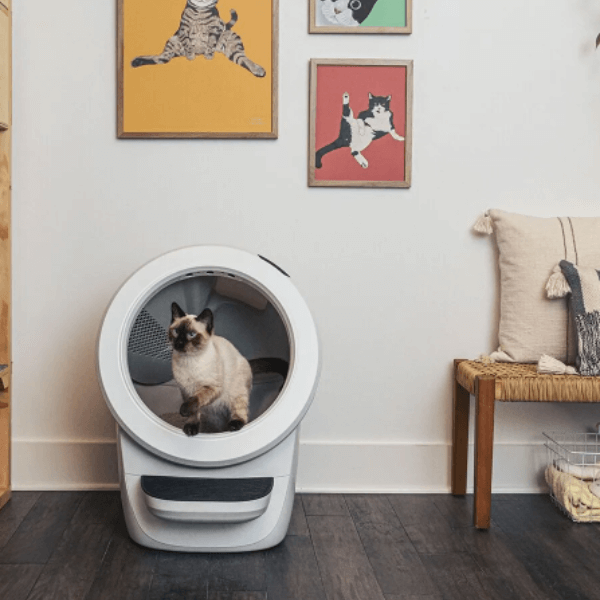 Door Buddy + Litter-Robot 4 = Cat Pawrents' Ultimate Combo
Now that you know a little more about the Litter-Robot, you can see why you need it in your home. All kitties want somewhere they can nap and do their business in peace and a dog-proof cat feeding station. With such an excellent litter tray, you definitely won't want your doggos anywhere near it. 
So, here's where Door Buddy comes in handy. Our adjustable door latch will keep your dog out of the cat's space and away from your Litter-Robot litter box and help you create a dog-proof cat feeding station. 
Did we mention that our door latch is also great for babyproofing when you need door locks for kids' safety? If it's your toddler you have to worry about keeping away from the cat's litter tray or food, or any other dangerous items, you no longer have to struggle with baby gates on your interior doors.
One of the reasons we have 35,000 5-star reviews is that our customers love how our door strap for pets adjusts to their needs. Door Buddy's adjustable strap creates convenient door locks for kids' safety that will also work on your bi-fold, double, and sliding doors. Plus, it's customizable to suit your cat's width.
Don't worry about your dog or little one getting into the cat litter again!
Right, let's get down to business. By now, you're probably itching to enter our Door Buddy birthday giveaway, and it's so easy to do.
All you have to do is click below, enter your email address during October 2022, and you're in the race! You'll also automatically receive your 30% off coupon code via email - make sure to check your spam folders.  
Our winner will be chosen randomly and announced on November 1, 2022. 
So, what are you waiting for? A scoop-free, dog-proof cat feeding station and litter box life awaits. 
We'd like to say a huge thank you to all our customers who have been part of our journey so far. We can't wait for what the next seven years hold for our door latch!
CHECK OUT OUR MOST POPULAR CONTENT