15 MINUTE GAMES TO PLAY WITH DOGS
Did you know that our pawsome pooches need at least 1-2 hours of our attention per day? You're either reading that and thinking, "oh, is that it?" or "sheesh! I need to get some doggo time down!". We've been both so we know how you're feeling! 
Un-fur-tunately, life does tend to get in the way of things. Although we all would love to spend our days walking or playing with dogs, there just aren't enough hours in the day! Sometimes, 15 minutes is all we have for dog games or other activities.  
Being a hooman is tough. The responsibilities, the adulting, and the making sure everyone and everything is looked after can be time-consuming. With this in mind, accomplishing 1-2 hours of solid doggo time can seem daunting. Well, let us be the first to say sometimes good enough is good enough! Our doggos won't love us any less if we don't dedicate hours to their needs (however, we're sure they wouldn't protest if we did). 
In just 15 minutes, your pooch can go from feeling a bit like an outsider to energized, and full of love! In this article, we will give you some fur-tastic games to play with dogs as well as the benefits that come from playing with dogs. By the end of it, both you and your doggo will be itching to swap out the trusty game of fetch for something new. 
WHY DOG GAMES ARE IMPORTANT: 
Dogs are pack animals, so there's nothing like the love and attention they get from their pack leaders! It's not just good for their souls, but good for their health too. Playing with dogs can have plenty of mental, emotional, and physical benefits for both you and your pooch. It's a vital part of fur-parenting.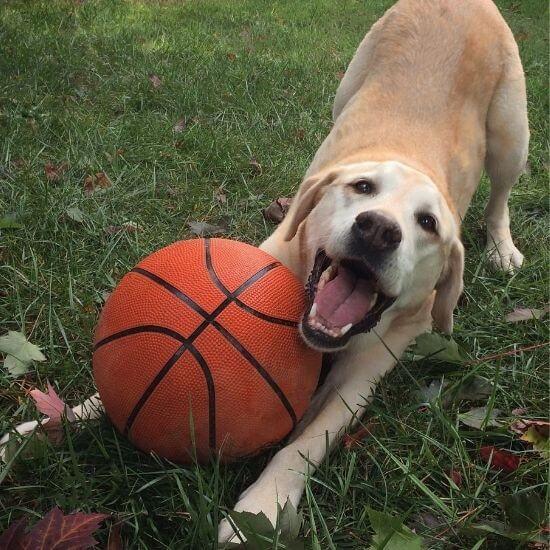 The benefits of dog games mainly revolve around four aspects: physical health, mental health, social skills, and bonding. Active play keeps your dog in tip-top shape with their heart getting enough exercise for a long and happy life.
Games to play with dogs can also stimulate their brains to make sure they stay focused. Social skills and bonding are supported by strengthening your relationship while teaching your dog boundaries in a safe environment. 
Who would have thought?! 
As you can see, learning how to play with dogs is a must for all hoomans. Above all else, spending a few minutes with your best pal just shows that you care. Whether it's a half-hearted throw of a stick or a full-on wrestle, your dog will love the connection a good game brings.
If you're out to work the whole day or not finding the time to dedicate to your pooch, taking 15 minutes out of your day is essential. By learning how to play with dogs in 15 minutes or less, you can help fight boredom while supporting your dog's health. Without further ado, here are the 15 minute games to play with dogs that we promised. 
Hide-and-Seek
Hide-and-seek is a fun activity to get your dog's snooping skills in top shape. This game allows them to exercise their sense of smell while engaging with their surroundings. When you get creative, you can fit in tons of places to explore and scents to enjoy in a few minutes. 
Beginning the game will start with your stepping behind a corner. Encourage your dog to discover your hiding spot by telling them "find me". When they sniff you out, praise them (think: clever dog! Who's so smart? Who's a good dog?). Once they feel pretty proud of themselves, start the game over by telling them to stay while you leave and find a new spot. 
If your dog gets a little lost, give them some cues to help guide them. Clapping, making noises with your mouth, or even leaving treats can help with this. 
Find the Toy
If your doggo liked hide-and-seek, then they'll love a game of find the toy! This is a great game to play to exercise your dog's brain and shake away the boredom. 
Like hide-and-seek, this one will have your dog searching your home, but instead of you as the target, their toy will be the focus. Keep in mind, this game can tire your dog out pretty quickly so 15 minutes will probably be more than enough fun time. 
To begin a round of find the toy, place the toy in a visible spot like the couch or under a table. Cue your dog's exploration time with the phrase "find it"; after a few rounds, they should get the hang of it but you may need to help them. 
It's essential to keep in mind the size of the toy here. The bigger the toy, the easier it will be for your pooch to find it. 
Agility Course
If you have the time, and/or space, then you will love setting up an agility course for your pooch. It works wonders for promoting mental stimulation and you can try to get a few new tricks in too. 
There are plenty of agility courses available to purchase, but there are a few DIY options too. Whatever you choose, your course should include opportunities for jumping, going through tunnels, working with weaving poles, and teeters. 
Although agility courses can offer plenty of fun, don't forget to keep your dog's physical ability in mind. If your dog is well into their senior years, you may want to skip this one as it can be taxing on their bodies. 
HOW TO PLAY WITH DOGS - EXTRA TIPS: 
Now that you have the grounds for a fur-bulous playtime, you may want to take it to the next level with these tips. These tips will help ensure that your dog stays safe while enforcing healthy boundaries. 
Avoid games that encourage aggressive behavior
Always stay in control by showing your dog that you're the pack leader
Remember to use your commands such as sit or down to keep control
Don't use your body or any clothes as part of the game
End the game when your dog is still eager to play 
Stay patient
Remember, this is supposed to be fun for you and your dog! Following these tips will make sure that your dog is putting the "paw" in pawsome. 
Learning how to play with dogs, and having a good number of games to play with dogs in your repertoire can be extremely handy. Your dog will love the bonding time, and they will feel great after stretching their physical and mental muscles. Happy playing! 
CHECK OUT OUR MOST POPULAR CONTENT