IS YOUR CHILD READY FOR THEIR FIRST PET?
There will come a time in all parents' lives where their child is ready to look at first pets for kids. Who wouldn't want a furry friend to cuddle up to and dote on? The problem is that not all kids are ready to become first time pet owners. 
Owning a pet is a huge responsibility that shouldn't be taken lightly. From an easy hamster to a more hands-on kitty, no matter which first pets for kids you choose, they require full-on love and attention. For this reason, you must ask yourself if your child is truly ready for their first pet. And, let's be honest, are you prepared to pick up the slack? 
Bringing a new pet into the family doesn't just fall on one person. Chances are, you will all have turns walking, feeding, and cuddling the little guy or gal. In this article, we'll look at a few questions that all future first time pet owners have to ask themselves. By the end of it, you should have a clear picture of if it's time for a furry friend or if perhaps it's best to wait a little longer.
WHAT TO ASK YOURSELF BEFORE COMMITTING
TO FIRST TIME PETS FOR KIDS:



Usually, when your child reaches a certain age, it's almost a rite of passage to get their first pet. However, they're not always ready. Ask yourself these questions to see if your child and your home are up to stepping up their game and into the world of fur-parenthood. 
How is Your Child Around Pets?
This is an obvious one, but incredibly necessary too! Assessing how comfortable and happy your child is with pets is a great indicator of if they're ready to become pet owners. There is also a good chance that your child might not even want a pet. 
If your child is uneasy around furry friends, full-on pet exposure might not be the best thing to do right now. However, that doesn't mean that they can't be eased into it. There are a few things you can to help them feel more comfortable and fur-miliar with animals. Supervised exposure is key - the more that they're around animals, the better they will become with the idea.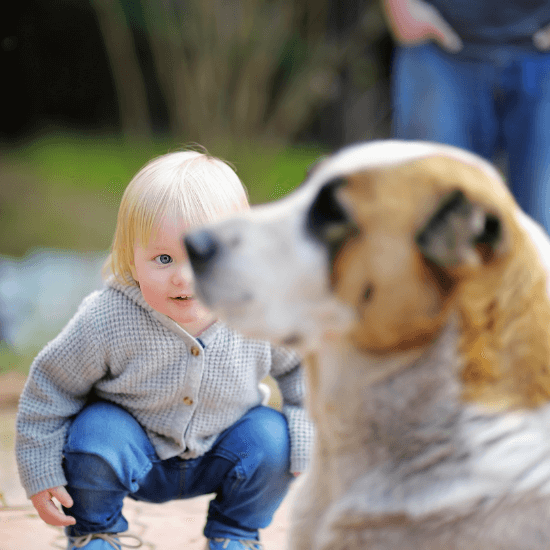 Does Your Child Understand the Word "Gentle"?
Let's be real - the word "gentle" isn't exactly often associated with kids. Our darling children are firecrackers and full of energy. This may be a little overwhelming for our smaller, furrier kids. Especially if they decide to take out their frustration or excitement on their pet! 
Any tail pulling or eye-poking is danger waiting to happen, so it's essential that your little one understands what it means to be gentle. If not, a huge catastrophe could erupt at any moment! Your child should be able to affectionately stroke their pet without any worries. If not, perhaps a pet fish would be more ideal.
WHAT ARE THE SIGNS OF AGING IN YOUR PETS?
Is Your Home Pet-Friendly?
We all know about baby proofing, but how safe is your home for pets? If you're looking to adopt first-time pets for kids that are along the line of cats and dogs, then you seriously need to look at your housing situation. Small spaces may create frustration for both fur-parents and pets.
Keep in mind that there's often an introductory period that needs to be nurtured when it comes to children being around animals. This is especially true for cats and older dogs. Your child may be very eager to welcome their new pet, but it can be extremely overwhelming for the pet. This is why having a dedicated room for your pet is key. 
What About Allergies? 
If you haven't had your child tested for allergies, now is as good of a time as any! So often we see people give up their purrrfect cat or pawsome pooch because they didn't know their child was allergic. If allergies are a problem, make sure to ask around and see which pets work for specific allergies. Your doctor and/or vet would be a good place to start. 
Has Your Child Stopped Putting Items in Their Mouth? 
We're going to level with you; no parent should find their tot in the litter box mid-tootsie roll! Trust us, it's not for the faint-hearted, and the mess is… well, let's leave it at that. 
If your child does have an affinity for gobbing at items around the home, perhaps now is not the time to become first-time pet owners. Usually, around the age of 2, the curiosity tends to decrease, and the items-to-mouth ratio drops.
Are You and Your Furm-ily Ready for the Responsibility?
We probably don't need to say this, but it's essential; pets take up a lot of time and energy. In those early weeks, you will be dealing with introducing your pet to your home, toilet training, behavior issues, and getting used to your new family dynamic. 
Depending on your child's age, they might not be able to handle this all by themselves. For this reason, you have to consider how much time you have available to dedicate to your pet. Is someone always going to be home? If not, who will look after the pet when you're not there? 
This brings us to the next point. Are your finances ready to take on another burden? From day-to-day costs to expensive trips to the vet, you have to be ready to take on this responsibility. After all, you can't expect your 5-year-old to fork up the hundreds of dollars that come with buying pet food, vaccinations, and routine vet check-ups.
As you can see, deciding on first pets for kids isn't a cut-and-dried situation. There are plenty of factors to take into consideration that will ultimately help you decide if your child is ready for their first pet. Remember, goldfish make for wonderful first time pets for kids - they're low maintenance… and easily replaceable.
CHECK OUT OUR MOST POPULAR CONTENT