The howlidays are the most wonderful time of the year! Whether you're waiting for Santa paws, or just enjoying having the fur-mily around for thanksgiving, it really is a magical time. However, it's also the time where cat-astrophes are most likely to happen!
This is why it's important to know your holiday safety for pets. From what cats can't eat and what dogs can't eat to even the type of wrapping paper you should avoid, these are all things you need to consider for holiday pet safety. Don't worry! Disaster isn't waiting to happen; it's all about being prepared and ensuring your pooch or kitty will stay pawsome through the festive season. 
So, what's there to know about holiday pet safety? Let's dig in!
OUR BEST HOLIDAY PET SAFETY TIPS
Trust us; you'd be surprised at all of the hazards that lurk in the corners while we haul out the Christmas trees. If you thought your classic baby proofing solutions were enough, you might want to turn things up a notch after reading this holiday pet safety checklist.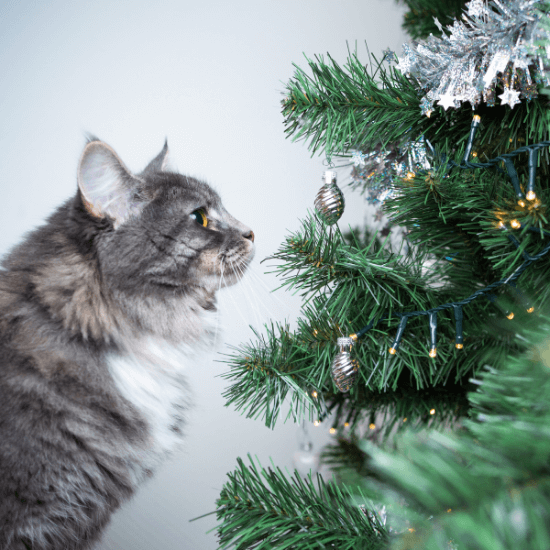 We know, it's November, how could we pawsibly be talking about Christmas trees already? Well, 2020 has been roof year, and we've got to get the festive spirit going somehow! 
Regardless of if you follow a post-thanksgiving timeline or if your tree is standing proud, you've got to keep in mind how pet-friendly it is. Any loose pieces of tinsel, chewable ornaments, and even the strings of light need to be protected and kept out of your pet's reach.
The last thing you'd want is your cat choking on the irresistible piece of ribbon dangling in front of them or your doggo getting a shock from chewing the electrical cord.
Stay Clear of Dangerous Plants and Flowers
Does anything say "holiday season" like a poinsettia? That red plant is basically THE flower for the festive season. Okay, we'll get to the poinsettia… see what we did there? 
Although there's nothing quite like a festive bouquet, there can be some dangers to consider. Poinsettias, for example, can cause skin irritation and stomach ache. These aren't the only plants that you should turn your attention to.
Others include:
Holly (Ilex)
Azalea (Rhododendron)
Yew (Taxus)
Boxwood (Buxus)
Amaryllis
Cyclamen
Kalanchoe
Peace lily (Spathiphyllum)
Mistletoe
Chrysanthemum
Gardenia
(Via University of Noth Hampshire Extension) 
Avoid Glittery Tinsel and Ribbon
Tinsel is a massive temptation for our furry friends and a big holiday pet safety tip! It's basically dangling a shiny new toy in front of their faces, yet we expect them to show some self-control. Would you be able to control yourself if someone did the same to you? Probably not. 
Ingesting tinsel or ribbon can lead to significant stomach problems. If your cat or dog swallows these festive items, they may even need surgical intervention. Of course, some glitter can cause internal bleeding too due to its sharpness.
In short, go the green route. Use recyclable brown paper wrapping paper and foraged pinecones to spruce up your gifts this year. 
Pack Small Toys and Batteries Away
Any small toy can immediately be labeled as a choking hazard. Knowing kids, the chances are that these toys will also have a bit of leftover food or a sweet stickiness to them that will make them hard to resist! For your pets' safety, rather have the kids play in a separate room or take extra caution in making sure their toys are packed away. 
Then there are the batteries. Should you have any of them lying around or you have a few toys that are battery powered, keep them away from your pets. Swallowing batteries can be detrimental to anyone, especially your furbabies. 
Resist Cute Outfits
This one's a toughy, we know. Is there anything cuter than a cat or doggo dressed up as Santa or a little elf? When it comes to holiday safety for pets, resisting cute outfits is a big one. 
Here's the thing: overheating can be a major paw-blem with these outfits. Added jerseys, jackets, and costumes can cause your pet's temperature to skyrocket, and they may even become dehydrated. It's also important to note that they are a choking hazard too. 
WHAT CATS CAN'T EAT & WHAT DOGS CAN'T EAT
OVER THE HOWLIDAYS AND LONGER!
Understanding what cats can't eat and what dogs can't eat while we feast away can be a big concern for paw-rents. You may think that because you're eating it, it must be safe for your pets too! Un-fur-tunately, not all foods are created equal. 
This list of foods will help you navigate the festive season, but they should also be kept in mind throughout the year too.
So there you have it, your holiday safety for pets is under wraps! We hope you have a safe, warm, and furry pawsome howliday. And remember, Santa Paws will be watching. 
CHECK OUT OUR MOST POPULAR CONTENT