OUR LIST OF BEST HOMEMADE CAT TREATS

If you're a cat owner, it's easy to assume that you've already succumbed to their purrrfect ways. Some call it overindulging, we call it sharing the love with our feline friends!
Whatever you call it, there's no denying that seeing our furbabies happy with spoils makes our hearts melt. One way that we love to spoil our pets is by making them homemade cat treats! 
The internet is full of easy cat treat recipes that we're sure your kitty will love. The only problem is finding out which DIY cat food recipe you can trust and which homemade cat food ideas you must avoid. Instead of scrolling through pages of blogs, we've done the hard work for you! 
In this article, you will find everything from frozen delights, delicious gravy to bite-sized snacks. What's even better is that these cat treat recipes are easy to make and can be a pawsome way to show your cat that you care.
OUR BEST HOMEMADE CAT TREATS:
Picky cat owners rejoice! Below you will find our list of DIY cat food ideas that we know your kitty will love. 
Cat Gravy Recipe
Just like hooman babies, covering any unlikeable food in gravy is a parenting hack as old as time! If your cat is a little bit on the picky side, we highly recommend whipping up this yummy topping for their usual meals. 
What You'll Need:
¼ cup of chicken liver
½ cup of a mixture of chicken gizzard and heart
2 cups of water 
2 tablespoons of all-purpose flour
¼ teaspoon of salt
How to Make Cat Gravy:
The first thing you'll want to do is to get the chicken parts boiling in water. It's best to keep this on the boil until the parts become tender. Once ready, remove the chicken and chop the pieces up. Make sure to store the stock aside- this will come in handy in the next section! 
Using your chicken stock, take a sauce pan and stir the stock in with the flour, meat, and salt. Keep this cooking over low heat while stirring from time to time until the gravy is at a thick consistency. 
Depending on your cat's or the chef's preference, blend your gravy into a puree. The benefit of a puree is that you can freeze into ice cubes and preserve it over an extended time. However, a chunkier gravy can be more up your cat's alley and requires fewer dishes! 
Source: goingevergreen.com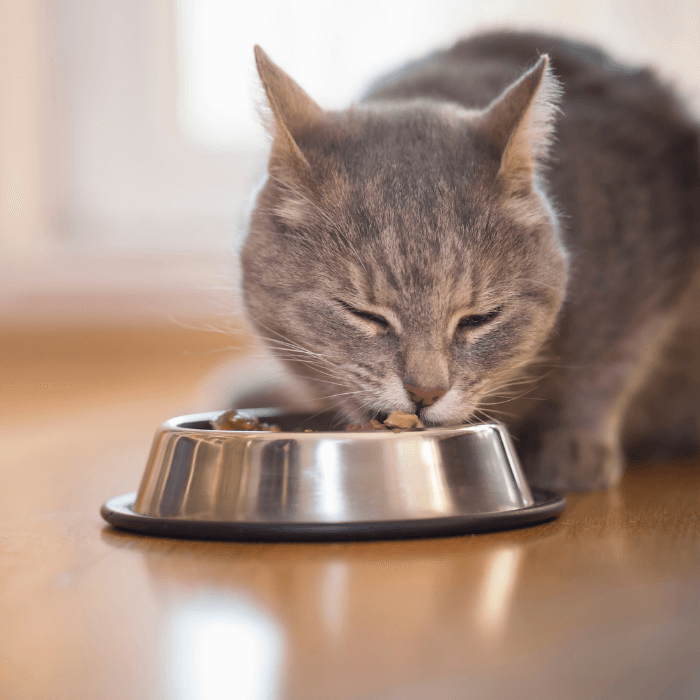 Cooling Catsicle Recipe
WIth the added fur, cats tend to get warmer a lot quicker than us hoomans do. On those scorching hot summer days, your kitty will thank you for a delicious cooling treat. 
What You'll Need: 
1 can of wet cat food
The same can's worth of goat's milk
Small cat treats 
Ice cube trays
How to Make Catsicles:

Warning: this might not be a pretty process, but trust us, your cat will love it! 
The first step in making your catsicles is to decant the wet cat food and fill the empty can with goat's milk. Combine these two ingredients and mix until well-blended. The look of this might not be attractive, but you're almost done!
Grab your ice cube trays and spray them with cooking spray for easy removal once ready. Next, spoon in your mixture and add your cat treat into each cube. When they're ready, pop this into the freezer et voila!
Source: homesalive.ca
Catnip Cat Treats Recipe
Is it just us or is catnip everywhere these days? If your cat likes to indulge in the occasional nip or two, this homemade cat food recipe is a must! 
What You'll Need: 
5 oz tuna in water drained
1 egg
½ cup of flour
¼ cup of wheat germ
½ cup of cornmeal
¼ cup of wheat flour
¼ cup of water
½ tablespoon of catnip
How to Make Catnip Cat Treats:
Before getting started, get your oven preheated to 350 degrees. You'll want to do this first as your oven can take the longest to warm up while you get on with the rest of the homemade cat treats recipe. While you're at it, make sure to line a cookie sheet with parchment paper so that you're ready once the preparation is done. 
Now it's time for the good stuff. Combine all the ingredients into a large bowl and form into a dough. It would be best if you aimed for a sticky consistency. 
When you're happy with your dough, place it onto a floured surface, and get ready to roll up those sleeves! Pull off small pieces of the dough and roll them into small balls. Lastly, push the dough down, so the treat is the size of a nickel, and place on parchment paper. You'll want to bake these treats for 20 minutes and only serve once completely cooled. 
Source: spcaouest.ca
*Disclaimer, if you have any hesitations about using catnip, please consult your vet.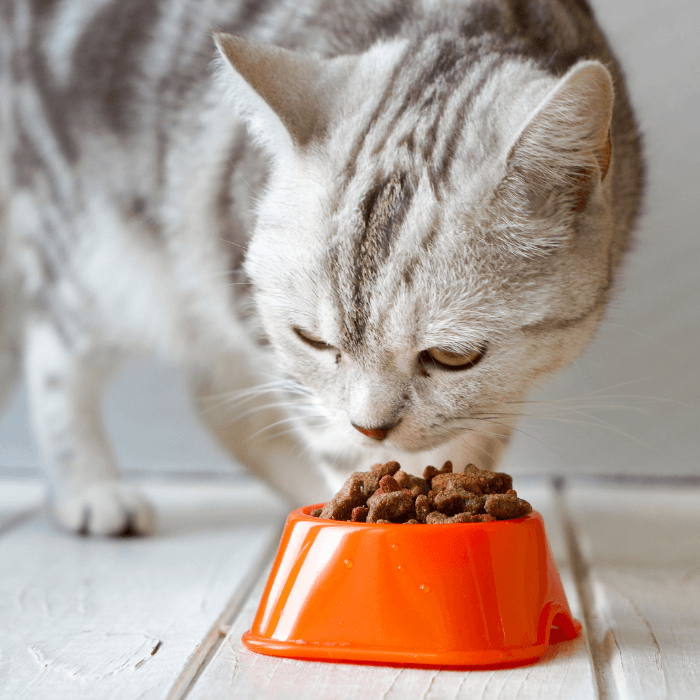 Easy-Peasy 3-Ingredient DIY Cat Food

We get it, the thought of making your own cat food over the convenience of buying it from the store can seem redundant. However, not only is it a healthy alternative, but it isn't as complicated as you'd think! This 3-ingredient homemade cat treats idea is the perfect example of why. 
What You'll Need: 
10 oz canned salmon undrained
1 egg beaten
2 cups of whole wheat flour
How to Make 3-Ingredient Cat Treats:
Note: if you really want to step up your Pinterest game, we highly recommend sourcing a cookie cutter to reflect your cat's personality. Your cat won't notice, but your Instagram feed will love it! 
First thing's first, switch your oven up to 350 degrees and prepare your parchment-lined baking sheet. 
As for the cooking section, pulse together your canned, undrained salmon in a processor. Don't worry if you don't have a processor, you can chop this as finely as possible too. When this has gotten to a paste-like consistency, add it to your egg and flour and mix together. You're aiming for a tacky dough feel - if it's too dry, add up to ⅓ cups of water, and if it's too wet, add a bit more flour. 
Next, take your dough and roll it out onto a floured surface. Once rolled into a ¼ inch thickness, you can start shaping away with your cookie cutter. When you're ready, bake these treats for 20 minutes or until they're slightly browned and crunchy. Make sure to cool completely before serving! 
Besides the convenience, we love that these treats can be stored for up to 2 weeks in an air-tight container too! 
Source: thecookierookie.com
As we said, these homemade cat treats will have your kitty purring for more in no time! Next up, keeping the doggo away from getting into your feline friend's stash.
CHECK OUT OUR MOST POPULAR CONTENT