PETS AND BABIES: FACT OR FICTION?



Bringing a new life into the world is an incredible, life-changing, and slightly nerve-wracking experience. For us parents, our whole lives instantly change! For our pets, believe it or not, theirs will too. 
Considering all the safety precautions and introductions, it's understandable that you may feel a little hesitant about pets meeting babies for first time. It's a momentous occasion, and of course, you want your two loves to get on! Here's the secret: starting with how to introduce pets to babies can be a game-changer. 
When you understand how to introduce pets to babies, you lay down the groundwork for a furbulous fur-endship. So, when it comes to pets and babies - can they be pawsome fursiblings, or are you setting yourself up for a cat-astrophe? Let's dig in!
WHAT TO DO BEFORE PETS MEETING BABIES FOR FIRST TIME: 
Whether you're in that fun nesting period or your babe is already firmly cemented in your lives, we recommend going through a few steps before getting your pets and babies together. By ticking these off of your to-do list, you will take off a massive load when you're ready for introductions.
Do a Vet Checkup
For most parents, their first worry about introducing their fur-babies and hooman babies is potential illnesses. In those newborn days, your baby is taking in all the new bacteria and environments surrounding them, so it's important that the house stays healthy.
Similarly, as they grow, so do the number of things they can fit into the mouth! We're talking dog food, the cat's litter box pebbles, and even chewed up pet toys. In other words, there's a lot of room for something to go wrong. 
Taking your pet to the vet will help you avoid any illnesses by doing a thorough check-up. Ask them to check for worms, fleas, or any other red flags that should be taken care of ASAP. Don't forget to trim their nails too!
Make a Plan
As the saying goes, "failing to plan is planning to fail," and the same goes for learning how to introduce pets to babies. Take a moment to sit down and analyze your game plan.
How will you keep your pet active while you're tending to your new baby? Will they need extra walks in the day? Who will be in charge of feeding them? Trust us, as parents ourselves, we know how incredibly easy for something as simple as feeding your pet to fall through the cracks. Having this plan is a great safety net! 
Address Behavioral Issues
Do you have an overprotective doggo or a jealous cat? These are some traits that you may want to look at before starting any introductions. Consulting a professional can be extremely helpful as they will provide you with strategies that may comfort your pet in times of crisis. 
Pet & Baby Proof Now
We'll level with you. Parenting can be challenging, especially in those starter months! If you can, preparing for pet and baby proofing in advance can be extremely helpful. Your future self will thank you when your baby starts crawling and tries to get into the litter box or dog food. 
In addition to this, it's imperative that when you start introducing your pets and babies, that your pets have a safe space. Your pets may get overwhelmed with their fursibling tugging at their tails or the loud noises coming their way. Setting up a room free from mini hoomans will be a saving grace and it will help them keep their cool.
HOW TO INTRODUCE PETS TO BABIES
With the admin out of the way, let's get into the juicy stuff! After all, aren't we all here to learn how our pets and babies can best get along? Here are our best tips for pets meeting babies for first time.
Go Slow
The more pressure you put on the situation, the greater disaster it will be. Both pets and babies feed off our emotions and energy. If you're feeling stressed, the chances are that they will mirror this too. This is why we always recommend going slow with your introductions. 
Don't rush any meetings; if your baby is having a bad day, try again tomorrow. Cat is a  little temperamental? No problem, tomorrow is a new day! Fur-endships aren't built in a day and this will take some time. 
Start By Introducing Smells
The most effective way to get your pets comfortable around your babe is by introducing smells early. If your little one sleeps with a blanket, take this home first before the baby so that your pet can get furmiliar with it.
By the time your baby is home, your pet may already feel comfortable with their new roommate as they recognize the smell. You can also try this by playing your baby's lotions around the home for your pet to start smelling their scent.
Set the Scene with Sounds
This one works both ways. If you're bringing home a baby to your pets, spend some time surrounding them with crying sounds. With a newborn around, this is bound to be your new normal. Similarly, if you're bringing your pet home to your baby, explain to your baby about the different sounds the pet will make. This makes for a fantastic learning activity too!
Make Safety Your Number 1
Keeping pets and babies safe should be your main priority. Accidents happen, and that's okay! But, there are a few precautions we can take that ensure a smooth introduction. 
Remember that pet and baby proofing we mentioned before? This is where it comes in! Instead of your cat or dog reacting to your baby in a flurry, they can quickly slink off to their safe space without the worry of your baby following. This creates a very necessary boundary. 
Baby and pet proofing can also be used during those first few days. Introducing your pets and babies can be achieved if you start by meeting through cracked doors. Your pet can sniff your baby while being safely secure behind the door. 
Psst… Door Buddy is purrrfect for this!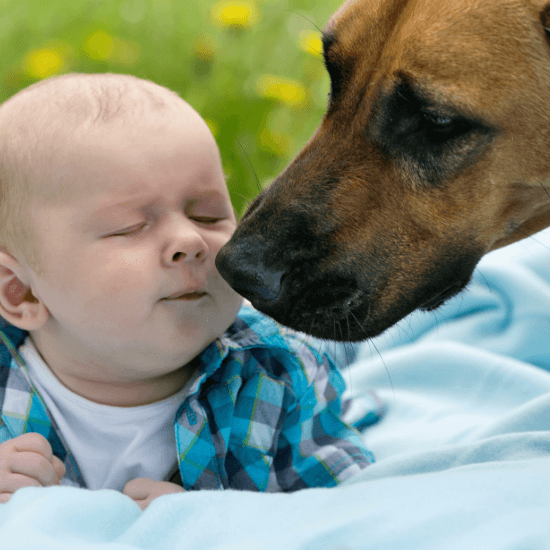 One other tip you can try is keeping your pet on a lead. If they jolt or get too excited, the lead offers an extra level of protection and control. 
Pets and babies meeting for first time can be scary! We get it; we've been there. However, we survived to tell the tale, and you will too. The moment that you see your baby cuddling up to your furbaby will make you realize going through the effort of how to introducing pets to babies was totally worth it. 
CHECK OUT OUR MOST POPULAR CONTENT