WHAT TO DO WHEN PET PLAY ESCALATES TO A FIGHT
Are you worried about cats and dogs fighting? Or maybe you have a doggo that just doesn't know when playtime ends and scary time starts? The facts are that no one wants their cat and dog to hate each other. However, pets fighting each other can be common in some homes, especially when it comes to playing. 
The moment you see your two purrrfect pets turning from friends to foes, your first reaction may be to panic. We get it; it's super scary when these things happen! Un-fur-tunately, this isn't the best tactic, and you could be adding more fuel to the fire based on your initial emotions. Luckily, we're here to save the day! 
When it comes to cats and dogs fighting, there are a few things you need to know to keep the peace. If your pets are fighting each other, then best you start taking notes! We will dive into our best ways to de-escalate a fight when pet play gets a bit too intense.
DO MY CAT AND DOG HATE EACH OTHER?
Before getting into the juicy details, let's answer that question that has crossed many of our fur-parent minds. If you've considered the potential that your cat and dog hate each other, you're not alone. There's nothing we want more than to see our pooch and kitty get along! 
Thankfully, the chances are that there's no hate between the two. We're not saying it's a complete love affair, but you don't have to worry about hate being the cause of pets fighting each other. 
In most circumstances, pet play escalating to a fight is caused by over-excitement mixed with nervousness and a lack of boundaries. Then there's also the lack of communication to consider. Cats and dogs don't exactly speak the same language, so it's common to see a few wires getting crossed.
WHAT ARE THE WARNING SIGNS FOR CATS AND DOGS FIGHTING? 
The first step in preventing cats and dogs fighting is to look for the warning signs. These signs will alert you to act quickly before a cat-astrophe occurs. No one wants a dramatic outburst now, do they? 
Here's what you need to look out for: 
Your cat hissing aggressively 
Both bodies will become puffed out
Your dog snarling
Low growls from your dog
Flattened cat ears
These are just a few of the signs to consider. If you'd like a more detailed lowdown of cats and dogs fighting, make sure to check out our article here.
HOW TO KEEP EVERYONE SAFE DURING CAT AND DOG FIGHTS:
It goes without saying, but the best way to stop any pet fights from happening during playtime is to make sure they don't happen in the first place. While we all do our best to make our pets our top priority, it's not always paw-sible to be on mom or dad duty 24/7. So, if your kitty and doggo find themselves in a hissy fit after their time playing has gone awry, here's what you need to do.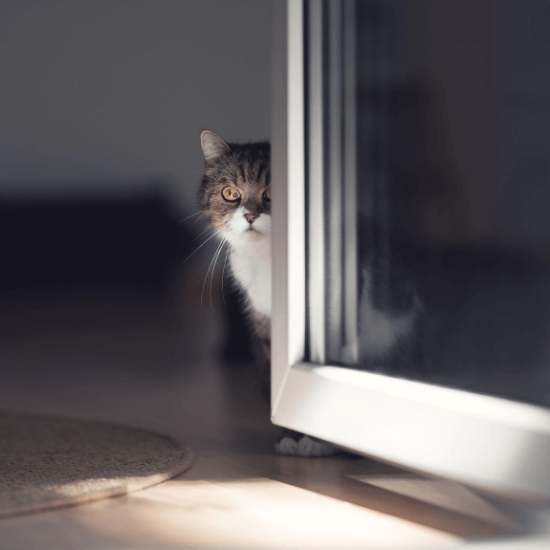 Introducing Cats and Dogs Correctly 
Putting your best paw forward goes a long way when we're looking at our cats and dogs getting along. Creating a solid foundation for the fur-endship is key to keeping pet play from getting out of hand. 
The reason for this is that it teaches our pets healthy boundaries and coping mechanisms. When your cat feels anxious, they will know that they can retreat safely to their room where Door Buddy protects them. Dogs will also see that it's essential to give their buddy some space!
Trust us, introducing cats and dogs correctly is something that all fur-parents need to do. Thankfully, we have a blog post for that! 
Teaching Your Dog Obedience
Although cats can be taught a thing or two, your training efforts are probably best reserved for your doggo. Dogs are, arguably, easier to train and often hold the most dominance in pet play due to their size. On top of that, our kitties tend to think they know best, don't they? 
At the very least, you should look to teach your dog a few basic commands. Learning "no", "stop", and "come here" are all helpful when you're trying to separate your pets. This will also help your doggo know when they need to cool down and when it's okay to keep on playing.  Make sure to read our article on dog training here. If you need cat training tips, we've got those too!
Using a Safe Space
Whether your a fur or hooman parent, it's undeniable that one thing will always remain the same: safety first! Protecting our pets is key to a happy life, and it can't be done without setting up safe spaces around your home. These spaces can act as a major buffer to stop any fights from breaking out. 
If your cat and dog know that when they're feeling stressed it's time to retreat to their room, you can save yourself a lot of gray hairs!
This is possibly the best tip we can give you when it comes to cats and dogs fighting. Your cat can feel comfortable back where they know the dog can't get them, and your dog can use the time to cool off and reset. When they're ready to be best buds again, they can come back feeling as good as new!
That's the beauty of Door Buddy. Door Buddy's simple design allows furparents the ability to protect their furmily in a few seconds. Our adjustable door strap is all you need to make sure that your cat has a safe space and that your doggo gives them some space. 
Although we all hope for sunshine and rainbows, a sibling tiff is just part of being a furmily! The key is to know when to intervene and how you can best handle the situation. However, if gentle guidance and obedience training isn't doing the trick, it's best to consult your vet. Talking to your vet or behaviorist can help you determine what exactly is disrupting your home.  
CHECK OUT OUR MOST POPULAR CONTENT