10 THINGS THAT ARE POISON FOR CATS AND DOGS
In case you didn't know, dogs will eat just about anything. Then there are cats. Cats will get their paws into anything that they know they shouldn't. The pawblem with our curious pets is that they don't know which household goods are actually poison for cats and dogs. But, do you?
Common toxins for cats and dogs are all around us. From poisonous houseplants for cats and dogs to cats and cleaning detergents, they're everywhere! It's our duty to figure out how we can best protect our furry pals. This even means discovering what food is poisonous for cats and dogs too!
Here's the good news: your fur-ends at The Door Buddy know exactly what you need to keep hidden from those purrr-cious paws. So, get your notepad handy and start preparing your pet proofing, it's time to dive into 10 things that are poison for cats and dogs. 
10 COMMON OBJECTS THAT ARE POISON FOR CATS AND DOGS:
1. Cleaning Products
A clean home is a happy home!.. Or is it? Common cleaners like bleach, window cleaner, and bathroom cleaner should come with big, red "No-Go" signs. These items are often left at the bottom of cupboards or in low-lying storage. The pawblem with this is that our pets can easily get into them and get themselves into a fair bit of trouble!
So, what is a pawrent supposed to do? We recommend finding a natural alternative that's pet friendly. Not only does this reduce the risk of common toxins for cats and dogs, but it is also better for the environment. Double win! 
2. Pest Repellent
No one wants a home full of rodents or pesky insects. On the other hand, no one wants a sick pooch or kitty either. Un-fur-tunately, we can't always avoid a much-needed fumigation and this may leave many of us at a loss. 
The first step is removing your pet from your home before fumigation begins. Second, read up on the side effects of the repellants used and how long they will last in your home. Only bring your pet home once it's totally safe - the consequences are just not worth it! 
3. Batteries
Mini-hooman parents will already know about the dangers batteries pose. If one of these suckers is swallowed, it will leak battery acid and cause massive damage to your pet's system. On top of that, they can be a serious choking hazard. 
4. Fertilizer
Although fertilizer may not be the most pleasing smell to us hoomans, it can be particularly appetizing to our pooches. If ingested, the chemicals can cause liver and kidney damage. Should you need to give your garden a sprucing, we recommend finding a pet-friendly fertilizer. If this isn't paw-sible, try taking extra care and keep your pet far away from the garden.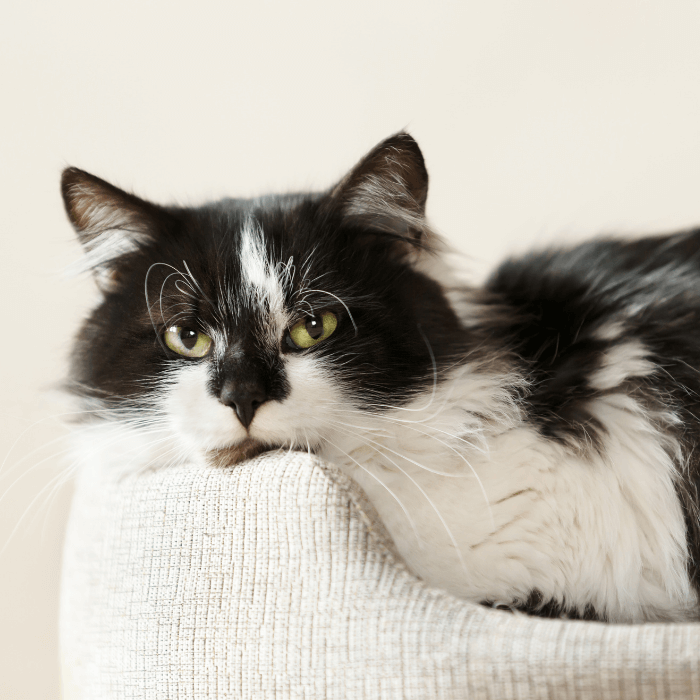 5. Antifreeze
Your conventional antifreeze is full of ethylene glycol which is extremely toxic to pets. Even the smallest amount of antifreeze can have a fatal effect on your pet. 
6. Detergents
Who doesn't love fresh smelling clothes? On the downside, they can cause ulcers and may be fatal for your cat and dog.

This is also another household cleaner that's often stored in easily accessible areas. We recommend moving this to higher places or locking it away in cupboards. 
7. Pharmaceuticals
Both hooman and pet medication can cause major damage to your pets. Even if it has been prescribed to your pet in the past, it may have the opposite effect now. The incorrect use of pharmaceuticals can lead to liver damage and other fatal side effects. Remember, never give your pet medication that wasn't directly prescribed to them or has expired.
8. Toys
Toys can be major choking hazards for our pawsome pets. If you have small tots running around, make sure that their toys are always cleaned up and kept out of our pets' paws. A small piece of lego or a dangling piece of ribbon can be more trouble than what it's worth! 
9. De-Icers
De-icers can be poison for cats and dogs. Although this can be extremely helpful during the winter months, it can easily get on our pets' paws and poison them. Use with caution!
10. Kitty Litter
Now this one is more for the turd burglar pooches out there. Come on, you know the ones! So, what's the story on dogs eating cat poop? While the cat poop may not be the most hazardous thing out there, it's the actual litter that you should be aware of. 
There's also toxoplasmosis that you should be concerned about. This disease can make for one unhappy cat and home!
WHAT ABOUT POISONOUS HOUSEPLANTS FOR CATS AND DOGS?

Poisonous houseplants for cats and dogs is such an im-paw-tant topic, that it deserves its own section in our quick guide. Being a plant parent is almost as much of an honor as being a pet parent! However, the two don't always live harmoniously. 
Here are the poisonous houseplants for cats and dogs you need to know: 
Aloe Vera
Devil's Ivy
Chinese Evergreen
Tomato Plant
Chives
Chrysanthemum
Dracaena
Asparagus Fern
Mother-In-Law's Tongue
Peace Lily
Rubber Tree Plant
Hydrangea
Cyclamen
Our best tip to keep your pets away from plants? Spray citrus over them! The scent will keep your furry fur-end at bay.
WHAT FOOD IS POISONOUS FOR CATS AND DOGS?
In our list of common toxins for cats and dogs, you didn't think we'd leave off food, did you? Food is a tricky one. Even though we hoomans ingest the following items daily, they can be paw-lematic for your pets. Some of these items may even surprise you!
What food is poisonous for cats and dogs? Let's jump in! 
Chocolate
Coffee
Grapes
Macadamia nuts
Onions
Garlic
Alcohol
Avocados
Chicken bones
Raw meat
The dangers of these foods range from liver failure to choking hazards. Although some may carry fewer risks than others, avoiding these items is highly recommended.
HOW DO WE KEEP YOUR PETS SAFE FROM POISON FOR CATS AND DOGS?
Now that we've covered all of the red flag common toxins for cats and dogs, how do we keep our pets safe?
We'd like to introduce you to The Door Buddy. 
The Door Buddy is an adjustable door strap that keeps pets out of no-go rooms. Traditionally, The Door Buddy was designed to give cats their space and freedom to enter rooms with their litter box as they please. This comes in handy if you have a doggo that tends to sample from the litter box.
However, that doesn't mean that you can't adjust our strap to keep kitties out too! 
Instead of fumbling with a baby gate or constantly trying to remember where you put your favorite cleaning product, The Door Buddy is an easy solution for keeping your pet safe. Our latch system can be used one-handed and it installs in seconds without tools or complications. 
Paws up for simple and effective pet proofing!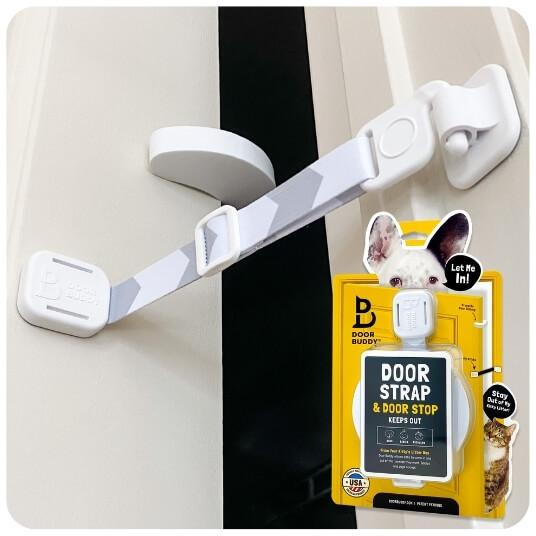 There you have it! Now you know exactly what food is poisonous for cats and dogs, which common household items to avoid, and how you can protect your pet.

Most importantly, we should highlight that should your pet ingest any of the above items that are poison for cats and dogs, you should get your pet to the vet immediately. You may even want to go straight to the pet ER depending on their symptoms. 
SOME OF OUR RAVING FANS
Let Door Buddy Restore the Peace in Your Home Too!