HAVING A CAT AND A NEW BABY CAN PRESENT SOME CHALLENGES ...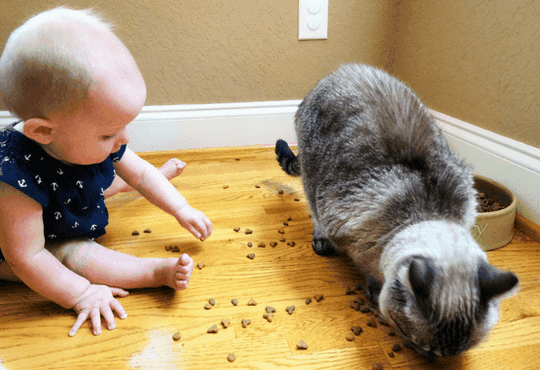 Your baby has finally reached the crawling milestone! This is great until their curiosity takes them to places and rooms where they can get into trouble. This is especially true if you have an indoor cat and you need to keep your baby away from the cat food and litter box.
We were in this exact situation when our daughter started crawling. We considered a cat door but did not want to cut a hole in our door. We tried a baby gate but it was so cumbersome to use. One thing led to another and out of necessity, Door Buddy was born.
Door Buddy installs in seconds with strong 3M adhesive to keep your little one out. The simple latch design is designed specifically to give busy moms and dads quick and hassle-free access to the room.
Door Buddy is an Adjustable Door Strap that allows your door to open wide enough for your cat to easily enter and exit the room while also keeping it narrow enough so your baby cannot fit through and are therefore kept out.
Because it is simple, convenient, installs in seconds and it works! Use the adjuster to customize the width of the door opening (typically between 2" to 6") to work with the exact sizes of your cat, dog, and baby!




It is perfect for pet owners and new parents that just don't want to deal with the hassle of a baby gate or for those who are not ready for the daunting task of cutting a permanent hole in their door to install a cat door.




Door Buddy installs in seconds and the latch is easy to lock and unlock with one hand from either side of the door for quick and convenient access to the room.


WILL IT WORK FOR MY DOOR?

Yes! Door Buddy works great perfectly on left and right swinging doors, doors that push or pull open, pocket doors, double doors, and bi-fold doors. You can even install on the back of the door for greater strength and resistance to pressure.




Just be sure to install it on your door and door frame only. Do NOT install on drywall or wallpaper.




See Examples shown in the INSTALLATION GUIDE. 


I HAVE A TODDLER, WILL IT WORK FOR ME?

Maybe yes. Maybe No. It depends on what you consider "toddler". It is usually best to start using Door Buddy early when your baby just starts crawling. Then, when they reach the toddler stage they will know that room is "off-limits" already. If you start using Door Buddy when your little one is older than 2 years old then there is a chance that they will be able to push hard enough for the adhesives to come off. 




However, please review the INSTALLATION GUIDE provided for alternative methods of installation for greater strength and resistance to pressure. 




Just remember that Door Buddy is intended to be a deterrent only and is meant to make your and your cat's life easier. Like any baby-proofing product, it is not a substitute for proper adult supervision.


WILL IT BE STRONG ENOUGH FOR MY DOG?

For most dogs, ABSOLUTELY! Our customers have dogs ranging anywhere from 12 to 120 pounds and they love it. A lot of them are pleasantly surprised at how strong the adhesive is and how well it holds up to any added pressure.




However, please note that if your dog is a lot smaller than your cat or if you have a very aggressive dog, it may not work. If you're in doubt, make sure to check out our reviews for real customer experiences.


HOW IS THE DOOR BUDDY DOG PRODUCTS DIFFERENT TO THE BABY PRODUCTS?

There are no differences between our dog and baby products. We just want to make sure all pawrents (hooman and pets) get what they need and can find their products quickly through our packaging. 


DOOR BUDDY IS MADE IN THE USA!

So, what are you waiting for?




Don't struggle anymore.




Choose the easier way to give your cat a new safe space to eat, use the litter box, or just a place where your cat can relax without being harassed by your dog or being chased by your little one.