Finally, an Easy and Affordable Baby & Dog Proofing Solution!

You may have heard of Door Buddy Door Strap by now, but do you know why our customers rave about our product? Read on for the top 7 reasons why our customers see Door Buddy Door Strap as their number 1 pet-proofing solution! 
GET 15% OFF DOOR BUDDY WITH COUPON CODE
FURRY 15
2. Saves Rugs & Carpets
"Like most reviewers, we had a unique problem and the Door Buddy Door Strap is the perfect, most elegant solution. We have two large dogs and two cats. At night, one of the otherwise-housebroken dogs started using the brand new living room rug as her personal, middle-of-the-night toilet.
So we needed a way to keep both dogs sequestered in the bedroom with us (so the offending dog would be forced to wake us up if she needed to go outside), but the cats needed access to their litter box on the other side of the house. 
Enter Door Buddy Door Strap, allowing the cats to come and go from our bedroom at night while keeping the dogs contained in the bedroom. It works beautifully. Added bonus that keeping the door cracked allows for normal air circulation."
- Kelsey W.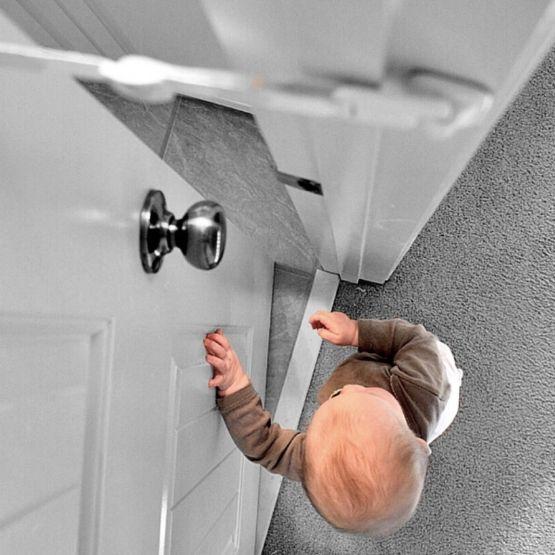 3. Replaces the Baby Gate
Say hello to your most favorite child security lock you've found yet! With small children, there are a few rooms that should be off-limits in any home. When you throw in a purrrfect kitty to the mix, a solution that keeps little ones out of the room with the kitty litter box and cat food is a must.
Yay for Door Buddy's adjustable door strap!
4. Helps You Catch Your Z's

"I bought this product because my fiancé works the night shift, and if my cat opens up my bathroom door wide enough, it fills our bedroom with light in the morning when he is trying to sleep! On the same note, I can't close the bathroom door because that is where the litter box lives. With this product, I can keep the door cracked just enough for my cat to slide into the bathroom, but not enough to flood our room with light!
Perfect product for my needs."

- Hayley

5. Gives Your Cat Space
"The dog recently started finding the box of treats called the litterbox and digging into it. We put this thing up in the litterbox room and it has worked perfectly!
The cat can go in and out as she pleases, and with the strap adjusted as tight as it can go, it keeps both dogs out fairly easily. The cat definitely likes it, we put her food in the same room so now she can eat more peacefully as well."

- Kyle Thorson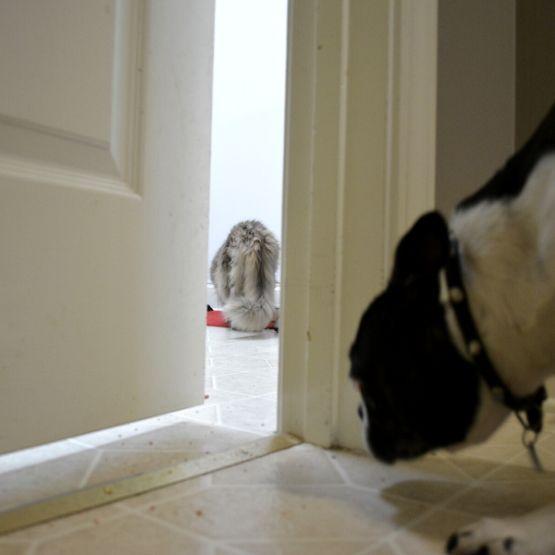 6. Stops Any Jailbreaks
Do you have a toddler who loves to get out of their bed at night and head for the stairs to try and find you? This lock solves the problem!  It has an adjustable strap, so you can set it to allow the child to open the door a little bit or not at all. 
"After a few nights, our child gave up trying to make a jailbreak and would stay in bed. The adhesive is really strong. He hasn't been able to pull it off ... its better than drilling holes in the beautiful door molding."
- Kristen M.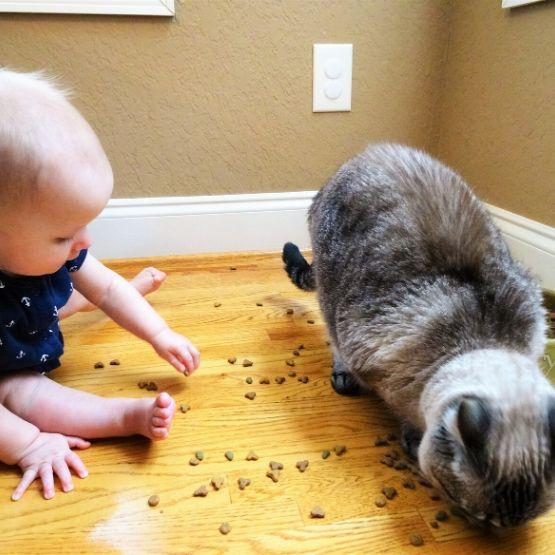 7. Saves Your Sanity
Is there anything more frustrating than constantly chasing your dog or toddler out of the litter box? Perhaps it's having to always answer to your cat's meows when the door is closed! Regular safety locks just don't give you the ease and convenience of solving both of your problems at once. Until, Door Buddy Door Strap.
"The Door Buddy is a genius idea. The strap adjusts easily to allow enough space for the cats to have unrestricted access, yet not enough room for the little one, or the dog, to squeeze through. Problem solved! I ordered two more for the other rooms."
- Diane K.
LET DOOR BUDDY
MAKE YOUR LIFE EASIER!
15% OFF
our entire store with coupon code

"FURRY15"

at checkout