7 LIFE HACKS FOR CAT OWNERS

Stinky cat litter? Cat clawing your furniture? Everything covered in cat hair? Welcome to the life of a pawrent. 
Thankfully, the benefits always outweigh the downsides. That doesn't mean that you can't do without some cat owner hacks! From cat health tips to ways to keep that litter box clean, here are seven life hacks for cat owners that you won't regret. 
7 CAT OWNER HACKS YOU NEED TO TRY
Tips for cat owners are plentiful, but which of them are worth trying? Here are some of our fur-vorites to keep you and your cat happy. 
Remove Cat Hair with Dryer Sheets
There's nothing like your cat cuddling up to you on a cold night. What's not to love about your furry friend's affections?.. Well… Let's talk about the excessive cat hair that's EVERYWHERE and never seems to come out. 
If you know, you know. 
So, which one of our cat owner hacks can you try? Try throwing in one or two dryer sheets the next time you have a load on. The static will help repel the hair and catch it in the dryer's lint trap. 
One thing to note: make sure to try and remove as much hair as possible first. Wrapping your hand in tape (sticky side out) and running it over your clothes is another great one of our tips for cat owners.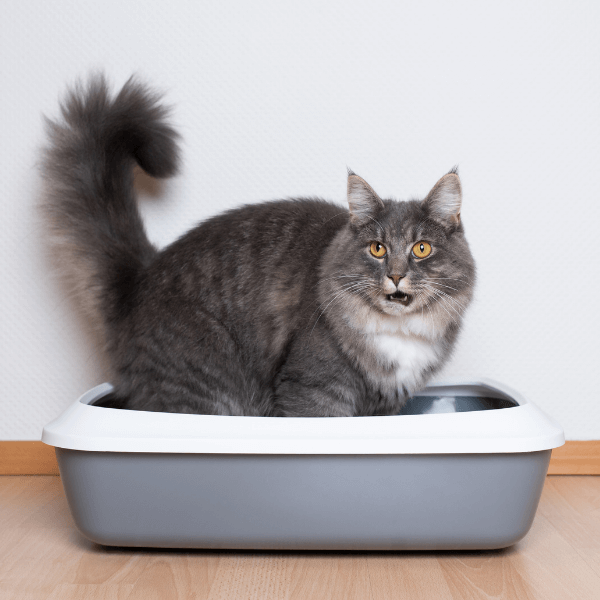 Deodorize the Litter Box with Green Tea
Look, when it comes to your cat's toilet, things are going to get stinky. While it may be hard to think outside of the box (pun intended), we have just the trick to keep things fresh. Plus, having a clean litter box is possibly the biggest cat health tip out there. 
Our secret weapon? Green tea! Nothing fancy, just your regular store-bought green tea. 
Green tea isn't just a furtastic antioxidant, but it's also a natural deodorizer. All you have to do is buy loose leaf green tea, mix it into your cat litter, et voila! Of course, you will still need to clean your litter box as much as necessary. However, this will take the kick out of that smell. 
Prevent Broken Plants with Dried Flowers & Citrus
 Do you have a cat that can't stay out of your beautiful plants? After all that pruning, watering, and loving, this can be far from convenient. 
Here's what you can do. Put some dried flowers and/or cones in your pots. This will create an unpleasant feeling for your cats when they trample over them. Soon enough, your cat will start to find it inconvenient to walk there. 
Another one of our life hacks for cat owners is using a citrus spray over your plants. Mix together water and either lime, lemon, or orange juice in a spray bottle. Lightly mist your plants and enjoy knowing that your cat can't stand the smell of citrus. 
Stop Cat Food Spills with Rubber Boot Mats
Cats have a good reputation for being clean and pristine… except when it comes to dinner time. Our best advice is to put a rubber boot mat with raised edges under the food and water bowls. 
You can also try rubber mats that are designed for this purpose, but rubber boot mats are affordable and do the job purrrfectly. Either way, this can help contain the mess, and they're a breeze to clean. 
Brush Your Cat's Fur Without Any Effort
Is your cat looking a little scruffy? Need to find the time to keep up with your pawrenting maintenance? Same. 
Keep your cat feline fine and looking like a meowdel with this simple trick. Find yourself a pet brush like this one, take some double-sided tape and attach it to your wall. You will need to make sure that the brush is at your cat's height so that they can rub up against it easily. 
Safeguard Your Sofa with Tape
A cat clawing at your furniture is basically a problem that's as old as time. While a cat scratching post may do the trick, your cat may still find themselves drawn to your couch. Yikes!
Next up on our list of life hacks for cat owners is using tape as a way to wean your cat from this activity. If there's a particular part of your sofa that your cat likes to kneed at, try covering it up with tape. 
The tape will create a barrier between your cat's claws and your furniture. It will also cause some resistance when they pull their claws out.
Eventually, your cat will get bored and move on to something a little less intensive. If you see them scratching at their post, make sure to reward this behavior too!
Use The Door Buddy to Give Your Cat Some Space
Come on; you can't tell us that you didn't see this one coming? In our opinion, out of all the tips for cat owners, using a Door Buddy is the best - obviously. 
Our adjustable door strap allows you to say goodbye to the cat door, the baby gate, and the frustration! In just a few seconds, you can give your cat back its space, and you don't have to break a sweat in the process. 
The Door Buddy was designed to give cats an easier way to enter and exit rooms freely while keeping out dogs and little ones. Pawrents won't have to worry about creating any damage to their homes or having to figure out how that dang baby gate works.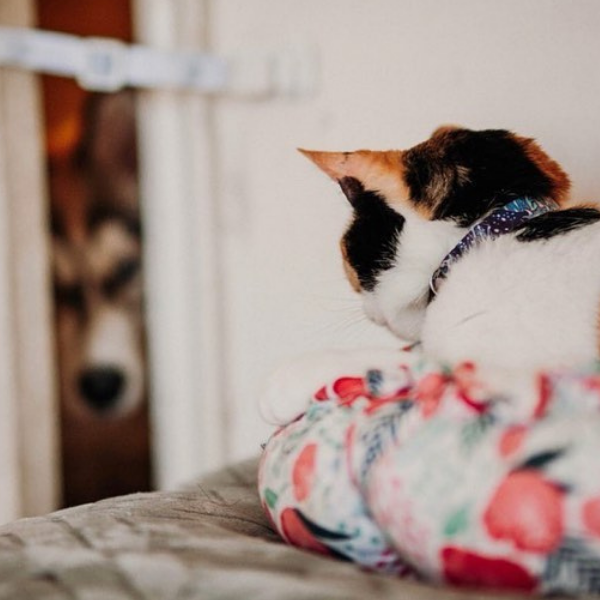 See? The ultimate life hack for cat owners! 
Bet you didn't think that these life hacks for cat owners would be so easy? With these tips for cat owners, being a pawrent will be a breeze! 
CHECK OUT OUR MOST POPULAR CONTENT