WHY DO CATS HATE CLOSED DOORS?
WHY DO CATS HATE CLOSED DOORS?
It's a common scenario, you're in the bathroom minding your own business when suddenly you hear frantic scratching and meowing outside the door. We've all been there, right? 

If you have ever opened a door for a cat and made the mistake of closing it behind them, you very quickly learn that a closed-door is something that cats hate. It's a big no-no for our furry friends! 

Your cat's dislike of closed doors can be very frustrating, but they don't do these things to annoy you. Although we joke that our kitties are a bit on the sassy side, we promise that there are some genuine reasons behind their aversion. 
Here are three reasons why cats hate closed doors:
WHY DO CATS NOT LIKE CLOSED DOORS?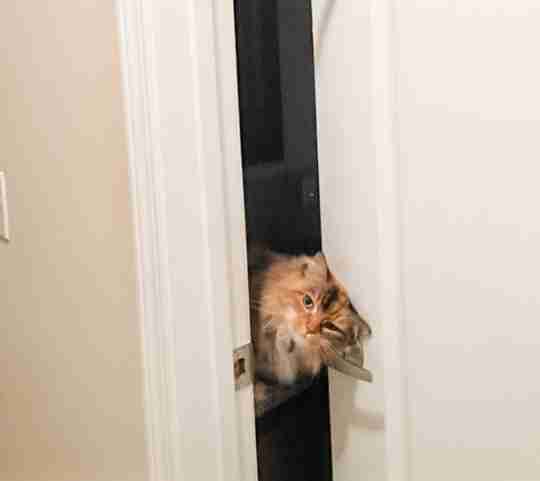 1. They are Social Creatures
Cats are often thought of as being independent creatures who are quite happy living solitary lives, but, believe it or not, this is not true. Cats, like humans, enjoy your company and they love getting attention from you or just hanging out with you. And, who are we to deny them of these purrfect cuddles?

Consequently, they like to be involved in whatever it is you're doing, or they at least want to know what you're up to. If you're hiding behind a closed door then, for all they know, they could be missing out on a great activity with their favorite person.
Cat-astrophe!
2. They are Curious
They say, "curiosity killed the cat", and we can't deny that there isn't a lot of truth to it. Cats always want to know what is going on. Whether you're running to the bathroom or filling up your coffee cup, your curious kitty won't be too far away. 

The problem with this is that when your cat comes across a closed door, it's like putting a steak in front of a doggo and asking them not to eat it - trouble! If your cat encounters a closed-door their curiosity is immediately piqued, especially if they hear a noise on the other side of it. After all, wouldn't you want to know what's going on if you felt excluded? 

They can't help themselves, they simply must know what is going on in there so the scratching and meowing begin!  In other words, cats and closed doors equal one big challenge for your kitty to overcome. 
3. They are Territorial
The last reason why cat hates closed doors is fairly obvious once you think about it. If your cat usually has the run of your home then they will consider your entire home to be their territory. As far as they are concerned the house is theirs, not yours. Cats, right?! 

Closing a door prevents them from accessing all parts of their own territory which is something that territorial creatures hate! Understanding this could be the main answer to "why do cats meow at closed doors". 
REASONS WHY YOU SHOULD KEEP DOORS OPEN FOR YOUR CAT

At the end of the day, leaving doors open around your home helps your cat feel comfortable in their environment. There's no way around the fact that cats and closed doors do not mix. 


If doors are open, your cat knows that they are not trapped and that they can join you whenever they feel like it... Providing you are at home and any noises inside your house can quickly be got to the bottom of.

Most importantly, keeping doors open around the home can help your cat feel comfortable with their day-to-day activities. If they know that they can access their food, water, and most importantly, their litter box at all times, your cat can become a lot more relaxed. This helps to prevent your kitty from going hungry or having any toilet-related accidents; which can be a nightmare to clean up.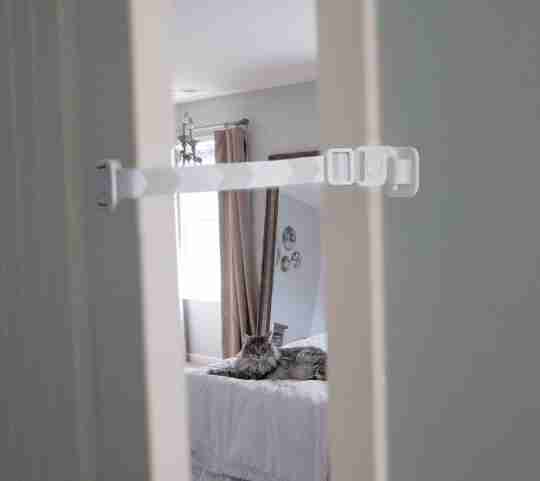 All in all, an open door policy around your home will equate to a much happier, healthier, and less stinky cat. And who wouldn't want that? 
HOW TO SOLVE YOUR CAT MEOWING AT CLOSED DOOR PROBLEM 
Leaving doors open around your home can cause problems, particularly in homes where there are children and other pets such as dogs. If you've got a doggo who likes to snack from the litter box, then you know exactly what we mean!
Not to mention the fact that installing an interior pet door or using something like a baby gate with cat door is not only a hassle to set up or install, but it is also inconvenient and cumbersome to use for both you and your cat. 
Thankfully, there is a solution that's so simple and so effective that it's gotten over 5,000 5-star Amazon reviews! We'd like to introduce you to Door Buddy. This adjustable doorstop and latch works together to prevent your door from closing fully and it also keeps it open just enough for your cat to get through.
What about the nosy toddler or a kitty litter snacking dog? It also keeps the door closed enough to keep toddlers and dogs out as long as they are slightly larger than your kitty. All you have to do is adjust the strap to suit the width of your cat, et voila! You're in pet-proofing heaven. 
If your cat doesn't like closed doors, Door Buddy is a must for you! Find out more about our product below. 
DOOR BUDDY MAKES BABY AND DOG PROOFING SIMPLE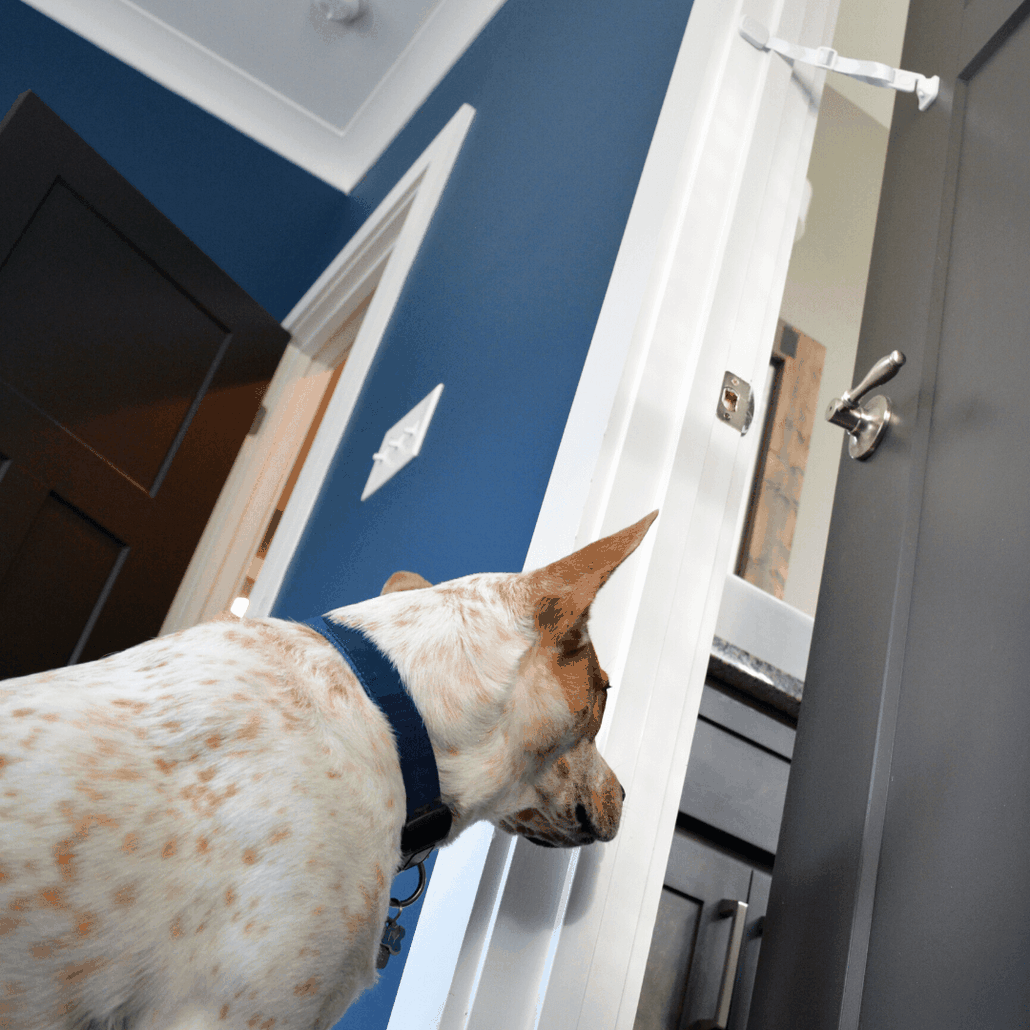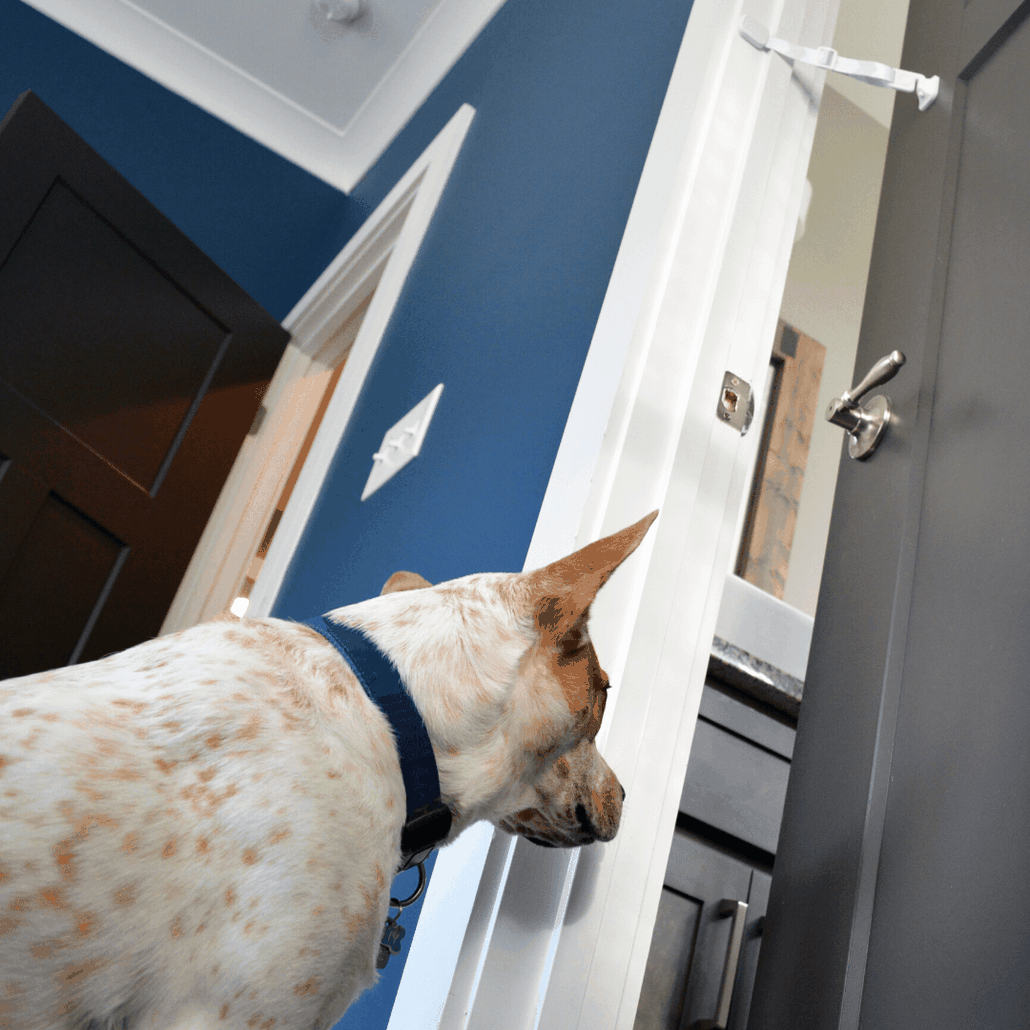 KEEPS DOGS OUT
Stops your dog from snacking out of the kitty litter box or eating all of the cat food.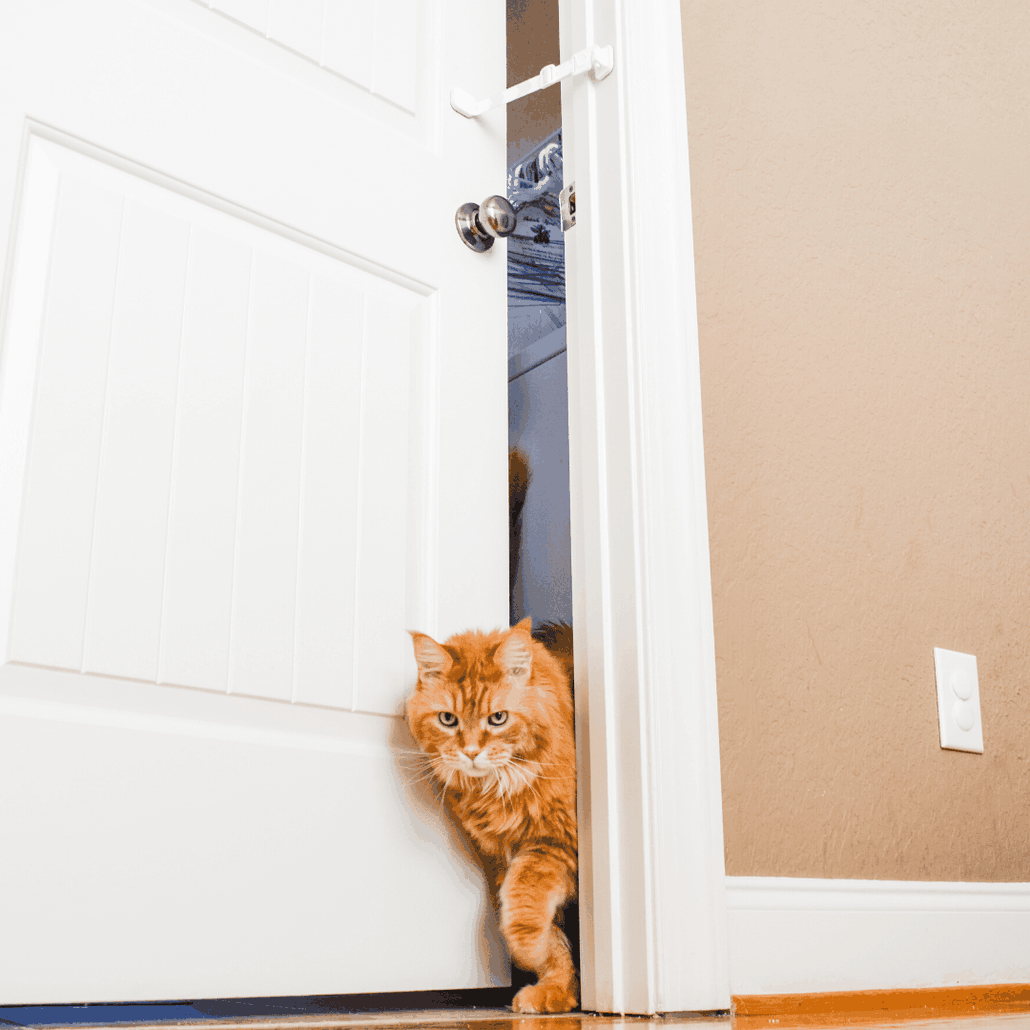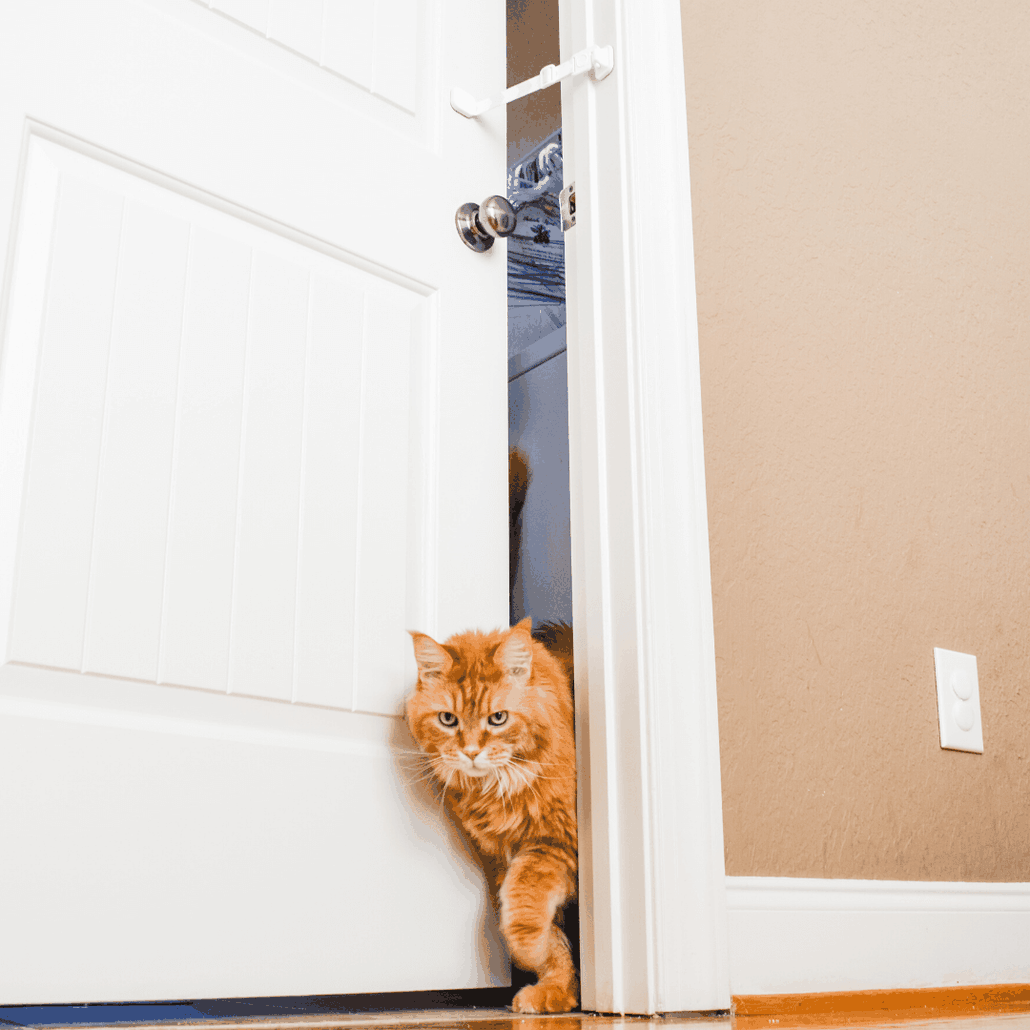 LETS CATS IN
Gives cats back their space with a room free from intruders invading potty and nap time.
SHOP DOOR BUDDY
Stop Cat Meowing at Closed Door Today!

SEE WHAT PEOPLE ARE SAYING!
★ ★ ★ ★ ★
"Fantastic! So glad I bought this!! My poor 17 year old cat can now eat in peace, and I don't have to keep the food up on the counter!!"

- Amazon Customer
★ ★ ★ ★ ★
"A Lifesaver! I wish I had bought this a year ago. Perfect for keeping our dogs out of the cat litter. Works exactly as described."

- P.H. Amazon Customer
★ ★ ★ ★ ★
"The Best Product! We placed these on the laundry room door and our spare bedroom. They allow the cats in, and keep our 73 pound dog out. The cats love having their own space where the dog isn't in their business."

- Lisa M, Door Buddy Customer
★ ★ ★ ★ ★
"Not Just For Cats! I use this to keep my toddler out of big brothers room while big brother can still latch or unlatch from inside the room. Has been a lifesaver and put a stop to tons of bickering!!"

- Brian J, Door Buddy Customer