If you have a cat of your own, you may have come to realize that your feline fur-end isn't the greatest fan of water. Splash a bit of water your cat's way, and they'd most likely pounce in the opposite direction. 
They'll do anything they can to dodge that splash of water! This may leave you wondering, "Why does my cat hate water so much?" We know that some cats can be a little overly dramatic at times, but what's the deal? 
By the end of this article, you will have a firm answer to the question, "why do cats hate water?" To give you an even better understanding, we'll give you a quick history lesson on how your cat's ancestors passed on a simple behavioral instinct.
THE HISTORY OF CATS AND WATER
If you didn't already know, your cat, as with all kitties, was derived from wildcats called Felis Silvestris Lybica. Now that's a mouthful!
These feline fur-ends originated from Fertile Crescent, located in the Middle East. If you've seen the hieroglyphs of ancient Egypt, you may have noticed a common theme of cats. That's because the wildcat also roamed and lived in ancient Egypt. 
So, what do Egypt and the Middle East have in common? They're both desert regions! 
As we all know, these regions aren't exactly famous for being rich in water supply! As a result, the wildcats that once roamed these areas never needed to swim and frolic in huge bodies of water.
Did this little history lesson help you grasp why cats hate water?
WHY DON'T CATS LIKE WATER?

Aside from the preexisting preferences, there are several reasons why cats hate water. Let's get to it! 
1. Cats Are Self-Cleaning Machines
Aside from lazing around, climbing trees, and chasing birds, you can always count on one thing: your cat will be licking themselves. 
No, this isn't because they're the tastiest thing on this planet. Furball soup, anyone? They're actually grooming themselves and keeping themselves clean! This is why you never really need to bathe your cat.
What a win, right?!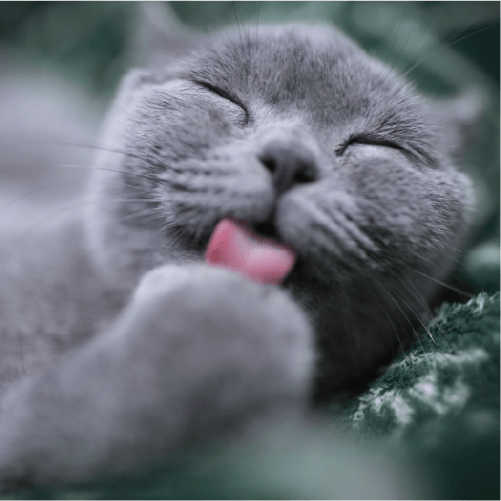 2. Cats Are Obsessed with Their Scent
A cat's sense of smell is very sensitive. They use their sense of smell to detect and navigate the world around them. A cat's scent is, therefore, a basic form of communication between themselves and others. 
You know when your cat purrs up next to you and gives you a little cuddle? Hate to be the bearer of bad news, but what they're actually doing is marking their territory. AKA, spreading their scent. 
The scent they cover themselves with is left behind when they rub themselves on their hooman, other cats, and objects. This helps our cats become fur-miliar with their surroundings!  It can be a huge comfort. 
With that in mind, do you know what happens when cats get wet? The water washes their scent away - cat-astrophe!

After all that comfort and territory talk, you're starting to see why it's a big deal, right? 
3. Cats Feel Uncom-fur-table When Wet 
Imagine walking around with wet towels drooped over your body for an hour or two. Surely you'd hate it! That's exactly how cats feel when they're drenched with water. 
Instead of deflecting water, their furry coats actually absorb water. As a result, it makes their coats heavier and their bodies less nimble and free to move.
On top of that, their coats take super long to dry.  This isn't pleasant for your cat, and they'll do anything to avoid this from happening. Wouldn't you hate to sit around in wet clothes all day too? 
HOW TO MAKE YOUR CAT
COM-FUR-TABLE AROUND WATER
Now that we know why cats don't like water, you can better understand their distastes. If you feel that there may be a good reason for your cat to become a little more com-fur-table around water, there are a few things that you can do. 
We suggest incorporating water into your cat's life in small ways. These ways can include:
1. Include Water into Play Time
Play games that incorporate water with your cat, like adding ping pong balls to water or adding frozen cubes of meat into the water for them to retrieve. 
You'll find your cat inquisitively reaching for objects in the water and therefore becoming more com-fur-table with water. 
2. Allow Your Cat to Explore Water on Their Own
Never force your cat into the water. Trust us; the result isn't pretty. This will only make your cat even more likely to hate water. Allow your cat to explore water at their own pace.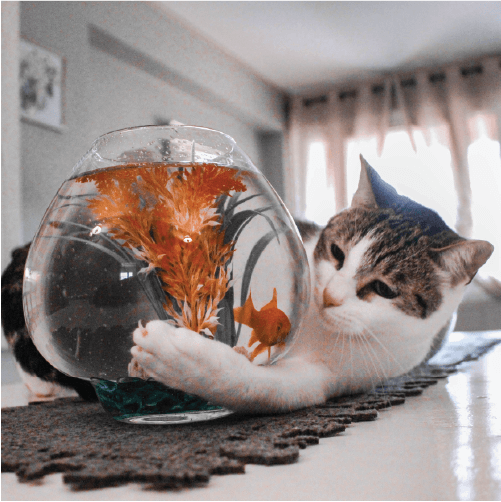 Include water into their daily activities but allow your cat to explore the water if they so choose.
After reading this article, you may be asking yourself the question, "do all cats hate water?" Like many things in life, there are exceptions to this phenomenon. The answer is no, not all cats hate water. 
There are several domesticated species of cat that quite enjoy the water! A few of these include:
The Turkish Van 
The Bengal 
The Maine Coon 
These are three slightly more common domesticated cats that enjoy swimming and aren't completely repulsed by water!
We hope this answered your question as to why cats hate water so much. Do you feel pleased to know that your kitty isn't the only cat that doesn't like water?
From ancient Egypt to modern 2021, one thing has stayed the same: cats aren't fans of water. However, once we start diving into the question of "why do cats hate water?" it's totally understandable. After all, who would want to go from being a fluffy ball to a soggy and wet mess? Not us! 
CHECK OUT OUR MOST POPULAR CONTENT