A CAT DOOR VS. THE DOOR BUDDY -
WHICH INTERIOR CAT DOOR IS BEST?
If you're a cat owner, you'll understand wanting to give your kitty the space they need. However, this is often easier said than done. Let's look at your options: cutting a hole in your door, battling with a baby gate every time you want to enter a room, or simply dealing with the chaos. 
Here's the good news: there's a cat door alternative you haven't thought of yet… 
While several pet-proofing products are on the market, finding a cat door alternative that works is tricky. You want something that is effective, but not an eye-sore. Are we right? Enter The Door Buddy. We're here to solve your cat's need for space in the most discreetly and stylish way paw-sible.
WHAT EXACTLY IS DOOR BUDDY & HOW DOES IT WORK?
Forget about a baby gate with cat door or pet doors for cats. The Door Buddy is a simple gadget that solves your and your cat's needs. 
Well, what is The Door Buddy? Some may call it the greatest thing since sliced bread, but we just call it an adjustable pet door strap.
Our little strap makes it easy for your door to be kept open just WIDE enough for your cat to enter or exit rooms without needing to tend to their every meow. At the same time, the door is kept NARROW enough so dogs and babies (if slightly larger than your cat) cannot get in.
So now you see why we say you can forget about those pet doors for cats, cat door cut out, and that baby gate with cat door. The Door Buddy is here to save the day and is the only cat door strap you'll ever need! 
Oh, and did we mention that it's a damage-free solution? Read on for more of our benefits! 
THE DIFFERENCE BETWEEN THE DOOR BUDDY & A CAT DOOR
Now that you know a little more about The Door Buddy let's take a closer look at how it differs from a cat door. Here are a few key points to note.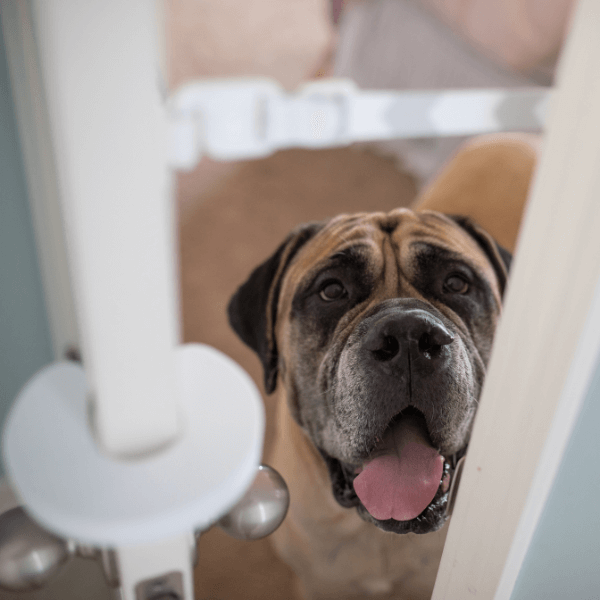 Usability
Can you use a cat door for a sliding door? Well, yes, but it will be a permanent fixture or cat door hole even when you might not need it anymore. To install a cat door for sliding door, you'll also need to have a certain style of sliding door that allows for a cat door to be placed. This might not fit with the style of the rest of your home or other doors.
The Door Buddy works with all kinds of doors, including sliding, pocket, bi-fold, and even double doors. You're not limited at all when it comes to providing your fabulous feline with a home in which they feel safe.
Installation
Whether you have installed a pet door for cats in your wall or your door, one thing is certain: you'll damage your home. Un-fur-tunately, this method of installing an interior cat door comes with a hefty price and can cost you your rental deposit! 
Unlike other pet doors for cats, the Door Buddy doesn't require drilling or cutting holes. We use a strong 3M adhesive (and our optional paint protection film) to secure the strap to your interior door and door frame. Plus, it installs in seconds. Our pet door stop offers instant safety and sanity! You can even use it on a sliding glass door.
Size
When you think of an inside cat door, you may think it's a one-size-fits-all situation. The more modern ones are pretty sophisticated and offer many solutions and sizes. However, if you have a chonky kitty, you might run into a paw-blem! 
The

adjustable strap

of The Door Buddy and the fact that it uses adhesive make it

very customizable

. You can either

block or accommodate

your furry friends and little ones. The widest width is 6 - 8 inches, and the smallest width is approximately 0 - 2 inches.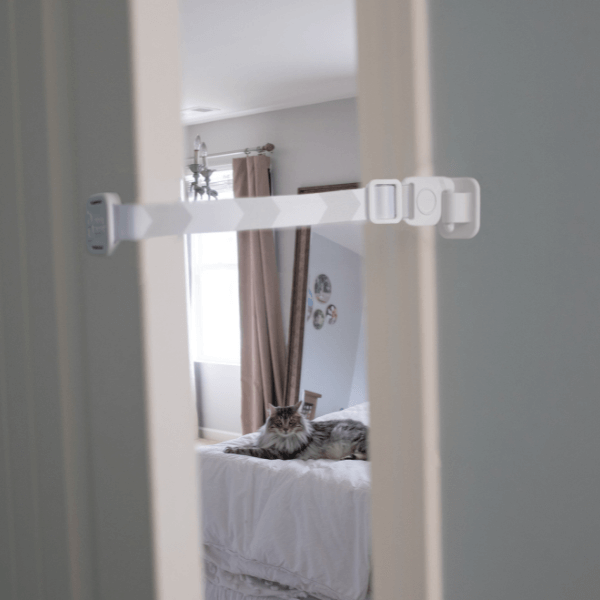 Permanence
The biggest difference between cat doors and The Door Buddy is its permanence. Once you install a cat door, it's hard and expensive to remove it. This is where you'll need to determine what's more important: your cat's safety or your bank balance. 
A Door Buddy, on the other hand, is just as easy to remove as it is to install. All you need is a hairdryer, some dental floss, and a couple of seconds! You can read more about our removal methods here. 
WILL DOOR BUDDY WORK WITH MY SMALLER DOGGO?
When considering a cat door for interior doors, be sure to check out The Door Buddy. Not only is it more aesthetically pleasing and convenient, but it'll help you create an oasis for your kitty. You'll also prevent your dog from snacking on the cat food and getting into the litter box. 
If you have a small dog, you may be wondering if Door Buddy will work for you. If your dog is teeny tiny, this might not be the solution for you. However, sometimes when they are about the same size, you can still set it to a width where the cat can go through but not doggo. 
Cats can be pretty liquid and squeeze through tighter spaces. We usually tell people to judge it by head size or shoulder width. The narrowest width is approximately 2 inches. Being able to adjust the size of the gap is just one more reason to choose a Door Buddy instead of an indoor cat door.
So, now that you know a little more about how The Door Buddy compares with a cat door, you can make an informed decision about which will work best for your furmily. You can't go wrong with our solution for cat door alternatives, especially if you're looking for another option for a cat door for bedroom door.
If you are still feeling unsure, why not take a look at what our existing customers have to say? Read their stories or watch their reviews and see for yourself. You won't find many cat door alternatives that work quite as well as Door Buddy. We do suggest using Door Buddy on your interior and not exterior doors.
We're always here to help with any questions you might have, so feel free to howla at us anytime! If you've made up your mind and are ready to give your cat some space, you can start shopping here. 
CHECK OUT OUR MOST POPULAR CONTENT