FESTIVE ACTIVITIES FOR KIDS
Is there anything more special yet incredibly stressful than the festive season? On the one hand, there's the great festive spirit that has everyone jolly and merry. On the other, the kids are home for the holidays, and you're left scratching your head about festive activities for kids!
Figuring out what to do for kids in the holidays is something all parents struggle to plan. Come on, let's be honest here - we all have questioned holiday family fun time! Although there's nothing wrong with putting the kids in front of the tv and just getting through the day (this is a judgment-free zone!),  you may want to try your hand at these festive activities for kids. 
Whether you celebrate the holiday or not, Christmas activities for kids can be fun for the whole family! With any luck, you can also get a solid hour or two's worth of concentration from your kids too. Success!
HOLIDAY FAMILY FUN IDEAS: 
Pin this post, write down the ideas, or print out this article - just make sure to come back to it when you're stuck twiddling your thumbs with bored kiddos around the home. These fun festive activities for kids are great! As working parents ourselves, we stand by these ideas, and we hope that they'll bring you just as much festive cheer as they brought our girls.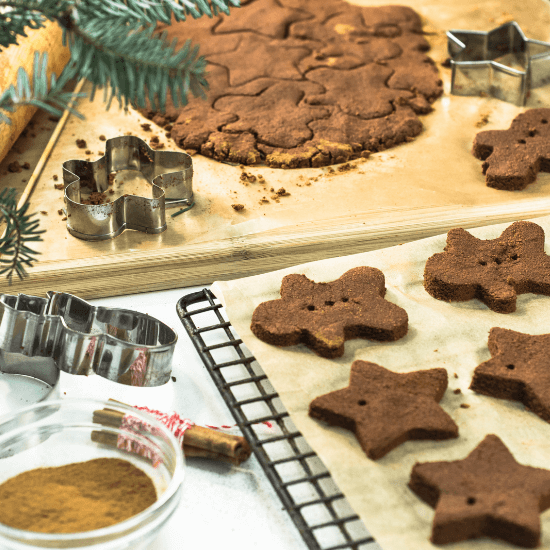 1. Cinnamon Dough Ornaments 
Isn't it amazing what a little dough, water, and salt can do? From safe, non-toxic playdough to baking your creations into fun figurines, homemade dough can be a real lifesaver during the holidays. 
One of our favorite things to use the dough for is ornaments. Homemade ornaments add an extra layer of love to your gifts, and they make for the purrfect keepsake as you mark the occasion with your kiddos. Plus, our kids love seeing their designs come to life and feel very proud when displaying them on our tree.
If you don't celebrate Christmas, don't worry! This activity is enjoyable all year round, regardless of which holiday it is.
Salt Dough Recipe
4 cups all-purpose flour (not self-raising flour, this is NB!)
1.5 cups of water
1 cup of salt
Optional: ½ a cup of cinnamon powder
Combine all of these ingredients and knead together, which will form the dough. Once you have your dough, roll it out to your desired thickness and get ready to play! Pull out the cookie cutters or have your kids use their hands and feet to make shapes on the dough. 
Here's the challenging part: it's recommended that you leave the dough to set overnight. This prevents the dough from puffing up and preserving your children's creations. However, we know how difficult it is to wait. There's absolutely no problem with popping them into the oven straight away, but you may just get better results if you wait. 
Whatever you choose, place in the oven at 250 degrees F. Baking your new ornaments for 2-3 hours should do the trick, but it's best to wait until they are hard at the touch. Just remember to punch a hole for the string before baking!
Top tip: we like to add a touch of cinnamon to our dough to really amplify the scents of Christmas around our home. Alternatively, you can also try adding lavender oil to the dough to keep your littles calm due to the oil's therapeutic nature.
2. Mince Pies
Mince pies and the holidays go together like turkey and thanksgiving! Well, turkey and Christmas go together purrrfectly too, but you get what we're trying to say. If you're not so mince pie inclined, any baking recipe is excellent for Christmas activities for kids. There's something about being in control and creating something delicious that kids just love!
For your traditional mince pies, you can make the mince yourself. But, let's get real, who has the time? Between keeping the dogs out of the litter box, juggling the kids, and running the home fort, there's nothing wrong with going the store-bought route! Your kids will still have just as much fun while you go through half the hassle. You can even get store-bought pastry and call it a day! 
When we're baking mince pies, we always turn to this recipe from BBC food. It's super easy to follow, and the results are delicious! To get your kids involved, roll out the dough, and ask them to cut out shapes for your pies' toppings. You can even customize your pies and allow them to get creative with the dough.
3. Fort Sleepover
Holidays were practically made for fort sleepovers! Grab your blankets, pegs, stools - whatever you can find. The more, the merrier! A good fort is the staple of any childhood and is a pawsome holiday family fun idea for everyone to participate in together.
If your kiddos are old enough, this is also a fur-bulous opportunity for you to extend some responsibility onto them while encouraging free-play. Try granting them the control of running the whole operation. They can choose which blankets go where and how the pillows are going to be arranged. Of course, if they need you, they can always shout for help! 
4. Movie Night
Cuddling up in your blanket fort with some mince pies and a festive movie might be just what the doctor ordered this holiday season. Wondering what to watch? Here's our list: 
The Grinch
Jack Frost
Home Alone
Home Alone 2
The Holiday
Love Actually
Klaus
National Lampoon Christmas Vacation
All I Want For Christmas
It's a Wonderful Life
...And basically any holiday-themed movie on Netflix! 
5. Themed Scavenger Hunt
Don't let the phrase "scavenger hunt" throw you off! This can be as simple or as complicated as your time and patience allow. 
Now, this may take some brainpower to work out the clues and place things around the house. The good news is that it can provide hours of fun, depending on how detailed your hunt is. Once your clues are in order, give your kids the first one and let them figure out the rest! 
As it's nearing the end of the year, there's the chance that your brainpower isn't like what it used to be, and that's okay! It's been a tough year for everyone, and even parents need an easy way to tackle what to do for kids in the holidays. Thank goodness for Pinterest, right? Here are some printable clues that you can use for your scavenger hunt. 
6. Festive Cards
Arts and crafts are practically the foundation of a good holiday! Sending out a holiday card is a fun way to get the whole family involved while exercising your child's creative muscles. You can even get your pooch or kitty involved too.
There are a few ways you can go about your festive cards. You can schedule a family photo or go the homemade route and have your little ones create the cards with you. For this craft, you will need to whip out your best cardboard, glitter glue, the works! If you're working with scissors, you will need to supervise, and the same goes for any sticky adhesives or toxic ingestibles. 
When it comes to what to do with kids for the holidays, there's nothing like wholesome, creative fun! The best part is that they can be done in the comfort of your own home.
What festive activities for kids does your family love? Do you schedule Christmas activities for kids, or do you go with the flow? Whatever your holiday agenda is, there's no denying that having this holiday family fun cheat sheet will come in handy! 
CHECK OUT OUR MOST POPULAR CONTENT