5 HEALTHY TODDLER SNACK IDEAS

Hell hath no fury like a hungry toddler. Let's just say that there's a reason that a parent's food bill is so high! We have two words for you: toddler snacks. 
It's a momentous occasion when your little bub goes from milk to solids. It's as if they go from your little blobby child to a full-on food monster. Jokes aside, feeding your child is no easy task, and un-fur-tunately, it doesn't get much easier. Sorry, parents! 
With that being said, as you progress from your squash purees into chunkier foods, you may be wondering which toddler snacks are worth your time. Of course, you're also probably busy researching what snacks are good for toddlers too. 
Healthy toddler snack ideas are plentiful! However, if you don't have hours to prepare the Pinterest board of your dreams, you've come to the right place. As parents ourselves, we understand that time is of the essence. In this article, we will provide you with our five winning toddler snack ideas that are fast and yummy!
WHAT SNACKS ARE GOOD FOR TODDLERS?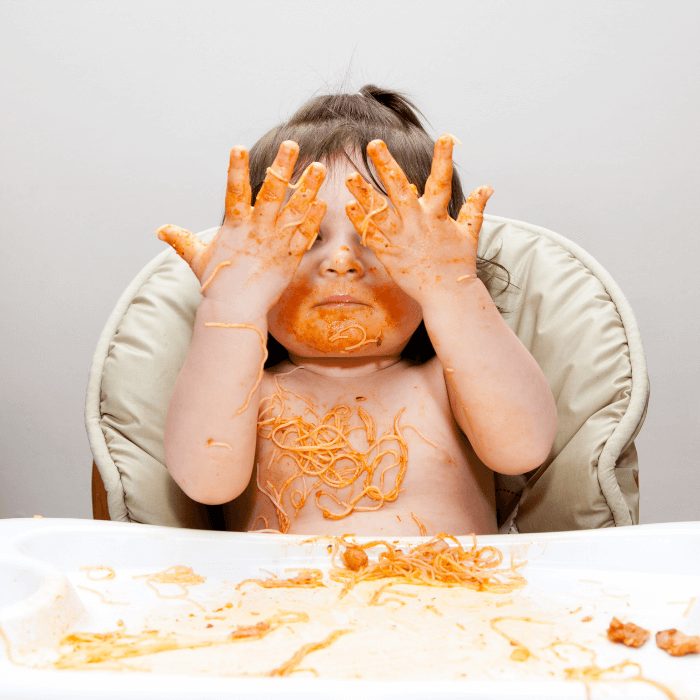 Before we jump in, what snacks are good for toddlers? Did you know that our babes aged 7–12 months need 11 milligrams of iron a day? In addition, toddlers ages 1–3 years need 7 milligrams of iron each day. Kids Health writes all about it! 
That's a lot of broccoli! 
As our kids develop their taste buds, it's essential that we offer them a balanced diet and plate. Picky eating can be hard for the whole family (your dog may love it, though!), and the more we offer them different foods, the better. 
Ideally, toddlers should be eating various fruits, vegetables, grains, proteins, and dairy or fortified soy alternatives every day. Kids should generally avoid added sugar and salt products.
We're going to be honest with you; there were plenty of days where our girls got toast with peanut butter because we were tired and uninspired. Now, we're not saying that toast is the best meal for healthy toddler snacks, but what we are saying is that sometimes you do what you gotta do. 
For us, working on a 80/20 rule of thumb did the trick. 80% of the time, our girls ate healthy foods and had toddler snacks straight from Pinterest. The other 20% of the time, toast, cereals, and rice cakes did the trick too. 
OUR BEST TODDLER SNACK IDEAS: 
Hands up if you spend more time searching for toddler recipes than actually making them because same! We love a good toddler snack recipe, but anything that takes more than 5 minutes, we tend to add them to our saved folder and hope to get back to it soon. 
These toddler snack ideas are healthy, yummy, and easy to make! Talk about a parenting win. So, without further ado, here are our best toddler recipes.
1. Cheesy Quesadillas 
Quesadillas are a-meow-zing as a snack or a whole meal. You can get creative with them or serve them as plain as they can be. It's totally up to you on how you like to customize them and what your toddler wants to eat. 
If you want to keep things plain and simple, here's what you need:
1 x quesadillas wrap 
2 x slices of cheese
Add your cheese to your wrap, fold in half, and toast on a pan until nice and cheesy. You can offer a dip for extra nutritional value - tzatziki or hummus is fur-tastic! We'll get into those toddler recipes next.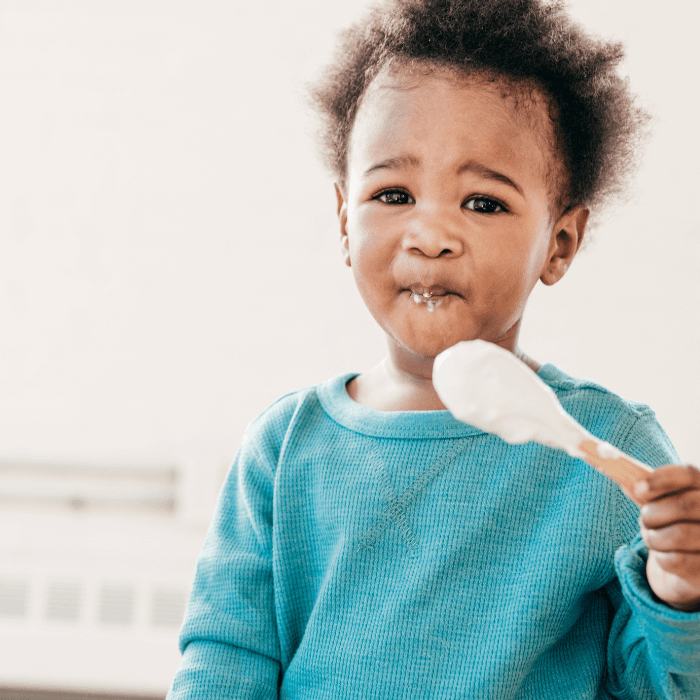 If you want to fancy things up, you can basically add anything to your quesadillas, and it will be a success. Cottage cheese, grated cucumber, and maybe some chives - delicious! Sandwich meat, avocado, and grated cheese - can we order one too?
2. Fruit & Vegetable Sticks
Now, if you want a toddler snack that's really easy and healthy, look no further than your fruit and vegetable sticks. According to The Youth Clinic, kids should get two servings of fruit and another two to three of vegetables. 
Cucumber, strawberries, melon, banana, corn, carrots, and apples work wonders in our home. If you're serving up fruit, add nut butter for some healthy dips. For vegetables, see our hummus and tzatziki recipes below. 
Hummus Recipe: 
1 x can of chickpeas
1 x tbsp of tahini
1 x minced medium clove of garlic 
4.5 x tbsp of lemon juice
3 x tbsp of olive oil 
Add all the ingredients into a food blender and blend until smooth. Voila! 
Tzatziki Recipe: 
1 x cup of plain yogurt 
½ x cup of grated cucumber
1 x minced medium clove of garlic
1 x tbsp of lemon juice
Add together and serve. 
3
. Egg Muffins
Okay, okay, we know we said that we like to whip up snacks in 5 minutes, but these egg muffins are worth the prep. Once they're done, they can be served for breakfast, lunch, dinner, and snacks! They are also freezer-friendly for future snack attacks. 
What we love most about egg muffins is that it's the purrrfect opportunity to get rid of those lurking leftovers. You know, those roasted vegetables that are sitting at the back of your fridge from 2 nights ago? Throw them in! 
Here are the basic ingredients: 
4 x large eggs
1 x cup of grated cheese
Whatever you feel like putting in them! 
Whisk together eggs, cheese, and your toppings. Pour your mixture into greased muffin tins and bake in your oven at 350 for 20 minutes or until cooked through. 
4. Oat Pancakes
This has got to be a firm fur-vorite in our home. Although it's super tempting to have pancakes every day, these are a healthier alternative. 
1 x egg
1 x mashed banana
½ x cup of oat flour (blend oats until at a flour consistency)
Optional: 
1 x tsp of chia seeds
Sprinkle of cinnamon
Mix your ingredients and fry in coconut oil. This recipe should comfortably make four pancakes. 
5. Food Skewers
Another a-meow-zing healthy toddler snack idea is food skewers! These make for pawsome lunchbox snacks too. Our only hesitation would be the wooden sticks that keep your ingredients together. However, you can always remove these before serving if you're concerned about poked eyes. 
In our experience, serving food on a skewer is a fun way to present food in a new way. If you're introducing a new food or a food that wasn't a popular one in the past, this could be a good parenting hack. 
Our go-to toddler skewers are: 
Cheese, butternut, and baby tomatoes
Zucchini, chicken, and bell peppers
Strawberry, banana, and watermelon
Again, these are fur-tastic with dips!
Other purrrfect healthy toddler snack ideas include smoothies, muffins, and the classic, yogurt. After this blog post, we hope you better understand what snacks are good for toddlers and plenty of toddler recipes! And don't fur-get, taste tests are im-paw-tant for us parents too. 
CHECK OUT OUR MOST POPULAR CONTENT