HOW TO KEEP BABY OUT OF LITTER BOX
If you are a cat owner with a new baby (or planning for your baby's arrival), you may be wondering "how do I keep my baby out of the cat's litter box?" You most likely have done all of your research and know about the dangers of toxoplasmosis during pregnancy as well as its effect on your infant or toddler.
Not only is the cat's litter box a breeding ground for bacteria (even more so when your cat is allowed to go outside), but they can also carry worms that could be consumed by your baby when they slip away and get up to mischief in the litter box. Not to mention the choking hazard that the dry cat food and cat litter possesses. Whether you use paper litter, traditional clay litter, or something else, the risk is always there.
Therefore, cat owners, baby proofing your cat's litter box and successfully keeping your new crawler out is very important. However, with so many baby proofing products on the market these days, where does one start. What works? What doesn't work? Is it convenient for me? Is it comfortable for my cat?
HOW TO KEEP BABY OUT OF THE CAT LITTER BOX TIPS: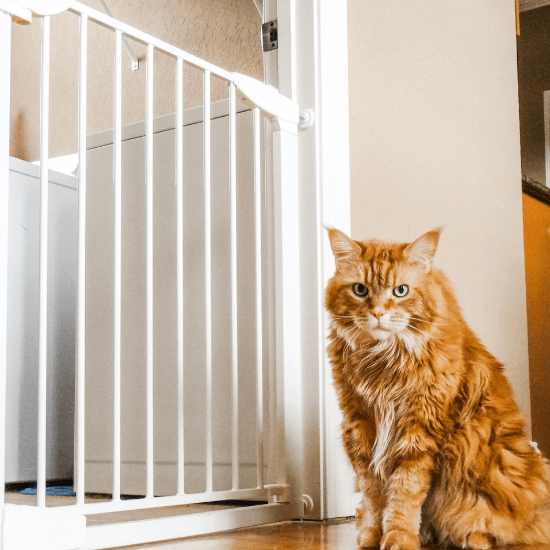 1. Install a baby gate
Are you even a parent if you haven't installed a baby gate in your home? Baby gates are almost the gold standard when it comes to baby proofing. Let's face it, they're a pretty solid way of keeping babies out of no-go areas!
Baby gates work well and are a necessity for certain areas like stairs or rooms with no doors. However, baby gates can get very costly and some are not user-friendly. As a parent, it's probably been a long time since you've had both hands free.
There are even cat breeds that have trouble jumping over gates. Some cats may see it as too much of an obstacle especially if they are ill, injured, or getting older. This could cause litter box problems and result in your cat using the carpet instead.
2. Keep the Litter Box Locked Up
Now, you may or may not know that when it comes to introducing cats to babies, having a safe space is very im-paw-tant! Setting up a room in your house for your cat to retreat to in times of anxiety gives your kitty a sense of security. When a nosy kiddo comes lurking, this is a welcomed relief!
Having a dedicated room can also help solve your problem of litter box snacking. Baby proofing the litter box can be as easy as creating a diy litter box enclosure! 
Un-fur-tunately, this may not be the answer for your kitty. Not only will they not have frequent access to their fur-vorite things, but they will also drive you mad with the constant meows! If that isn't reason enough, make sure to check out our post on why cats hate closed doors. 
3. Cover the litter box
Covered litter boxes are a great way to solve your issues of your baby digging for tootsie rolls. This also stops your home from being surrounded by baby products! 
However, before pressing add-to-cart, there are a few things you should know. For starters, covered litter boxes may not be the answer forever. Your little one can quickly figure out how to outsmart these contraptions!
It's also important to remember that this isn't the most cat-friendly solution. The beauty of open litter boxes is that your cat can enjoy their space and freedom while doing their business. When you swap this out for a confined space, your kitty may become uncomfortable and feel anxious about their new bathroom.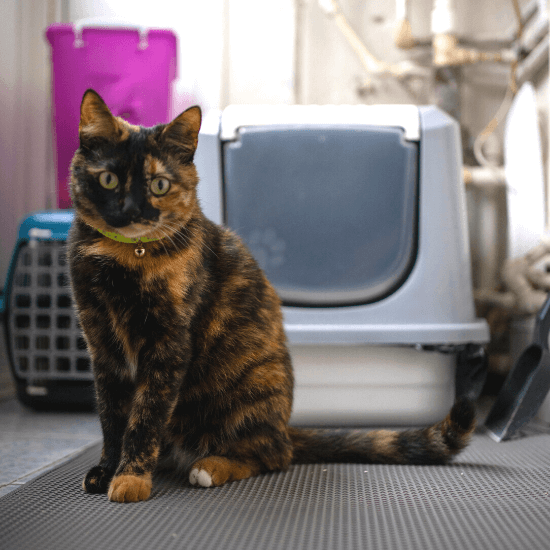 If your cat doesn't enjoy a covered litter box, a self-cleaning litter box might be an option. Lastly, if you're a fur-parent who likes to keep the cat food and litter box in one room, you may be solving one issue but opening up another! Let's face it, if it isn't the kitty Roca, it's the cat food or water.
4. Keep the Litter Box Clean 
No turds, no problem!
While this may not be a solution in its entirety, it's certainly the step in the right direction! Keeping your litter box clean at all times will definitely take off some of the stressful thoughts that come with, "what happens if my baby eats cat poop?".
The downside here is that you're going to have to keep up a pretty strict cleaning routine. This means following your cat every time they head to the bathroom and swiftly swooping in before your kiddo does. Some pet owners might also consider a self cleaning litter box if they have multiple cats.
There's also the option of using non-toxic cat litter. If your baby does get through your baby proof litter box antics, at least the kitty Roca won't be too harmful. 
FUN FACT: How far away should cat food be from litter box? Well, there's no hard and fast rule when it comes to this, but experts suggest as far away as possible or at least far enough away so that the scent from the litter box doesn't interfere with the cat food.
5. Install a Cat Door
Another fur-vorite is cutting a cat door for easy access and protection.  Now, we only recommend this one if you are deadset on creating a permanent solution to your paw-blem. Once you cut a hole in your door, it can be expensive and intensive to fix your mistake!
Another point to consider is how liquid your babe can be! Two girls later, and we still can't believe the weird and wonderful messes they managed to get themselves into. Once your baby is on the move, there's a very good chance that they can scootch through the cat door.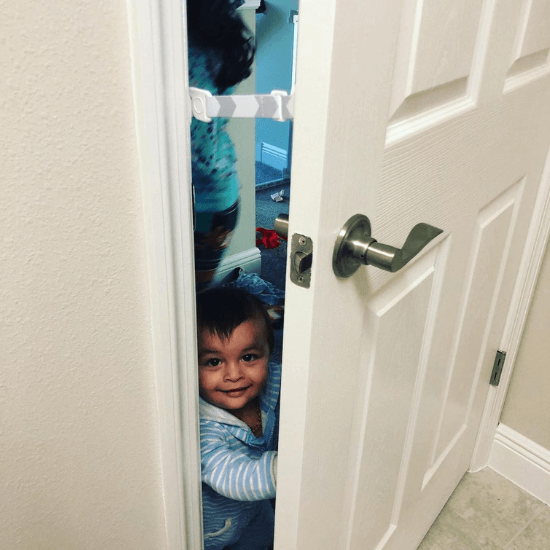 6. Solve All of Your Problems with Door Buddy
It seems one of the easiest, most cost-efficient, and yet effective ways to baby proof the cat's litter box is with a door latch. 
The Door Buddy is an adjustable door strap that holds the door open wide enough for your cat to easily enter but narrow enough so babies and even dogs are blocked out. It's as essential for parents as your baby lotion!
Door Buddy allows your cat to go about his/her natural routine, thus preventing any unforeseen paw-blems and allowing you to create a cat-friendly environment. As well as keeping your little one safe from the dangers lurking in the kitty litter.
What's even better? It requires zero tools AND installs in seconds! For busy parents, this can be a huge help. Instead of cutting a hole in your door or struggling with complicated baby gate instructions, just follow 4 simple steps to get a safer home in seconds. 
Door Buddy has several very unique advantages over other methods used to baby proof the litter box room. Having an adjustable strap allows you to set the perfect width of the door opening to fit your specific needs (e.g. blocking baby, blocking dog, and allowing for airflow). Lastly, Door Buddy has a simple locking latch system that allows adults easy access into the room and can even be used from both sides of the door.
Door Buddy gives you peace of mind and allows you to savor those special memories with your new baby and special feline. No more having to worry about the cat's litter box! Made proudly right here in the USA, Door Buddy comes with a 30-day money-back guarantee.
Worried about pinched fingers? 
Don't forget, we've been parents too so we know all about slammed fingers and tails! Keeping your babies and fur-babies safe is one of our top priorities. For extra safety, we created our foam door stoppers that prevent any accidents from happening. This stops the door from slamming and keeps your Door Buddy in place. 
Don't believe us? Just take a squiz of our 25,000 5-star reviews below. Door Buddy has been a fan favorite for thousands and we hope we become a staple in your home too! Once baby arrives, we know you'll want to do everything you can to keep them safe. We're here to help. It doesn't only work for little ones. Find out more about how to dog proof the cat feeder using Door Buddy here.
As parents, we only want the best for our little loves. As fur-parents, we want just the same! And the fact that you won't need to pick up rogue snickerdoodles is a bonus that everyone can enjoy. So, the next time you ask yourself "how to baby proof litter box", let Door Buddy do the hard work for you! 
SOME OF OUR RAVING FANS
Let Door Buddy Restore the Peace in Your Home Too!