HOW TO LITTER TRAIN AN ADULT CAT
While the concept of cats using litter boxes to do their business seems paws-itively simple, complications can arise at any stage in your kitty's life. From a cat peeing outside of litter box to finding cat poop outside litter box, a fur-parent's life is always full of surprises! That's why litter box training cats is so important.
Here's the thing, if your furbaby has been in your life since they were just a tiny floof, then you're probably familiar with litter box training kittens. Where some of us may feel a little more green is litter box training an older cat.
There's no doubt that our feline furends are undoubtedly super smart, but litter box issues can be challenging for any pawrent. Whether you're trying to get your senior cat litter box confident or adopting an older cat, take a look at our top tips on how to litter train cats.
Overall, litter box training tips are generally the same regardless of age. However, knowing exactly how to train older cat to use litter box will work in your fur-vor. That's where we come in - keep on reading for our best ways of training an older cat to use the litter box.
LITTER BOX TRAINING KITTENS VS LITTER BOX TRAINING CATS
Although the technicalities of litter box training stay the same, some may find litter box training kittens is pretty different from working with their senior cats. Why? Kittens are still figuring out the world around them and are more likely to adopt a habit if it is shown to them several times. This is not to say there won't be a few accidents, but pawrents who litter train kittens often enjoy lifelong success in this department.
Litter box training an older cat is different. They might have already developed other habits when it comes to doing their business. Maybe they have previously lived outdoors or just gone to the toilet wherever they choose. You've now got to break the habits, understand their challenges with the litter box, and overcome those hurdles.
WHY DO OLDER CATS STOP USING THEIR LITTER BOX?
If training older cat to use litter box is now on your to-do list, it's probably a good idea to look at why older cats stop using their litter boxes to begin with. If your senior kitty is showing no signs of trouble when it comes to using their litter box, it's still good to know the warning signals in case anything changes. 
So, here are a few reasons that may cause your cat to stop doing their business as usual (and result in you training older cat to use litter box again):
Underlying medical conditions (such as a urinary tract infection, kidney disease, arthritis, or decreased vision)

Feline Cognitive Dysfunction (

a form of cognitive decline characterized by such symptoms as deterioration in memory, sight, hearing, and ability to learn)

A dirty litter box or lack of privacy

New cat litter (that your cat doesn't like)

A new litter box (that your cat isn't enjoying - consider a senior cat litter box instead)
Before we get into litter box training, it's im-paw-tant to get the basics right when it comes to the litter box. As you'd expect, cats can be purrrty fussy about where they do their business. 
First, you'll need to choose a litter box that makes them feel comfortable. The easiest way to do this is by ensuring it's a dog-proof litter box if you have doggos! Just a head's up, you might need to try a few different boxes to find out which one your cat likes best. Don't forget to consider a senior cat litter box for older kitties. 
Once you've got your litter box, it's time to consider the actual cat litter. There are so many variations depending on what your cat prefers. For us, we love PrettyLitter! Not only does it do the job of cat litter, but it also changes color when your cat pees and can indicate if something is wrong with its health. 
In a nutshell, if your cat isn't happy with the box or the litter, they won't use the litter box. This is often when we get a cat peeing outside of litter box or find cat poop outside litter box, and nobody wants that! Keep reading for tips on how to litter train an old (or adult) cat.
LITTER BOX TRAINING AN OLDER CAT: WHERE TO BEGIN
Stop Googling how to litter train cats and read our tips instead! We've got all the information you need to know to make life easier when it's time to litter box train an older cat. Before you get to the actual training, here are some tips to get you started. 
Create a Litter Box Sanctuary for Your Cat
We've yet to meet a cat who's happy to use the litter box when it is in a busy area of the house. Like us hoomans, they want their privacy when doing their business. Choose a room or space that is quiet and well-ventilated. You'll need a dog-proof cat litter box if you have a dog. This is where Door Buddy can help.
Our adjustable door strap will keep the door cracked for cat to go in and out without allowing the dog access to the litter box and cat poop treats. You'll also be able to create that dog-proof cat litter box without cutting or drilling because Door Buddy uses strong 3M adhesives to attach itself.
If you want to create a sanctuary without having to install bulky pet gates, then Door Buddy's adjustable door strap is the way to go. Plus, you won't have to worry about a litter box or a gate being an eye sore in your home! 
Test Different Types and Amounts of Cat Litter
As we mentioned, kitties can be fussy with the type of cat litter in the box when they want to be. The amount of litter in there will also make a difference. So now's your time to experiment.
There are tons of different types of cat litter, so your cat can have its pick. If it doesn't like either of them, try mixing dirt in with the litter. Start with a half-to-half ratio, then gradually decrease the amount of dirt each time you change the litter box.
Now we come to the amount of cat litter to use. Start with a little and keep adding more if your cat isn't taking to the box. Some cats prefer a thin layer, while others want a thick one.
Keep it Clean, but Not Too Clean
During the initial phase of litter box training cats, you'll want to strike the right balance of keeping the box clean but not too clean. Don't be too hasty to clean out the cat pee and poop right after it happens. Cats tend to return to the same spot to go to the bathroom, so leave them something to remind them where they need to go.
On the other hand, you don't want the litter box to get too dirty that your cat won't want to use it. We suggest the litter gets changed at the appropriate times, generally every 3 to 4 weeks. If you're pregnant, don't change the litter box! Toxoplasmosis can be found in the kitty's litter box and can cause harm to your baby.
While it may seem like they are doing you a favor by cleaning them out, we all know it's not good for dogs or cats!
One thing you don't want to happen is for your doggo to get into the litter box and munch on any cat poop treats. It's yucky, it's unhealthy, and it's a one-way ticket to litter box problems.

Door Buddy's adjustable door strap will prevent any poop raids by keeping the dog out of the room while still keeping the door cracked for the cat to go in and out as it pleases. Happy cat, healthy doggo, and less stressed pawrent - win!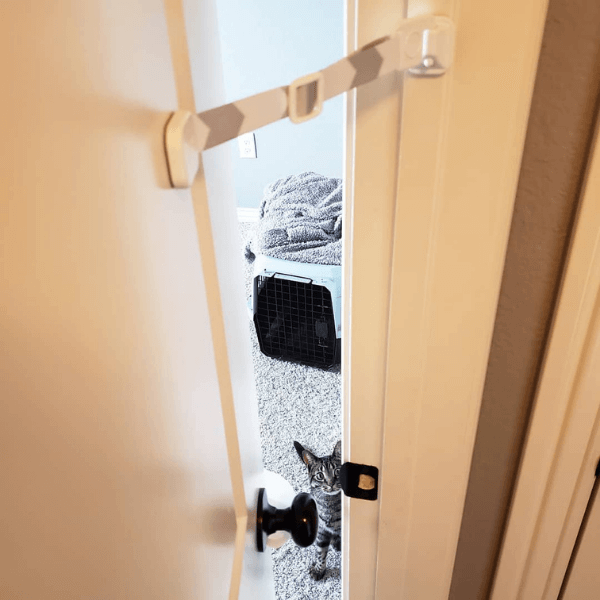 HOW TO TRAIN AN OLDER CAT TO USE LITTER BOX IN 4 EASY STEPS
Right, let's get to it! Now that you've prepared as much as you can, we're sharing 4 easy steps to help with how to train an older cat to use litter box (again)!
Step 1: Introduce (or Reintroduce) Your Cat to the Litter Box
Now that you've created a safe space where your cat to use the litter box, it's time to introduce (or reintroduce) them to it. Show kitty the box, let them explore the space with you around, and reward them with praise and treats if they get in the box. The more comfortable your furbaby feels, the less likely you are to have your cat peeing outside of litter box or icky cat poop outside litter box.
Step 2: Plan out Their Schedule
When it comes to litter training an older cat, schedules are also helpful. Just like you would with a baby or puppy, try following an eat (and drink), sleep, play cycle with your cat. Of course, water should be made readily available at all times, but this will just help as a guideline for those first few days. 
If you think your cat's bladder might be full, close them in the room with the litter box for a little while to prompt them to use the box. If they've eaten dinner, you'll know they might want to use their litter box a little while afterward. 
Step 3: Create a Paws-itive Association
When your cat does use the litter box correctly, you'll want to reward them with their favorite treats and cuddles. If you see them start to squat in the wrong place, try to redirect them towards the litter box and praise them when they use it. 
Step 4: Have Patience
When it comes to how to litter train old cats or how to retrain a cat to use the litter box, you'll need to have patience. They might not get the idea right away, and they will probably be a few accidents, but keep at it, pawrents!
CAT LITTER BOX TRAINING HACKS
In true Door Buddy style, we've got some handy tips that'll help with how to litter train cats:
Make sure your cat's food and water are far enough away from her litter box. She won't want to do her business near where she eats.

Using a pheromone spray may help your cat feel less scared about using a litter box. Spritz the litter box at least 5 minutes before your cat needs to use it and repeat it daily.

Clean up accidents as quickly as paw-ssible. When a cat smells his pee or poop in a particular spot, they are cued to go in that spot repeatedly, and you don't want this if they haven't gone in its litter box!

Use plenty of paw-sitive reinforcement when your cat does get it right. 
If you try and still don't succeed with how to litter train an old cat, it may be a good idea to reach out to your vet for assistance.
DOOR BUDDY CAN HELP WITH LITTER BOX TRAINING CATS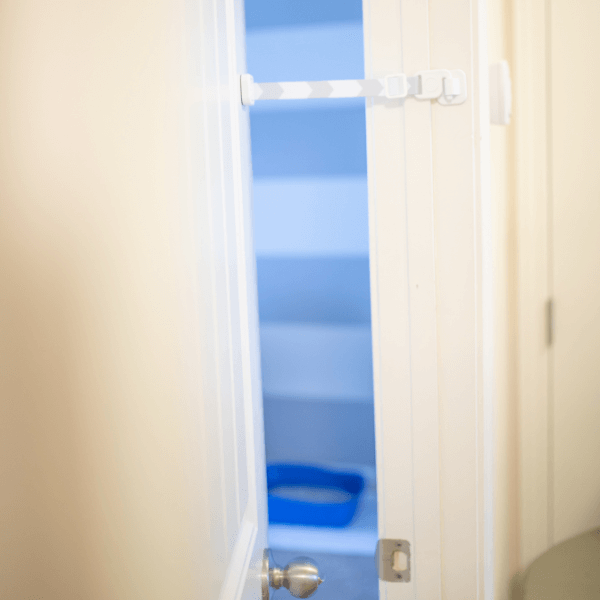 You already know that Door Buddy's adjustable door strap is ameowzing when creating a sanctuary for your cat and its litter box.
It's the purrfect solution if you want to create your own dog-proof litter box without choosing a covered litter box that your cat may not like.
You'll also be able to prevent toddlers and little ones from getting to the cat's food and litter box.
However, did you know that our adjustable door strap also works on most door types, including pocket, bi-fold, and sliding doors? That's right!
And with no cutting or drilling required for installation, it has never been easier to give your cat some space.
Armed with your litter box, cat litter, and Door Buddy, you're ready to train your cat to use a litter box. You've got this! 

CHECK OUT OUR MOST POPULAR CONTENT