Just like with humans, being overweight can increase your pet's risk of health paw-blems! Is your cat overweight? It can be hard to tell with all that fur. Are you struggling with a fat dog? Our pups sure do love their food. Knowing when your pet is overweight is key to addressing the issues. 
According to the 2018 Association for Pet Obesity Prevention survey, more than half the cats and dogs in the United States are tipping the scales as overweight or obese. 59% of cats and 55.8% of dogs fall into these categories. That's a lot of pudgy furbabies! So, is your cat overweight? There's a good chance of it, and of you being the pawrent of a fat dog.
If we're being honest, we've been guilty of easing up on the daily dog walks or regular playtime. What's missing one walk here and there going to do? What does an overweight cat look like? How to see if your dog is overweight? These are the questions we had and we're answering them right here in this post! 
WHAT CAUSES OUR PETS TO BECOME OVERWEIGHT?
Is your dog overweight? It's hard to say no to those puppy-dog eyes, but too many treats can lead to a pudgy pup! Again, just like with humans, too much food and too little exercise contribute to pet obesity rates. 
We all love treats, especially our pets. Instead of rewarding them with food, you can show your a-pup-reciation in other ways, such as a sniffari. Too many treats can cause that ponch to expand, and nobody wants fat cats. Reward with play instead and enjoy extra quality time with your kitty. 
While we're addressing our treats, you may as well take a look at your pet's feeding regimen. Cats and dogs have different caloric requirements, and when we ignore these, their bodies will tell us by either putting on or losing weight. 
In our opinion, it always helps to have an overweight dog chart and an overweight cat chart at the ready. This way, you can determine what healthy looks like and how many calories your pet should be consuming. Luckily, we've created one for you! Click the button below to download these charts.
HOW CAN YOU TELL IF YOUR PET IS OVERWEIGHT? 
Knowing whether or not you have an overweight cat or an overweight dog can be tricky. This body-condition scale from American Animal Hospital Association (AAHA) is a great guideline to help you determine where your cat or dog sits. You can also keep the following points in mind.
Too Thin
Your pet may be considered too thin, if they showcase any and/or all of these 3 criteria: 
1

— Ribs, lumbar vertebrae, pelvic bones, and all bony prominences are visible from a distance; no discernible body fat; noticeable loss of muscle mass
2

— Ribs, lumbar vertebrae, and pelvic bones are easily visible; no palpable fat; minimal loss of muscle mass
3 — Ribs are easily palpated and may be visible with no palpable fat; tops of the lumbar vertebrae are visible; pelvic bones are becoming prominent; obvious waist and abdominal tuck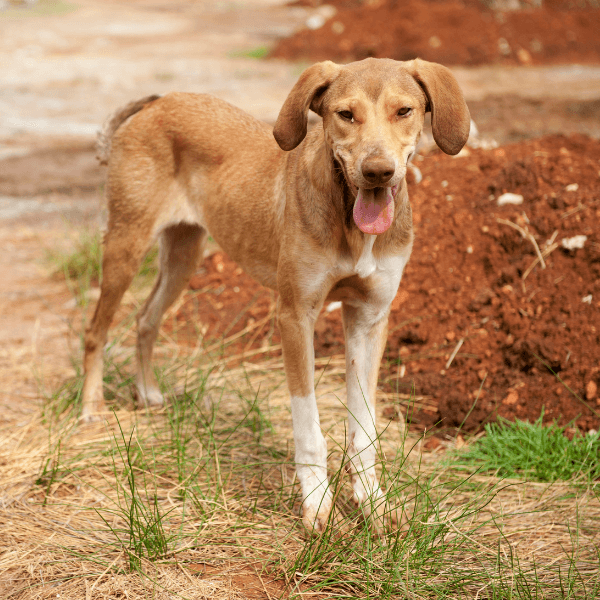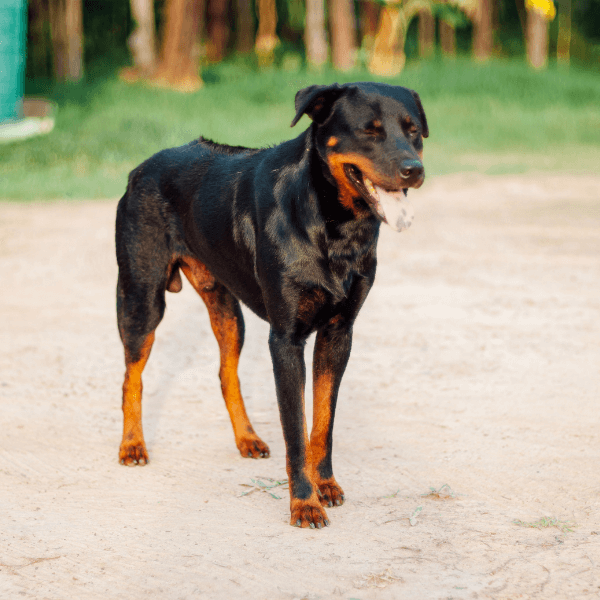 Ideal
Your pet's ideal weight and shape can be determined based on the following criteria: 
4 — Ribs are easily palpable, with minimal fat; waist is easily noted when viewed from above; abdominal tuck is present
5 — Ribs are palpable without excess fat; waist is observed behind the ribs when viewed from above; abdominal tuck can be seen from the side
For all pet owners, this is what we want to achieve when it comes to our cats and dogs. Through regular exercise and a controlled diet, we can help our pets reach their ideal weight. 
Too Heavy
A heavier pet may be more obvious, if they demonstrate the following factors: 
6

— Ribs are palpable with slight excess fat; waist is discernible but not prominent; abdominal tuck is present
7 — Ribs are difficult to palpate due to heavy fat cover; fat deposits are noticeable over the lumbar area and tail base; waist is absent or barely visible; abdominal tuck may be present
8 — Ribs are not palpable under heavy fat cover or palpable only with significant pressure; heavy fat deposits are seen over the lumbar area and tail base; waist is absent; no abdominal tuck; obvious abdominal distension may be present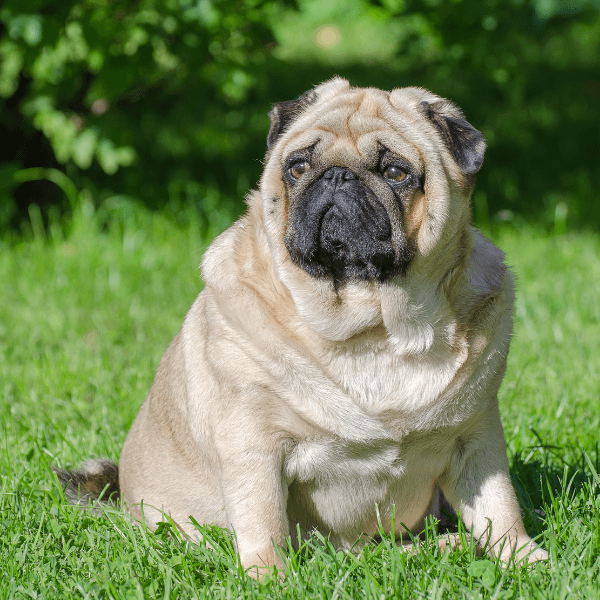 9 — Massive fat deposits are noticeable over the thorax, spine, and tail base; waist and abdominal tuck are absent; fat deposits are seen on neck and limbs; obvious abdominal distension is noted
Again, having an overweight cat chart or overweight dog chart is useful here. However, if you're on the fence, dog consulting your vet is never a bad idea. 
WHAT DOES AN OVERWEIGHT CAT (OR DOG) LOOK LIKE NORMALLY?
Are you wondering how to see if your dog is overweight or what does an overweight cat look like to the average person? Here are some questions to ask yourself! Does it have an hourglass figure with an indentation behind its ribs, or is it more rectangular or oval in form? A great tip is to look at your pet from above. 
Next, you want to look at your pet from the side. Does its belly tuck up as it heads toward the hind legs, or does it seem to droop and drag close to the ground? Don't forget the rib test. Can you feel your pet's ribs as you lightly run your hand across its side, or do you have to push hard to feel any bone under a thick layer of fat?
When asking "What does an overweight cat look like," or wondering how to see if your dog is overweight, this is a good way to tell. 
HOW TO CALCULATE YOUR PET'S CALORIC REQUIREMENTS
Saying our pets need to eat less to lose weight is one thing, but how much should they actually be eating? While this depends on many factors, such as size, breed, and what your pet does, this helpful guide will help you work out what you should be feeding your furbaby.
Are you always trying homemade recipes for pet food? Make sure you're aware of the calorie counts. Even though it might be the healthier feeding option, it can be harder to determine how many nutrients your pet is actually getting.
DANGERS OF OBESITY IN PETS
Carrying as little as 20% extra weight can put your cat and dog at a disadvantage when it comes to their health and wellbeing. Not only are overweight cats and dogs unhappy, but they also tend to live shorter lives compared with healthy pets. This is due to them being at risk of disease conditions such as arthritis, heart disease, skin and breathing problems, and cancer.
WHAT TO DO IF YOUR PET IS OVERWEIGHT
If you've come to the conclusion that your pet is overweight it's time to start helping them shed those extra pounds. Here's a good time to chat with your vet again, as they will be able to help you work out an overweight cat diet or dog diet to help your pet get down to its ideal weight.
How Can I Help My Cat Lose Weight?
In addition to consulting your vet about an overweight cat diet, here are a few tips for helping your feline slim down:
Puzzle toys and interactive feeders are great for slowing down your cat's eating, helping them feel satisfied with less food
Reward with play rather than treats
Increase activity, whether it is taking your cat for walks (on a leash if needed) or just spending more time moving around and playing. We know how much cats love to sleep, but they also need to stay active.
How Can I Help My Dog Lose Weight?
Just like cats, checking on with your vet will help you get your pup on the right track when it comes to their food. Here are a few more tips to help your dog shed those unwanted pounds:
Avoid too many treats, and try rewarding your dog's good behavior with some fun exercise or a sniffari
Increase your doggo's exercise gradually until they get their recommended amount each day. These 15-minute games for dogs are a great place to start! 
Keep them out of the cat food - this is where many doggos pack on the extra pounds!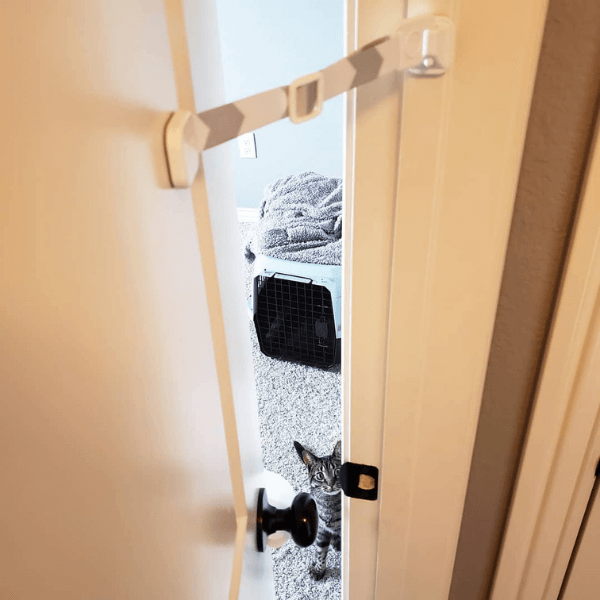 Keeping your doggo away from the cat food can be a challenge - they love the stuff! It's not good for them, but it helps with their weight. Door Buddy makes it convenient to keep your dog away from the cat kibble while giving your kitty space. 

Now that you know how to see if a dog is overweight and what does an overweight cat looks like, you're ready to deal with it. With the right diet and regular exercise, our pets are on track to lead happy and healthy lives! Sticking to this will prevent an overweight cat and an overweight dog.  Here's to being great pawrents and making this happen. 
CHECK OUT OUR MOST POPULAR CONTENT