PET HOWLIDAY SAFETY: PREPARING FOR YOUR PET'S FIRST FESTIVE SEASON
As they say, Christmas is the most wonderful time of the year. However, it's also a time when pawrents must consider holiday safety for pets. While we love nothing more than celebrating the festive season for our furbabies, we're here to make sure you're able to really enjoy your dogs and cats at Christmas. 
If you're a first-time pawrent, this might be unchartered territory for you. Let's not even get started on the added stress of houseguests and cooking that holiday feast! Don't worry; we've all been there, and these pet safety tips should help you prepare for what's to come. So, come on, let's make this time of year purrrfectly safe and stress-free for your furmily! 
HOLIDAY SAFETY FOR PETS: PREPARING FOR YOUR FURBABY'S FIRST CHRISTMAS
There is so much to enjoy about this time of year. From the delicious food to the tree, decor, and of course, the gifts - it's easy to forget that some of our fur-vorite Christmas goodies can threaten pet safety in our homes. Luckily, your Door Buddy family is here to help! Keep reading for our top tips on holiday safety for pets. 
Holiday Safety for New Pets
If you have recently welcomed a new pet into your home, then you might still need to get around to all your pet-proofing. In preparation for the festive season, now is the purrrfect time to get to that. You'll be putting up your tree and enjoying quality time with your family, and keeping your pets safe and happy is im-paw-tant.
Here are some pet-proofing tips for new pet owners to consider:
Limit access to the room where the Christmas tree will be using a Door Buddy. This will ensure the safety of your furbabies. You can let them in while you are in there, supervising them until they are familiar with the tree and decorations. You can also keep an eye on the presents!

Pop your pup on a leash while decorating or opening gifts and letting houseguests into and out of your home

Use your Door Buddy to set up a safe spot where you can keep your pets when you need to. This should be a comfortable place where they can relax and are out of harm's way. 
Pet Holiday Safety for Decorations
Based on experience, we can only imagine that our pets think we spend hours putting up Christmas decorations so that they can play with them! If this is your pet's first Christmas, they will probably be especially excited at all the goodies.
To be fair, there's nothing cuter than seeing dogs and cats at Christmas having fun and joining in on the festivities. However, not all decorations are safe for our furbabies, and we know how a cat can't resist a good Christmas tree. How do you keep your pets safe during the holidays? Read on!  
How to Cat Proof the Christmas Tree
If you are the pawrent of a kitty, then cat-proof Christmas trees are probably on your wishlist. Dogs with Christmas trees can also be a paw-blem. Our pets love to climb these, chew 'em, knock them over, and can ingest fallen pine needles. If not appropriately secured, Christmas trees can be dangerous when it comes to pet safety. Take a look at these tips to help you create cat-proof Christmas trees at home. 
Which Plants are Poisonous to Cats and Dogs? 
As much as we love decorating our homes with gorgeous seasonal greenery, it's im-paw-tant to be aware of pet-safe house plants at Christmas (and in general). Our furbabies have a habit of eating and playing with things they shouldn't, and indoor plants are no exception! So, when it comes to pet-safe house plants for the festive season, here are a few to avoid:
Ivy

Holly

Mistletoe

Poinsettias

Christmas roses or hellebore

Amaryllis
Can You Pet Proof Lights and Decorations?
You spend time putting up lights and decorations, and you certainly don't want your pets pulling them down and chewing things they shouldn't. However, accidents can happen. We suggest opting for decorations that are pet-friendly and avoiding glass and plastic. You'll also want to secure your lights properly, taping any loose wires down. It's also a good idea not to start your lights right at the bottom of the tree, where it is easy for your pets to reach the wires. 
Are Candles Safe for Cats? What About Fires?
We love how cozy a few candles and a crackling fire are during these winter months. Remember, don't leave flames unattended when you have pets around. Instead, put them out and be on the safe side. 
Holiday Food Safety for Pets
If you ask us, the delicious festive food is definitely a highlight of this time of year. Do you find yourself asking yourself which foods are poisonous to cats and dogs? While our pets can get in on a lot of the yummy action, you'll want to take note of these Christmas pet safety tips.
Meat and Bones
While tasty roast and bones might be tempting for dogs and cats at Christmas, steer clear of this and rather enjoy it yourself. Fatty meats are not healthy for our floofs, and bones can easily splinter and cause serious health paw-blems. If you want to treat your dogs and cats at Christmas, head over to Shameless Pets and take a look at some of their festive pet treats. 
Candy 
There is always lots of this around at Christmas, which means it's easy for our pets to get hold of some by accident. Chocolate and any sweets containing Xylitol are particularly toxic to our doggos, so pay special attention to keeping candy out of their paws! Don't forget about the wrappers. Once you have enjoyed your candy, remember to through these away so they don't get swallowed. 
Other Festive Ingredients
Turns out there are quite a few ingredients we use in our Christmas cooking that aren't good for our furbabies. Avoid giving your cats and dogs any of the following:
Grapes or raisins

Chives

Coffee 

Garlic

Citrus

Raw or undercooked fish, eggs, or meat

Onions

Salt

Trash
If you are ever unsure of whether or not your pet can eat something, rather double-check with your vet before giving it to them. 
Holiday Guests and Pets
This time of year is all about friends and family coming together. This means that your cats and dogs will be exposed to visitors they have never met before. Having new people in your home (especially in larger numbers) can cause your pets to become a little anxious. The good news is that there are some things you can do to help. 
Create a Safe Space
With all the excitement, giving your cats and dogs a safe, quiet place they can retreat to when guests are around is so im-paw-tant.
Whether you use a crate for your doggo or a Door Buddy door latch for your cats, create a sanctuary for your pets to enjoy. This will also help ease the fear of any loud noises during the festivities. 
Door Buddy door latch is a purrrfect way to give your cat space this festive season without putting up pet and baby gates around your home. You also don't need to cut or drill to install it, which is ideal if you're renting.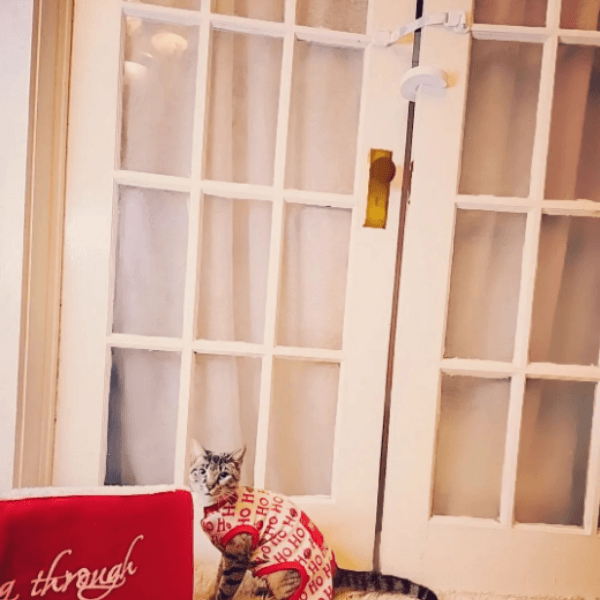 Inform your Guests
Let your guests know before they visit you that you have pets. This will allow them to prepare, especially if they are nervous around animals. You can also advise them where to put their belongings once at your house so that they are safe and out of your pet's way. Remind your guests to keep any medicine out of your pet's reach. 
Be extra safe this Christmas and download our Howliday Safety Checklist here.
Prepare your Pets
Our doggos, in particular, need to be prepared to welcome guests. By starting etiquette training a couple of weeks before Christmas, you will help your dogs be ready to welcome guests when they arrive. Keep your pup away from the door during guest arrivals and departures, and even encourage your pet to sit quietly during this time. Don't encourage begging while guests are eating. Don't forget to reward good behavior!
Don't Forget your Routine
If you have developed certain routines with your pets, especially pups, try and stick to these as much as paws-ible during the holidays. A dog that is well-exercised is likely to behave better. Playing with your kitties might help them steer clear of the tree. Keep feed times and potty times the same so that you don't have accidents to clean up. 
Holiday Outfits and Pets
There is nothing cuter than seeing our pets dressed up in their holiday bests and warm winter jackets. However, we need to remember that it is paws-ible for our dogs and cats to overheat when they are in their outfits. Keep checking them when you do put their clothing on, and rather buy items that are suitable for the climate you are in. 
Traveling with Pets Safety Tips
If you are going to be traveling for Christmas and taking your furbabies with, there are a few things you can do to make the trip easier and more comfortable for everyone. Get your dogs and cats used to their crate a week or so before you travel. You will also want to make sure you have fresh water and snacks for the car, as well as a toy or two. 
If you have a dog, make regular bathroom stops along the way. Don't forget to keep the car at a temperature that your furbabies are happy with, and avoid loud music. For safety reasons, make sure you have the details of the vet near me in case of an emergency. You can read more about traveling with cats on our blog. 
DOOR BUDDY AND HOLIDAY SAFETY FOR PETS
As pawrents and parents ourselves, we understand that Christmas can get stressful. We're here to make things a little easier by helping you give your cats some space and keeping dogs and little ones out of rooms you don't want them in. Our adjustable door strap is just what you need to pet and babyproof your home. In fact, we'd said it's an essential pet safety item all year round.
Door Buddy's adjustable door strap comes on its own or with a cat door stopper that will prevent pinched fingers and tails and keep your door open for your kitty. We suggest choosing our combo option with the cat door stopper to save yourself from getting up and opening your doors for the cats. 
Applying our door latch in your home means giving your cat a place to eat, sleep, and use the litter box in peace. It works on most door types, including sliding, double, and bi-fold doors. You can also use our door latch to keep a dog in a room if you want to prevent it from getting into trouble with guests around. Your pup will be kept safe without being totally cut off from human contact. 
So pawrents, you're ready to enjoy the festive season and keep your furbabies safe! If you haven't already, don't forget to download our Howliday Safety Checklist here.
CHECK OUT OUR MOST POPULAR CONTENT