THE BENEFITS OF PET MASSAGE AND HOW TO DO IT AT HOME
Pets are more than just animals; they are our companions, besties, and family members. And just like humans, they too can benefit from the healing power of touch through pet massage. Pet massage has become increasingly popular in recent years as a way to promote pet health and well-being. In this blog post, we'll explore the benefits of pet massage and provide tips on how to do it at home with your furbabies.
WHAT ARE THE BENEFITS OF PET MASSAGE?
Before we talk about some pet massage techniques, let's have a closer look at the benefits of pet massage for our cats and dogs. 
Relieves Stress and Anxiety:
Pet massage can help your furry friend relax and release any pent-up tension they may have. Regular massage sessions can help reduce anxiety, especially for pets who are nervous, fearful, or might struggle with separation anxiety.
Improves Circulation and Joint Flexibility:
Pet massage helps improve circulation and increase joint flexibility. As our furbabies age, their mobility can be limited due to arthritis or other health issues. Massage can help alleviate these issues and improve their quality of life.
Promotes Bonding:
Pet massage is an ameowzing way to bond with your furry friend. It's a quiet, relaxing activity that allows you to spend quality time with your pet. It's also an opportunity to learn about your pet's body and understand what they like and dislike. Look out for those wagging tails or purrs!
Enhances Immune System:
Did you know pet massage can stimulate the immune system by increasing blood flow and lymphatic drainage? This can help the body fight off infections and promote overall pet health.
Helps with Pain Management:
Pet massage can also be an effective way to manage pain caused by injury, surgery, or chronic conditions. It can help reduce inflammation, muscle tension, and soreness in our cats and doggos. 
HOW TO DO PET MASSAGE AT HOME
Now that you know some of the pawsome benefits of pet massage, we bet you're keen to learn some techniques you can try at home with your own pets! Keep reading here:
Choose a quiet and calm environment for the massage. Make sure your pet is comfortable and relaxed.




Begin by using gentle strokes and petting to warm up your pet's muscles. Move on to kneading and circular motions to target specific areas.




Use a light pressure at first and gradually increase the intensity as your pet becomes more comfortable with the massage.




Pay attention to your pet's reaction to the massage. If your pet seems uncomfortable or in pain, stop immediately.




Always use a pet-safe massage oil or lotion to avoid any allergic reactions or irritation.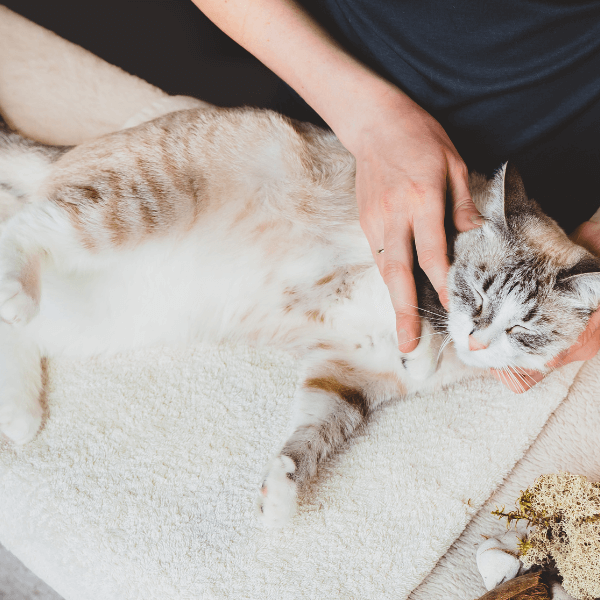 As you can see, pet massage is a simple and effective way to promote pet health and well-being. Regular massage sessions can help relieve stress and anxiety, improve circulation and joint flexibility, promote bonding, enhance the immune system, and manage pain. With these tips, you can easily do pet massage at home and provide your furbabies with the care and love they deserve!
CHECK OUT OUR MOST POPULAR CONTENT