THE ULTI-MUTT GUIDE TO DOG-FRIENDLY TRAVEL
Are you ready to embark on a tail-wagging adventure with your beloved canine companion? Whether you're planning a weekend getaway or a cross-country road trip, dog-friendly travel opens up a world of exciting opportunities for both you and your canine bestie. In this ultimate guide, we'll unleash the top pet-friendly destinations, share tips for stress-free travel, and ensure a pawsome vacation for you and your four-legged adventurer. So buckle up and get ready to embark on unforgettable journeys together!
SAFETY FIRST: TRAVELING IN THE CAR WITH YOUR DOG
Before we get into the incredible holiday destinations you can visit with your doggo, it's im-paw-tant we help ensure that you and your pup are safe when traveling. Here are our top tips:
1. Buckle Up for Safety 
Just like we wear seat belts for our protection, it's essential to secure your dog properly in the car.
Invest in a high-quality dog seat belt or a secure travel crate that keeps your pup restrained and prevents them from roaming around the vehicle.
This not only protects your dog from potential injuries during sudden stops or accidents but also minimizes distractions for the driver.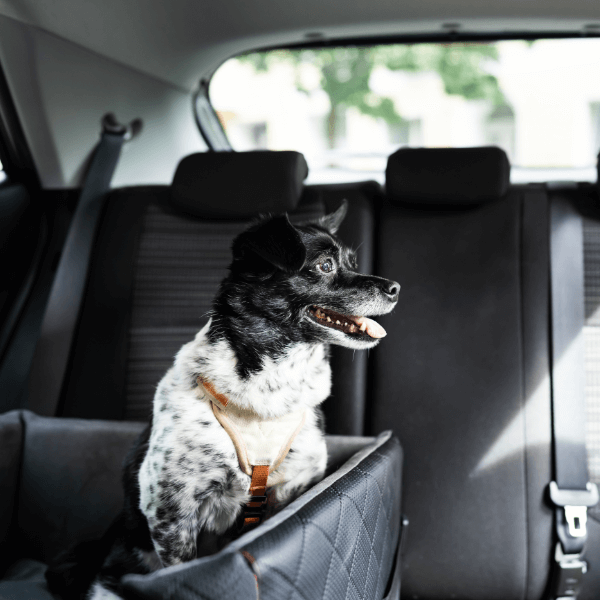 2. Cozy Comfort
Make your dog's travel experience comfortable and secure by creating a dedicated space for them in the car. Use a cozy dog travel bed or a crate lined with familiar bedding to help them feel at ease. Place the bed or crate in a secure spot where it won't shift or slide during the journey, ensuring your dog's safety and reducing its anxiety.
3. Pit Stop Pleasures 
Just like us, dogs need regular breaks during long car trips. Plan for frequent pit stops to allow your dog to stretch their legs, hydrate, and take potty breaks. Look for dog-friendly rest areas or parks along your route where your pup can roam around and enjoy a much-needed break from the car. Remember to keep your dog on a leash and clean up after them to be a responsible pet owner.
By following these safety tips, you can ensure a smooth and secure travel experience for both you and your canine companion. Now, let's get ready to hit the road and explore the fantastic dog-friendly destinations awaiting us!
TOP DOG-FRIENDLY HOLIDAY DESTINATIONS IN THE USA
Now that we're traveling safely let's check out some of the pawsome destinations that you and your doggos can enjoy exploring together. 
Golden Retrievers' Paradise: Exploring the Beaches of San Diego
Sandy Paws and Wagging Tails: Discover the dog-friendly beaches and parks in San Diego.

Surf's Up, Pups!: Take advantage of doggie surfing lessons and beachside playdates.

Dining Delights: Explore some of the best pet-friendly eateries where your pup can join you for a meal.



Bark and Hike: Exploring the Majestic Trails of Colorado
Rocky Mountain Tails: Uncover the pet-friendly hiking trails and national parks in Colorado.

Adventure Awaits: Engage in dog-friendly outdoor activities such as kayaking or camping.

Canine Cool-Down: Find refreshing spots for your pup to splash around in mountain streams or lakes.



The Big Apple Unleashed: Pet-Friendly Fun in New York City
City Dog Chronicles: Explore the dog parks, pet-friendly attractions, and Central Park walks.

Pampered Pups: Visit some dog-friendly spas, boutiques, and grooming salons in the city.

Fetching Treats: Sample tasty dog-friendly treats and dining experiences in the heart of NYC.
TRAVEL TIPS FOR A STRESS-FREE JOURNEY
These handy tips will help make the trip that much more com-fur-table and enjoyable for everyone:
Pre-Trip Prep: Ensure your dog's vaccinations, identification, and microchipping are up to date.

Pack Like a Pro: Essential items to bring for your dog, including food, water, bedding, toys, and first aid.

Pet-Friendly Accommodations: Navigate hotels, vacation rentals, and campgrounds that welcome pets before you leave, and book in advance wherever possible
ETIQUETTE AND RESPONSIBLE DOG OWNERSHIP
Nobody likes a paw-ty pooper, and when traveling with your furry friend, it's important to uphold proper etiquette and responsible dog ownership. Follow these useful tips to ensure a harmonious experience for everyone:
Mind Your Manners
Practice good pet etiquette by ensuring your dog is well-behaved in public places. Teach them basic commands such as "sit," "stay," and "leave it" to maintain control and prevent any potential disruptions. Always keep your dog on a leash unless in designated off-leash areas, and be considerate of other people and their pets.
Respect Wildlife and Nature
When embarking on outdoor adventures, it's crucial to be mindful of the environment and wildlife. Keep your dog on designated trails and avoid venturing into protected or sensitive areas. Adhere to any posted signs and regulations to preserve the natural habitat and prevent disturbances to wildlife. Remember, we're all guests in their homes.
Cleaning Up
A responsible dog owner always carries waste bags and promptly cleans up after their dog. Whether you're in a park, on a hiking trail, or exploring a dog-friendly city, be prepared to pick up your dog's waste and dispose of it properly in designated bins. It's a simple yet crucial gesture that shows respect for the environment and consideration for others.
By following these etiquette and responsible dog ownership guidelines, you can ensure that your dog's presence is welcomed wherever you go. Let's make every adventure a positive and paw-some experience for everyone involved!
Traveling with your furry friend is an incredible experience that strengthens the bond between you and your dog while creating unforgettable memories. By following the tips in this ultimate guide and exploring the top dog-friendly destinations in the USA, you can embark on some fur-tastic trips with your best pals.
CHECK OUT OUR MOST POPULAR CONTENT