WHY DO DOGS EAT CAT POOP?
There are certain things that animals do that we, as humans, just can't get away with - nor would we want to! If you're a dog owner, you've probably seen your pooch eat a few ...questionable items that you'd rather not think about. And, if you own both cats and dogs, one of those gross-out moments might have been seeing your dog munch on your cat's poop.
We've all been there, right? Yes, this is not the most appetizing thing to think about, especially when your dog wants to "kiss" you right after engaging in such behavior! No, thanks! Un-fur-tunately, it's a reality that most fur-parents face. I mean, why would a dog eat cat poop?!
If you've been looking for the answer to "why do dogs eat cat poop and litter?", you've come to the right place. Not to say that we're experts or anything, but we do know a thing or two about keeping the dog out of the litter box and how to prevent it! 
WHY DO DOGS EAT CAT POOP?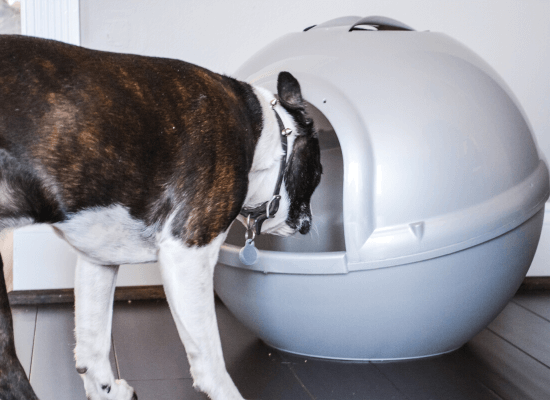 So why on earth would a dog do something as nasty as want to eat cat poop? Talk about having unique preferences!
According to the American Kennel Club, the simple explanation for this is that dogs are scavengers. Sounds about right, no? Our doggos are not too proud to eat garbage, poop, a decomposing animal, or any number of things that we humans would find utterly disgusting.
When it comes to eating cat poop, experts explain that the poop actually carries the aroma of the cat food very recently digested by your furry feline. As a result, a dog is attracted to its scent and views it as a potential snack. Read the full story on why dogs like to eat cat poop here. 
HOW TO GET DOGS TO STOP EATING CAT POOP
What does it mean when dogs eat cat poop? If you find you can't keep your doggo from eating cat poop, you may want to ask yourself the following questions. This will give you an idea of why this horrible habit has started in the first place. As always, we highly recommend consulting your vet as the pawblem may most likely have to do with their diet. 
Are they getting enough nutrients in their diet? 

Are they experiencing some separation anxiety?

What other behavioral issues are they showcasing?

Have you made any significant changes in your routine? 

When last did you take them for a health check-up
CAN CAT POOP MAKE DOGS SICK?
Now that you know why your otherwise esteemed doggo thinks cat poop makes a suitable snack - blech! - you're likely wondering if it's bad for your dog to ingest. Could it make him sick? Good question!
Our fur-ends over at the American Kennel Club say that cat poop could possibly hurt your pup in the event that the cat poop is carrying some sort of parasite or harmful bacteria. Some of these bacteria or parasites can be transferred, and the cat may not even exhibit signs of illness. Furthermore, litter can be harmful if it clumps inside your pet's stomach.
The biggest worry about dogs eating cat poop is toxoplasmosis. Toxoplasmo-who? We know, it's a big word but don't let this scare you. We've got a whole blog post detailing what you need to know about this nasty bacteria that lurks in the litter box. 
CAT LITTER FOR DOGS IS NOT HEALTHY, BUT DOES YOUR DOGGO SNACKING ON CAT TURD AFFECT YOUR KITTY?
Does it bother your cat to have the family dog eat her poop? You bet! Your cat thrives on privacy and a sense of peace and security wherever her litter box is placed. Having the dog come and go at any time he pleases will frustrate your cat and likely prevent a harmonious environment among the pets within your household.
After all, how would you like it if someone kept interrupting your toilet time? Especially when they are trying to eat the cat turd! Not only does this give your doggo the worst smelling breath, cat litter for dogs is also not healthy. 
HOW TO KEEP A DOG OUT OF A LITTER BOX:
So, your dog's eating cat poop and it's harming their health. Not to mention the fact that your cat's feeling a little uneasy with their unwanted visitor! What can there be done to stop this gross habit from happening and to keep a happy fur-mily?
When it comes to how to keep a dog out of a litter box, we've got the solution. Enter Door Buddy. Door Buddy is a practical solution that brings pet owners, and their cats, peace of mind with a great sense of security.
By using Door Buddy on the door leading to your cat's litter box, your dog will no longer be able to get into the room, but your cat will still be able to access her own private area.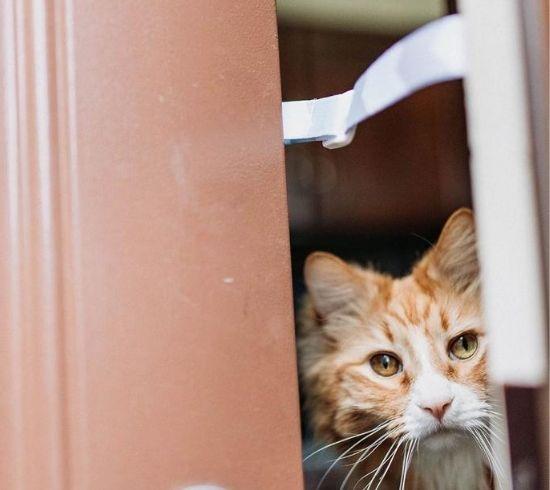 DOES DOOR BUDDY WORK FOR A DOG EATING CAT FOOD?
Yes, this adjustable pet door strap also works well when you want to stop your dog eating cat food.
Door Buddies are affordable, simple to use, and make a great gift for any loving pet owner. Try one, and you're guaranteed to have happier dogs and cats in no time flat!
Having a pooch that can't stop eating the cat poop is a pawblem. It's just plain nasty! Not to mention the fact that your cat will see this as a major invasion of privacy. Taking the time to pet proof your home and set up your cat's own space is one way of ensuring that the cat's poop stays where it is!
SOME OF OUR RAVING FANS
Let Door Buddy Restore the Peace in Your Home Too!