BABIES AND PETS: A GUIDE FOR NEW PARENTS
Pets and babies can be lifelong pals. Is there anything sweeter than seeing your two loves cuddle up and enjoy their time together? For us, seeing our cat, Ralphy, and our girls bond over time was one of the greatest moments of living with babies and pets. 
As the saying goes, "Rome wasn't built in a day," and neither will this level of purrrfection. Taking the right precautions and using the best baby pet safety tips is a significant factor in keeping the peace and love in our homes. For instance, you will want to know how to keep baby safe around your dog and how to baby proof a cat box. Failing to do so can lead to cat-astrophe. 
If you're a new parent or one that simply is at wit's end, you may want to pay attention to our baby pet safety tips. In this article, we will decipher childproof pet products you can't live without, and we will answer the big question to how do we keep our babies safe around our pets and vice versa?
For many, their pet is their "first baby." However, it's completely understandable to be nervous to bring your hooman baby home to their fur-siblings. Luckily, with a bit of planning, your worries will soon be out the door.
Prep Your Pets
Before even thinking of babies and pets living together, you first have to consider how you can prepare your dog or cat for the new arrival. After all, your pet will pick up on the significant amount of change that's coming their way with the change of furniture, and your growing belly. 
To avoid any anxieties, you may want to take some precautions to help your pet prepare for their new normal. You can try playing baby crying sounds, allowing them to smell your chosen baby products, and get them used to the baby room. 
You should also note that this can be a stressful time for your pet, and anxiety levels may be on the rise. For cats, setting up a safe space is vital in ensuring that they can retreat whenever feeling overwhelmed. Your dog, on the other hand, will adapt well when exposed to smells and new surroundings.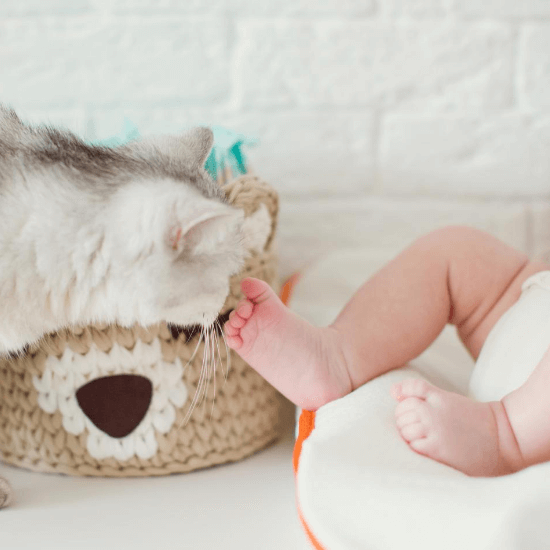 Learn How to Introduce Pets Correctly 
Now, we've already covered how to introduce your cat to a baby and a break down of babies and dogs living together. But, we'll still give you the lowdown on what to expect and what you can do. 
First up, it's essential to remember that these things take patience. Going slow and steady is critical. Your dog and/or cat won't necessarily be quick to hop on board, and it's important to continue to nurture all of your babies in this situation.  
We recommend taking the first introduction slow. You can start by getting your pets fur-miliar with your baby's scents by giving them a blanket with their scent. Then, use childproof pet products to keep any potential chaos from erupting. Enforcing firm boundaries will help keep everyone safe.
Supervise At All Times
So, you've brought your baby home, and the bonding is well underway - success! However, this doesn't mean that it's smooth sailing from here on out. 
Let's look at how to keep baby safe around your dog. The thing about babies is that they're very inquisitive, which isn't so different from your dog. While both of them may want to explore one another, your baby might not be ready for your dog's playfulness. At the same time, your dog may not be prepared for the grabby hands that await them.
This is why you need to keep a watchful eye at all items. If your baby grabs your dog in the wrong way or gets on your dog's nerves, your dog may react with a nip. 
As for your cat, this new dynamic can open up a world of stress for them. Those claws combined with your baby's gentle skin, no thank you! 
Choose the Right Childproof Pet Products
Accidents happen, and we can't be in two places at once. What we can do is set up a childproof area for your pets to roam around without running into trouble. That's where Door Buddy comes in. 
Door Buddy is an adjustable door strap that keeps your baby safe and out of rooms where harm awaits them. What's even better is that it doubles up as dog proofing too. If you have a dog that can't get enough of the kitty litter, then you'll love Door Buddy. 
Our product is the perfect solution to solving how to baby-proof a cat box while still giving your cat the freedom to do their business when needed. It's a lot more convenient than using a tricky baby gate too! Just stick the strap to your door, latch in the hook, and adjust it to suit your cat's width. That's all there is to it!
If you're worried about pinched fingers and tails or pets getting locked in our out of the room, we're one step ahead of you. Our foam pinch guards are a fantastic addition to add to your baby pet safety tips. This acts as a stopper that prevents the door from slamming on any loveable limbs. It also installs in seconds and can be used throughout the house!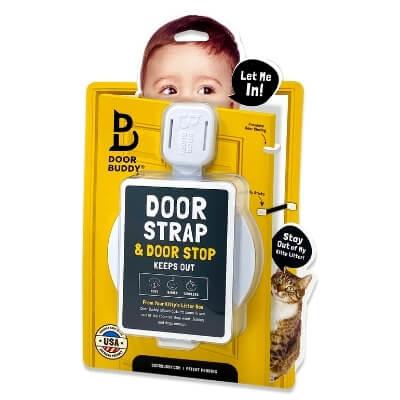 When it comes to babies and pets, there's no greater joy as a parent. Avoid the stresses and turn to Door Buddy to solve your need for childproof pet products. 
CHECK OUT OUR MOST POPULAR CONTENT