BABY SAFETY TIPS FOR DOGS
When you're a furparent and finally have "the talk" about expanding your family, it's only natural to think about how your furbabies will get on with your hooman baby. The picture of dogs and babies becoming besties is one that's hard to resist! That picture may become a little tainted when you think of all the safety hazards that come with this fur-endship. 
Dogs and newborns don't have to be surrounded by a sense of fear. Introducing dog to baby is a large part of ensuring a happy and safe home. On top of this, it's essential to understand your dog's behavior, seeing signs dog is jealous of baby, and being prepared by pet proofing your home. 
In this article, we will take you through it all. By the end of it, you should feel safe and confident in having a new baby and dog live together under one roof! Let's get started! 
SIGNS DOG IS JEALOUS OF BABY:
READING THE WARNING SIGNS
Considering your dog's behavior and understanding their cues is an extremely effective way of navigating your pet proofing strategy. By knowing the warning signs, you can quickly tell if it's time to remove your babe from the situation or if your doggo is feeling slightly nervous. After all, the goal is to have 2 happy babies and to nurture a fur-ever bond. 
Here's the truth: dogs are man's best friend. In other words, they're bound to get jealous sooner or later. Think about it this way, if you were the apple of your doggo's eye and they had a new friend to play with, wouldn't you feel a little neglected? This may even peak when you're showing your new babe affection and giving them the cuddles that were once solely reserved for your pooch. Before you get mad, just remember that they're only doing this because they love you!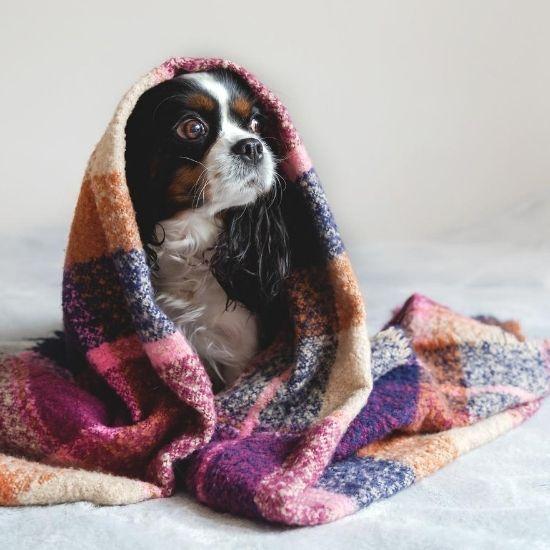 Thankfully, there are several signs dog is jealous of baby that you can take note of before your doggo gets too upset. Your doggo may:

Show signs of aggression
Go to the bathroom all over the house
Become needier
Withdraw themselves 
Have a lack of appetite
Push their luck to draw attention
What's important to note here is that all of these signs have one thing in common - they're ways for your dog to grab your attention! Unfortunately, if these warning signs don't get addressed, your dog may feel the need to stand up for themselves.
 If the stress of having a new baby and dog under one roof gets too much, we highly recommend speaking to a behavior specialist. They're the pros and can give you some guidance into this unchartered territory. 
HOW TO CREATE A SAFE HOME FOR DOGS AND BABIES
Dogs and newborns will eventually settle into one another, and these signs will disperse. Until then, let's get into how you prepare your home and dog for the big change. 
Start Introducing Dog to Baby Early
At first, your dog may seem intrigued about this new hooman that's joining their home. Your baby will have its own set of smells and energies that it's bringing into the mix, so it's only natural that your dog may be a little curious. When you bring your baby home, your dog may want to sniff around them and try to sneak a peek of their new pal. 
Although having your two babies finally meet is what dreams are made of, it can quickly become overwhelming. To avoid this, start introducing dog to baby as soon as you can. Before coming home, bring back your baby's blanket for your dog to sniff and sleep with. By the time you're home, they will be more comfortable with the new scents.
Never Leave Your Baby Unattended
Even though your newborn may be restricted to life on their back for a good few months, it's incredible what kind of trouble they can get themselves into. And then you add a playful pooch! As a general rule, it's always best practice to keep an eye on your baby, but when there's a dog involved, try not to get distracted by phone calls or texts.
The reason for this is that your dog may have the best intentions, but it can quickly go downhill. Combining dogs and babies can lead to a lot of germs being exchanged and a lot of mouths in areas that you seriously don't want or need! Who can blame them? Sloppy kisses are the best - fur and hooman!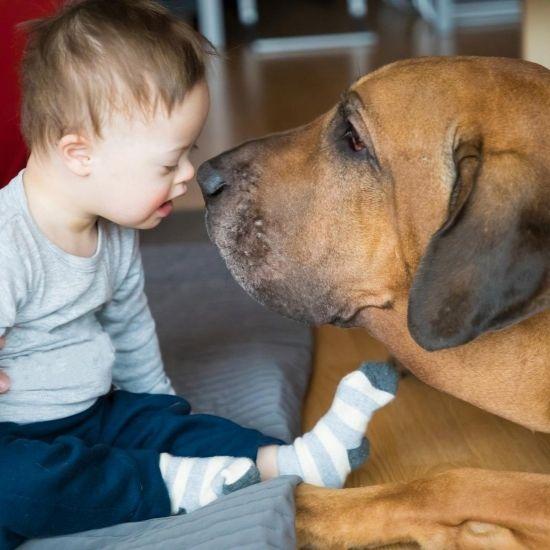 Avoid Letting Your Child Creep on Your Sleeping Dog
You know how you're never supposed to wake a sleeping baby? The same goes for your dog! Your dog may get a fright and hastily react. Having your baby crawl and pull on their fur is an accident waiting to happen, which we seriously want to avoid. 
Keep Your Baby Away from Your Dog When They're Eating
When it comes to your dog's food, it's best to keep it as far away from your baby as possible. This point is two-fold. First, your dog will most likely snap at your little one if they get too close to their food bowl. Second, no one wants their baby eating the dog food! 
Encourage Gentle Interactions
The great thing about dogs and babies is watching their relationship grow. Your baby won't be small forever, and they will soon love to play with their pooch in the garden or cuddle up on the couch together. Until then, taking things slowly and carefully comes highly recommended. 
When approaching the toddler years, you may notice that your child's ability to grab, hit, and throw gets stronger. While these are incredible milestones to reach, your dog may be at the brunt of it. Of course, our darling children don't know that pulling on their dog's fur or giving them a kick is harmful. It's our job as parents to remind them of gentle touches and kind interactions. 
Set Up Strong Boundaries 

As your child gets older, it will be easier to put in place stricter boundaries. Teaching them not to grab anything out of your dog's mouth, chase the dog around, or shout at your dog is key. Setting up these boundaries will create a safe environment for both dogs and babies. 
Rely on Door Buddy
When verbal boundaries aren't enough, look to Door Buddy for extra reinforcements! Our dog proof door latch is a fantastic way to separate our pooches and babies for their safety. If you need to keep the dog out of your nursery or lock up the dog's food bowl, Door Buddy is a must. 
You may think that using a baby gate is the perfect solution to babyproofing. To an extent, yes, this is true. But, have you ever tried to open one of those things with your hands full of laundry or having your baby scream on your hip? They're not easy to navigate with one hand, trust us, we've been there and had the increased stress levels to prove it! 
Door Buddy is a simple and effective solution to your pet and baby proofing needs. Our adjustable door strap keeps babies and dogs out of rooms that they shouldn't be in, while giving parents easy access. No tools or complicated installations needed! You can literally get a safer home in seconds. 
Door Buddy Baby
Plus Pinch Guard
$18.97
Door Buddy Dog
Plus Door Stopper
$18.97
When all of your baby safety preparations are said and done, it's important to remember that your dog needs your love too. It will be easy to forget our furry friends when you're running around after a newborn, operating off of a few hours of sleep, and still trying to function as a grown-up. However, nurturing our pooch's emotions is a great way to make sure that your home is filled with love and remains a safe place for all. 
CHECK OUT OUR MOST POPULAR CONTENT