CATS AND CLOSED DOORS - WHAT'S THE STORY? 
When you hear that high pitched, "meeeeeooooow", you know exactly what has happened. The door has closed on your purrrfect kitty. Cats and closed doors do not mix! But, why? Why do cats meow at closed doors, and why do cats hate closed doors so much? 
Unless you have a cat, you may think that a closed door is a part of your everyday, normal life. You're right, it is. But, for us cat owners, doors can be the very bain of our existence. In the mind of your cat, there's nothing more insulting than having a door shut in their face. It's basically a slap in the face, and they won't be afraid to show their unhappiness. 
However, not all cats have this problem. Fur-parents, consider yourselves the lucky ones! For those who know exactly what we're talking about, this blog post is for you. Let's jump into the story behind the reason cat hates closed doors.
WHY DO CATS HATE CLOSED DOORS?
The answer to this common cat problem is fairly simple and a bit obvious, especially if your kitty is big on attention. Cats don't like closed doors because of curiosity, FOMO, and territory. It could be a combination of all three for some cats, but for others, it could just be one that's causing concern. 
Cats Don't Like Closed Doors Because of Curiosity
So, curiosity killed the cat, huh? Dramatics aside, your cat's need to know what's going on at all times, and being excluded plays a large role in their constant meows when being locked away. Cats are curious creatures, so this point shouldn't come as a surprise. 
This can particularly become a problem when there are tons of sounds, sights, and smells that your cat is missing out on. Your kitty needs to know what's happening, where it's happening, and why things are going down. It doesn't matter how small the situation is, they've got to be in the know.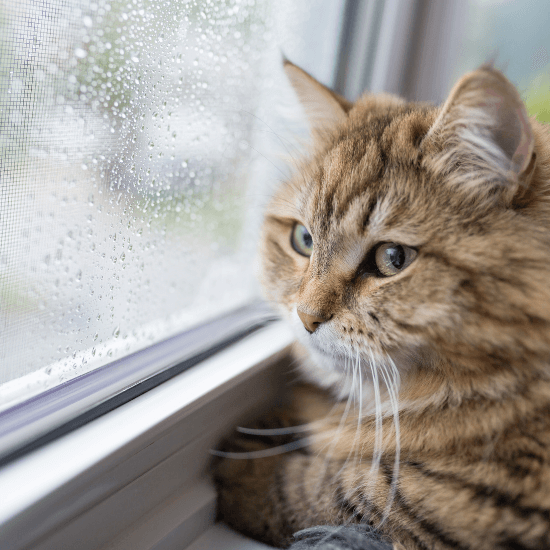 Cat Hates Closed Doors Because of FOMO
For curious cats, a closed door is like getting uninvited to the party of the year. Imagine you were in a room with a group of your fur-vorite people, and they sent you to isolation in a room? Not fun. 
No one likes missing out on the fun. This could be the reason why your cat hates closed doors. They want to be around their best friend all the time, and they want to be a part of your life. 
This could be why you're getting a case of the nighttime crazies too. Your kitty will want to be with you at night and cuddle up with their fur-end.
Cats and Closed Doors Because of Territory 
Territorial instincts are huge in cats, regardless if they're indoor or outdoor pets. In the wild, boundaries are essential for cats, and they'll guard them at all times. So, when a door gets shut, they feel as if their boundaries aren't being respected, which causes distress. 
When adding a barrier to your cat's space, it's common to see them become distraught. This is because you're limiting their freedom and restricting them from living their best life. In hooman terms, this like taking yourself from open fields and locking yourself up in a tiny apartment without any windows. Anyone else starting to feel claustrophobic?
WHAT CAN WE DO WHEN CATS DON'T LIKE CLOSED DOORS?
It's a catch twenty-two: do you give your cat their privacy in a safeguarded room away from the dog or do you let the dog enter rooms to eat from their litter box and food freely?
We know cats like their open spaces, and any restrictions can be seriously stressful for our purrfect pets. So, what can you do to avoid the meows but protect the litter box? 
If you've read our introducing cats blog post, or any post regarding introduction really, you will already know the importance of giving your cat a safe space. Having a room for your cat to retreat to when feeling overwhelmed and where they can have their privacy is a must. 
The problem with this is that you can't exactly live your life opening and closing doors at your cat's demand. That's why Door Buddy has over 3,000 5-star Amazon reviews. Our adjustable door strap is the perfect solution for cats and closed doors. 
If your cat hates closed doors, this is a must! The strap keeps doors wide enough to let cats in and out while stopping the dog from getting in. This means that your cat has their privacy, they can explore as they please, and you won't have to deal with the annoying meows! 
When looking at why do cats hate closed doors, it's easy to understand where our kitties are coming from and why they're feeling the need to call out when locked away. If all else fails, take comfort in knowing that our cats love us, and the thought of being away from us is far from a-meow-zing. 
Stick with Door Buddy for more useful tips, such as how to keep baby out of the litter box. We're all about making life easier for pawrents and parents!
CHECK OUT OUR MOST POPULAR CONTENT