CREATING A PET-FRIENDLY HOME: THE DOOR BUDDY SOLUTION FOR KEEPING PETS HAPPY AND SAFE
Welcome to the wonderful world of pet ownership! As pet parents, we know how important it is to create a safe and comfortable home environment for our furry friends. In this blog post, we'll em-bark on a journey to discover the secrets of making your home truly pet-friendly for feline and canine furbabies. 
Along the way, we'll explore the paw-some benefits of Door Buddy and how it can help maintain harmony and safety while adding a dash of convenience to your daily pet routines. So, grab a treat for your fur baby, and let's get started!
HOW TO CREATE A PET-FRIENDLY HOME
Step 1: Understanding the Importance of a Pet-Friendly Home
Creating a pet-friendly home isn't just about spoiling our furry companions with treats and toys (although those are certainly im-paw-tant!). It's about tailoring our living spaces to cater to their unique needs and creating an environment that promotes everyone's overall well-being. Let's unleash the joy and explore the amazing benefits of a pet-friendly home that will have your pets purring and wagging their tails with delight.
One of the key aspects of a pet-friendly home is providing cozy resting spots for our pets. Cats love to find nooks and crannies where they can curl up and nap, so creating com-fur-table sleeping areas with soft beds or blankets in quiet corners will make them feel right at home. Dogs, on the other hand, may appreciate a plush dog bed or even a designated space on the couch where they can snuggle up with their favorite humans.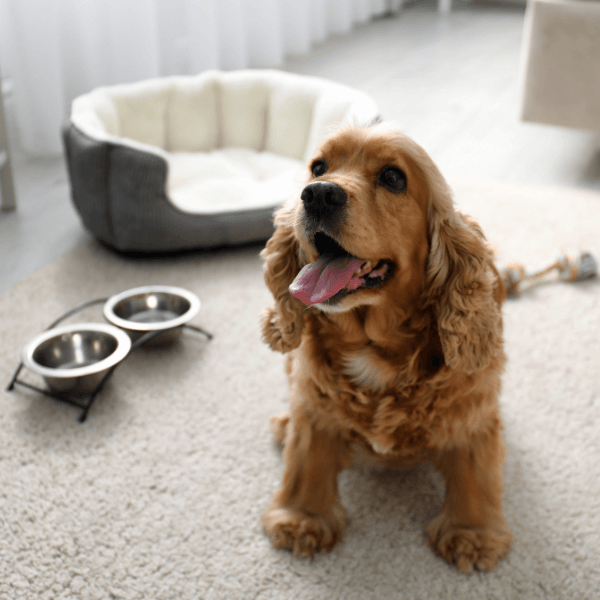 Designating play areas is another crucial element of a pet-friendly home. Cats love vertical spaces, so incorporating cat trees or shelves they can climb and explore will keep them entertained and active. For doggos, having a designated play area with toys and ample space to romp around will help them burn off energy and prevent destructive behaviors. Remember to choose toys that are safe and appropriate for your pets' size and chewing habits.
Step 2: Designing Your Home with Pet-Friendly Features
When it comes to designing your home with pet-friendly features, the options are endless! Let your creativity run wild as you create a space that not only meets your aesthetic preferences but also caters to your pets' needs.
Consider choosing durable and pet-friendly materials for your furniture and flooring. Opt for stain-resistant fabrics that are easy to clean and won't trap pet hair. Hardwood or laminate flooring is a practical choice, as it's less likely to hold odors and is easier to maintain than carpet.
Interactive toys are a must-have for keeping your pets mentally stimulated and entertained. Puzzle toys that dispense treats, scratching posts for cats, and interactive fetch toys for dogs are all excellent choices. These toys provide mental and physical stimulation, helping to prevent boredom and destructive behaviors.
Creating cozy nooks for your pets to relax is a great way to make them feel at home. Consider setting up a window perch for your cat to enjoy birdwatching or a sunlit spot where they can bask in the warmth. For dogs, a comfortable crate or a designated corner with a soft bed can serve as their cozy retreat.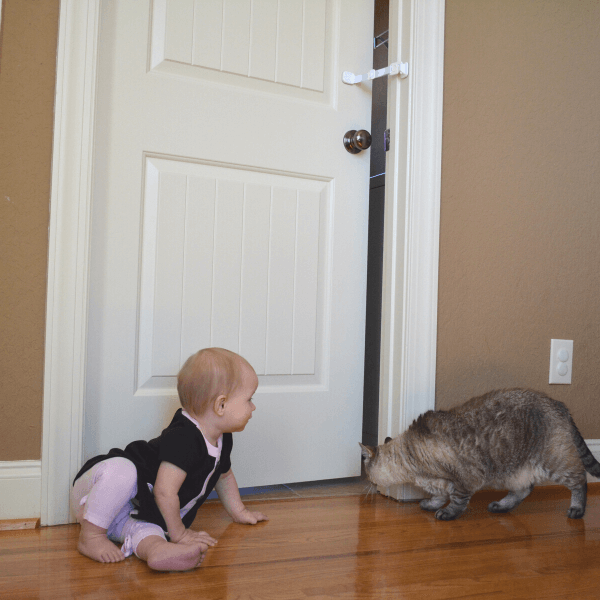 Step 3: Baby Gate With Cat Door Alternatives: Safety Meets Feline Freedom
When you have a growing family with both little ones and fur babies, safety is paramount. You want to create a secure environment for your bundle of joy while still allowing your curious cat to roam freely. That's where the concept of a baby gate with a cat door comes into play, but Door Buddy's door strap will do you one better. It's like hitting the "paws" button on your little one while granting your feline friend the freedom they deserve.
The beauty of using Door Buddy instead of a baby gate with a cat door lies in its convenience in providing a barrier that keeps your little one safe and protected while allowing your cat to come and go as they please. Our adjustable door strap does this without hindering YOUR movement too much. Create a secure play area for your baby and keep them out of the cat's food and litter box without confining your cat to one room.
By incorporating our baby gate with a cat door alternative into your home, you can achieve a harmonious balance between keeping your baby safe and granting your cat the freedom they need. It's a paw-some solution that brings peace of mind to parents while ensuring your kitty can navigate its territory without limitations. So, bid farewell to the days of closing doors and let your furry friend roam freely, knowing that safety and happiness go hand in paw.
Step 4: Dog Gate With Cat Door Alternatives: Fostering Harmony in a Multi-Pet Household
Living in a multi-pet household can be a delightful experience, but it also requires careful management to maintain harmony among your four-legged family members. Each pet has its own unique needs and preferences, and creating separate spaces while still promoting interaction and socialization is key to fostering peaceful coexistence. 
That's where a dog gate with a cat door alternative like Door Buddy comes to the rescue. Our door latch offers a tail-wagging solution that keeps the peace and ensures each pet has its own special place.
Our dog gate with a cat door alternative acts as a friendly barrier, allowing you to create designated zones for your pets without isolating them completely. This pawsome invention provides a clear boundary, ensuring that your dog stays in their designated area while granting your cat the freedom to explore other parts of the house. It's a win-win situation that allows for controlled separation without sacrificing the opportunity for social interaction.
Door Buddy's adjustable door strap is designed with quality and functionality in mind. We offer sturdy construction to withstand the energy of even the most playful dogs, while our handy foam door stopper allows your feline companion to navigate through different areas effortlessly without worrying about doors closing. This means your cat can access their food, litter box, or preferred napping spot without interference from their canine sibling.
So, let Door Buddy be your secret weapon in managing the dynamics of your multi-pet household and create a balanced living environment that keeps everyone wagging their tails and purring with contentment. Our door latch works on most door types, including your sliding, bi-fold, and double doors.
Incorporating these innovative solutions into your home ensures that both your little ones and your fur babies can coexist safely and harmoniously. Whether it's a baby gate with a cat door or a dog gate with a cat door, these pet-friendly additions bring convenience
Congratulations on taking the first steps towards creating a more pet-friendly home that reflects your love and care for your furry family members. By implementing pet-friendly design elements, incorporating your Door Buddy adjustable door strap, and embracing the convenience and safety that comes with it, you're providing a haven where your pets can thrive. Remember, a happy pet means a happy home!
CHECK OUT OUR MOST POPULAR CONTENT