ESSENTIAL TIPS FOR BETTER PET DENTAL HEALTH
When it comes to keeping our furbabies healthy, many owners overlook the im-paw-tance of pet dental health. We're so used to our pets NOT having minty fresh breath that we often don't notice when there might be a problem. It turns out that dog dental care and cat dental care matter a lot more than you might think, so we're going to share some tips to help you better manage pet dental health. 
According to Vetstreet, about 80% of dogs and 70% of cats over the age of 3 suffer from significant oral disease that requires treatment. By being proactive with your dog dental care and cat dental care, you can help reduce this number while keeping your furbabies happy and healthy. Keep reading for our top tips to help pawrents stay on top of pet dental health and prevent dental disease.
HOW TO ACHIEVE HEALTHY DOG TEETH AND GUMS
Regarding your dogs' dental care, achieving and maintaining healthy dog teeth and gums is super im-paw-tant! If you find that your doggo's breath is extra smelly, odds are there is a problem with their teeth (this is an early sign of dental disease). Here are some tips to help you, fur-end. 
Brush your Dog's Teeth Regularly
Vets suggest doing this daily to keep your dogs' teeth clean, but we know that being the busy pawrent you are, this can be tough. So, we suggest doing it as often as possible, at least 3-4 times a week, if you're unable to do it daily. Most dogs don't love having their teeth cleaned, but the good news is that they can be trained. The more often you do it, the more they will get used to this aspect of dogs' dental care. 
Regular dental cleanings, like brushing, are an essential part of your dogs' dental care routine to prevent dental disease. You'll need doggy toothpaste and a doggy toothbrush. Choose a toothbrush size that works with your dog's size to get those dogs' teeth clean. You can also opt for a brush that fits over your fingertip. You'll want to brush a few teeth at a time, and American Kennel Club shares some pawsome steps for how to clean a dog's teeth here. 
Try Dog Dental Tooth Wipes
If you aren't familiar with these, dog dental wipes are almost like wet wipes but designed to clean dog teeth. They work like a toothbrush but aren't always able to get into all those nooks as the brush does. However, if you can't use a toothbrush on your dog or need an easier alternative to keep those dog teeth clean, these are your go-to! We love these wipes from TrueBlue. 
Professional Cleaning at the Vet
If you've been searching for low-cost dental for dogs near me, then the first place you should be checking is your vet. When it comes to anything to do with your dog's oral health, your vet should be your go-to person for help and professional cleaning. Even with regular brushing and cleaning, it is still a good idea to have your vet check your dog's teeth whenever you visit. 
The cost of dental cleaning will depend on your vet, but it is essential work and can save you money in the long run! 
HOW TO KEEP CAT TEETH HEALTHY
While our kitties seem like pretty low-maintenance pets, keeping cat teeth healthy is one job that pawrents need to take seriously. To make caring for cat teeth health a little easier for you, here are some of our fur-vorite tips to help with your cat's dental care. 
Regularly Brush your Cat's Teeth
Although it is easier said than done, brushing your kitty's teeth goes a long way to keeping those cat teeth healthy. If you can start this healthy habit when your cat is a kitten, we suggest you do it! If not, it'll take some time, but you'll get there eventually. 
So, when it comes to brushing your cat's teeth, here's what you need to do:
Sit comfortably with your kitty on your lap.

Pop some cat toothpaste on your finger for your cat to lick. Choose a flavor they will enjoy

Let your cat investigate and play with the toothbrush. This may be as far as you get the first time, but keep trying. 

Repeat steps 1-3, and then gently open your cat's mouth and brush its teeth from front to back in an oval pattern. You'll want to get the bristles between and under their teeth.

Brush for under a minute - this should be enough to clean cats teeth. 
Feed your Cat Dry Food and Dental Treats
Crunchy kibble works nicely at removing plaque from your cat's teeth while they are eating. We suggest looking for dry food with a dental claim and veterinary seal of approval wherever possible. Dental treats are also a purrrfect option to help clean cats teeth. Your kitty will love them; the ingredients will help clean the mouth and freshen their breath. Browse these dental treats from Chewy here. 
Try an Oral Rinse in your Cat's Water
Cats love fresh water, and adding a few drops of an oral rinse each time you change it is a fur-tastic way to keep cat teeth healthy at home. This rinse helps to prevent plaque build-up and kills harmful bacteria. It doesn't taste or smell of anything, so your cat won't even know it's there. The only downside to an oral rinse is that you generally shouldn't use them in a water fountain. 
Professional Cleaning at the Vet
As with our doggos, consulting your local vet is always a good idea when it comes to our cat's oral health. So, when you take your furbaby for its regular vet visit, ask your vet to look at your cat's teeth too. The cost of cat dental cleaning will depend on your vet, but don't skip on it if it needs to be done. This could lead to even bigger paw-blems (and spending) down the road. 
STOP STINKY BREATH WITH DOOR BUDDY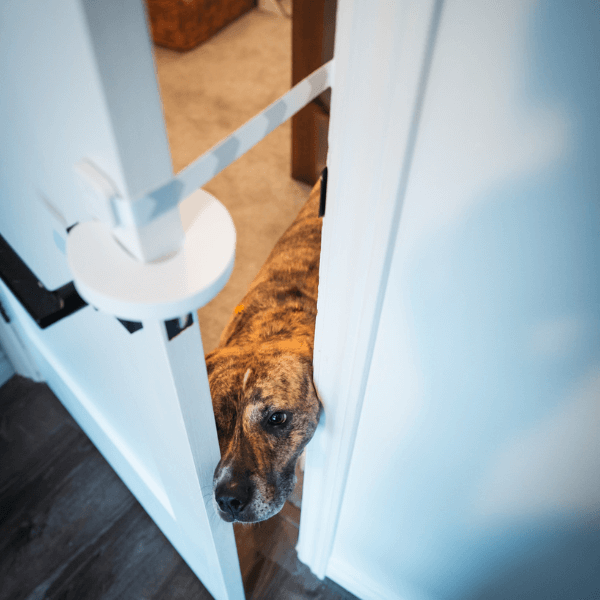 One contributor to stinky breath in doggos is litter box snacking. We know first-hand what our dogs' breath smells like after they have eaten cat poop - totally gross! To prevent this, you'll want to use our dog gate alternative to create a litter box enclosure. This way, your dog will stay out of the cat's space, and their smelly breath won't be because of 'kitty roca.' 
Door Buddy's dog gate alternative works on most door types, including bi-fold, sliding, and double doors, making it practical for all furmilies. Our door latch attaches using a strong 3M adhesive, so you don't need to worry about cutting or drilling to install it. Talk about a renter's dream! Once attached, Door Buddy door latch prevents your dogs from entering a room while still allowing your cats in and out easily. Did someone say purrrfect litter box enclosure?!
CHECK OUT OUR MOST POPULAR CONTENT