HOW TO CAT-PROOF YOUR CHRISTMAS TREE
As soon as Thanksgiving is over and the focus turns to Christmas, you'll start seeing the memes about cats and Christmas trees. You know the ones we mean, right? The ones where the cats are destroying beautifully decorated trees. 
If you know, you know. The chances are, if you're reading this, you know! So, how do you protect Christmas trees from cats? 
Well, turns out this is no easy feat. Our feline friends have a knack for taking decorations off and causing havoc! So, for those wondering how to protect Christmas trees from cats, we're shedding some light on this below.
WHY DO CATS LOVE DESTROYING THE CHRISTMAS TREE? 
Have you found yourself searching for a cat-proof Christmas tree? Of course, you have! You're a pawsome pawrent like that. 
According to Inverse, cats find Christmas trees very exciting. For starters, you are bringing something new into their territory. Being naturally curious, your cat can't resist taking a closer look. The tree has new smells and an enticing amount of bark to scratch, so there is a lot to see and do. 
Then you add the decorations. What does this mean in your cat's eyes? Lots of sparkly, dangling toys to play with and to enjoy. Many kitties will try and climb the tree because it's fun and it'll be the tallest vantage point they can get to in your home. 
While cats in Christmas trees can make for the perfect Insta moment, it can be dangerous. Un-fur-tunately, a cat-proof Christmas tree doesn't exist... yet. Until then, we've got some quick and easy ways to help keep your cat and your tree safe.
HOW TO CAT-PROOF YOUR CHRISTMAS TREE

Depending on how determined your kitty is, there are some tips and tricks that'll help you cat-proof your Christmas tree and keep your cat safe at the same time. 
When looking at how to cat-proof your Christmas tree, consider your cat's age and nature. This will help you decide on the right solutions for your home. After all, cats have such different personalities. Without further ado, let's get to it! 
Glass Christmas ornaments are so pretty but these can be very dangerous for cats. They are inclined to want to play with these decorations, and if they break them, there will be glass shards everywhere. What's a cat-astrophe! Rather stick to wood, yarn, or plastic ornaments.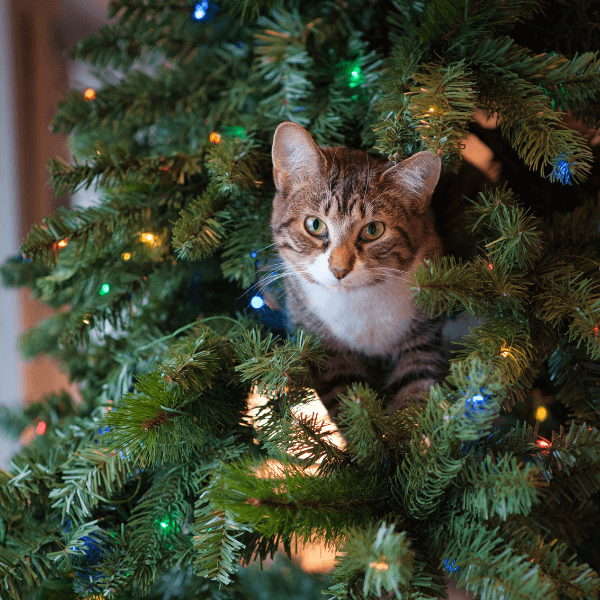 Consider the Location of your Tree
Cats love to climb trees, and Christmas trees are no exception. For this reason, choose a location for your tree in a corner, away from furniture that could be used as a springboard. If you're wondering how to keep your cat out of a Christmas tree, then taking away anything that could help them launch themselves into it is a great start. 
Your cat will be curious and will likely try its luck with your Christmas tree, so make sure it is sitting securely. Our best advice would be to use a solid base. Another thing you can try is tying your tree to the wall or something sturdy with a strong fishing line. A ceiling tie can also help if you have a very determined kitty.
Tape your Christmas Lights
What kitty can resist twinkling lights? When it comes to new cat owner tips, this has to be a top one. Lights on a string are like a cat magnet! Use some tape to secure the plug to the wall, and your lights in place so that your cat can't play too much. 
Squirt Lemon Juice Around the Tree Trunk
Another new cat owner tip! Spraying some lemon juice, or vinegar, around the base of your Christmas tree will deter your cat from coming near this area. Why? Cats do not like citric or acidic smells. This will work with other plants too. However, not all plants are cat-friendly. Find out which plants are safe, and which are not, here.
We've put together a Christmas Tree Cat-Proofing Checklist just for you! 
Now that you're armed and ready to defend your Christmas tree, it's time to start decorating (if you haven't already). Why not distract your cat from the tree by making them some paw-some homemade Christmas treats? We've got a few festive recipes here. 
If you're struggling to keep your dog or toddler away from the tree and Christmas ornaments, then Door Buddy can help. Happy how-lidays, furmily! 
CHECK OUT OUR MOST POPULAR CONTENT