HOW TO PREVENT YOUR LITTLE EXPLORER
FROM EATING CAT FOOD
Most toddlers love to explore! They will get into anything and everything throughout your home if left unattended even if just for a second. It seems like they are especially attracted to those things that you want them to stay out of. 
What happens if your toddler is exploring around the house and finds his/her way to the cat food? Hopefully, this will never happen but it is always better to be safe rather than sorry.
WHY DO YOU NEED TO WORRY ABOUT BABY PROOFING CAT FOOD?
Out of all the things you need to worry about with your toddler around, is the cat's space really one of them? Yes! Your baby proof home to-do list is nothing without the cat's food and litter box! 
As parents to 2 little girls who couldn't leave our dear Mr. Ralphy alone, trust us. We've been through it, we've experienced the cat-astrophes for you - baby proofing the cat food bowl is a must. 
The main 2 reasons for the alarm are pretty obvious... And then there's a 3rd reason which is probably reserved just for us parents. 
REASONS TO BABY PROOF THE CAT FOOD: 
Cat food is a

choking hazard

for your little one

Disrupting your cat's personal space

can easily spur them on to react to your child

The mess

... do we need to say anything more? 
HOW TO KEEP YOUR TODDLER FROM EATING CAT FOOD 
You've tried the gentle "no", you've tried the timeouts, but your child just can't resist the forbidden treats! Welcome to the life of a toddler. 
Before you pull your hair out or lose your marbles, there's a secret baby proof door weapon waiting for you. This is a must for all baby proof home items and will help you create a dog proof cat feeder!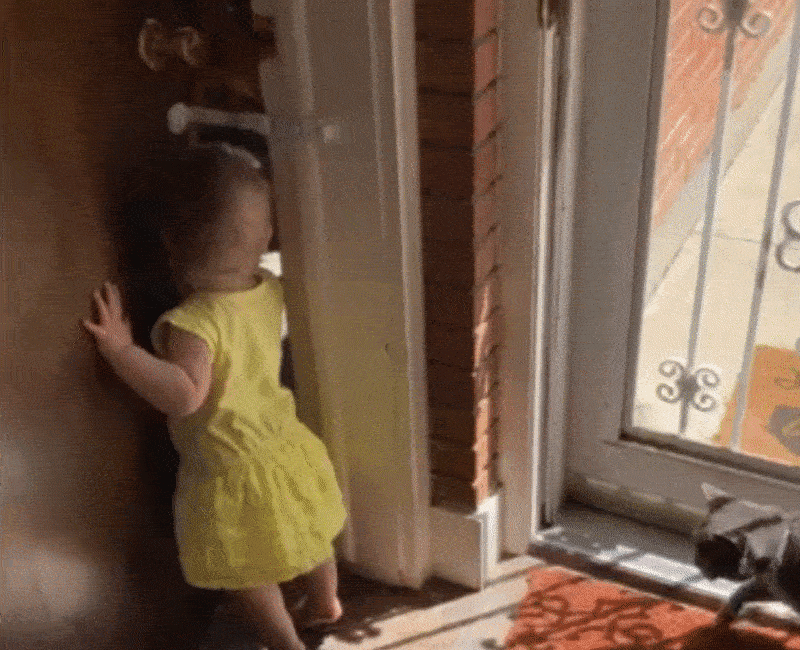 To easily prevent your toddler from eating cat food or any other similar incident simply move the cat food and cat litter box to a designated room (like a laundry room or bathroom) and then install The Door Buddy.
The Door Buddy is an adjustable strap with easy to use lock/unlock door latch that mounts onto the door and door frame to securely prop the door in a slightly open position.
The Door Buddy keeps the door open wide enough so your cat can go in and out of the room as they want, but narrow enough so your baby and toddler cannot.  In other words, it's the easiest and most effective way to baby proof doors!
The reality is toddlers somehow seem to find every little thing in your house, no matter where you put it. 

Luckily, The Door Buddy makes it easy to keep toddlers from finding and getting into the cat food, water bowl, litter box, or any other unwanted room.
WHAT TO DO IF BABY EATS CAT FOOD DESPITE YOUR
BABY PROOF HOME EFFORTS?
Look, we know that life happens and sometimes little things can fall through the cracks. Even with your best baby proofing intentions, cat-astrophes can still happen! 
So, what to do if baby eats cat food? 
DO NOT PANIC. Try your best to stay calm and gain control of the situation. Remember, your friends here at The Door Buddy are here to help. 
The first concern is whether or not your child is choking. If your child turns blue, can't breathe, cry or make a sound, call 911 immediately and follow their instructions. 
If you can see that there's no immediate health concern, you may be more alarmed about what eating cat food will do to your baby. As kids are natural explorers, the chances of this being the one and only time they put something yucky in their mouths is slim. 
Thankfully, most cat foods don't include anything that would be toxic to humans. Extra points if you're making your own homemade cat treats. For those with food allergies, be extra cautious to see how they react! 
However, some could contain pathogens like salmonella that could make your tot sick. In this case, keep an eye on them and see how they progress. Symptoms like nausea, vomiting, diarrhea, and a fever could all indicate salmonella and should warrant a trip to the doctor. 
At the end of the day, none of this sounds fun. That's why it's super im-paw-tant to invest in the right baby proof home equipment. 
CHECK OUT OUR MOST POPULAR CONTENT