THE BEST PET GATES OF 2022
If you're a pawrent, you probably know just what we mean when we say that keeping the peace in a home with cats and dogs is no easy feat! Many pawrents rely on the best pet gates to keep everyone happy and living in harmony. However, with so many pet gate options out there, how do you know which one is the best?
It's no secret that dogs often get into places and things they shouldn't, including the cat's litter box. Not only is this totally disgusting, but it also unsettles your cat. Pet gates help create a little order and keep your dog in line. They also keep your kitty happy by giving it some much-needed space.
In this blog post, we'll help you make the purrfect gate choice by checking out some options and showing you what to look for when deciding on the right pet gate for your home and pets.
WHAT TO LOOK FOR WHEN CHOOSING A PET GATE
Whether you're looking for a cat gate, baby gate, or gates for dogs indoors, you ideally want something that is reliable and will safely block off areas you want to keep off-limits from your dog or baby. For this reason, your pet gate needs to be strong enough that your pet can't barge through it.
An excellent pet gate will also be useful in multiple areas of your home, so you can close off different rooms or staircases as you need to. Other aspects to consider are:
How aesthetically pleasing is the pet gate to look at, and how will it fit into your home?

How easy is the pet gate to install (and remove)?

Can you navigate through the pet gate easily?

Where will you be putting the pet gate?

What gate height and width do you require for your pets and home?
Answering these questions will take you that much closer to deciding on the best pet gate for your needs. Keep reading for some options!
As with most pet products, when it comes to pet gates, we're lucky to have a wide variety from which to choose. There are various types of pet gates, so you can decide what'll work best for your home and pet and which price point you want to stick within.
Many online stores will also offer free shipping on your order to sweeten the deal a little bit. From door straps and pressure-mounted options to pet gates with a cat door, we look closely at the various types below.
Adjustable/Tention Pet Gate
This dog and cat gate fits perfectly on doorways and is a good option if you want to create sectioned-off spaces. Tension-fitted gates can be removed, but they are not quick enough for regular in-and-out access, so you will need to step over the gate to get around it. This makes it less suitable for senior owners or anyone who might struggle with balance.
Freestanding Gates
Freestanding gates come in handy when you regularly move the barrier to different areas of your home and don't want to deal with installation and removal. As the name suggests, these gates don't require installation into the wall or doorways. They vary in size (inches) and function and can be custom-adjusted for different spaces and situations.
Walk-Through Gates
These types of gates tend to be a bit pricier than standard ones, but they are much more user-friendly. They allow you to open a doorway to pass through the gate, so your hooman family members don't have to risk tripping over it.
Hinged/Foldable Gates
If you're looking for a dog or cat gate that can stand independently and easily folds to a manageable size for traveling or storage, this is an option for you to consider. Foldable pet gates for dogs indoors are purrrfect for furmilies who need some flexibility or for those pawrents who like to travel with their furbabies.
Pet Gate With Cat Door
If you're a cat and dog pawrent, a pet gate with cat door might be a good option to keep your dog out but allow the cat in. Pet gates for doorways with cat door give you the same functionality of a traditional pet gate, with the added benefit of a small space that allows your kitty to go in and out of the room. 
Pet gates for doorways with cat door will help you create your own dog-proof cat feeder and dog-proof litter box.
BEST PET GATES FOR DOGS AND CATS
From pressure-mounted pet gates to adjustable door straps, we're taking a closer look at some of our favorite pet gates.
If you need a pet gate cat proof to block off a wide doorway, this one from Carlson Pet is for you! It expands to stairways and openings between 29-36.5 inches wide and stands 30 inches tall.
Carlson Pet has also added a cat door (8 x 8 inches) that lets small pets pass through while keeping everyone else out. This pet gate also includes a locking feature for extra safety.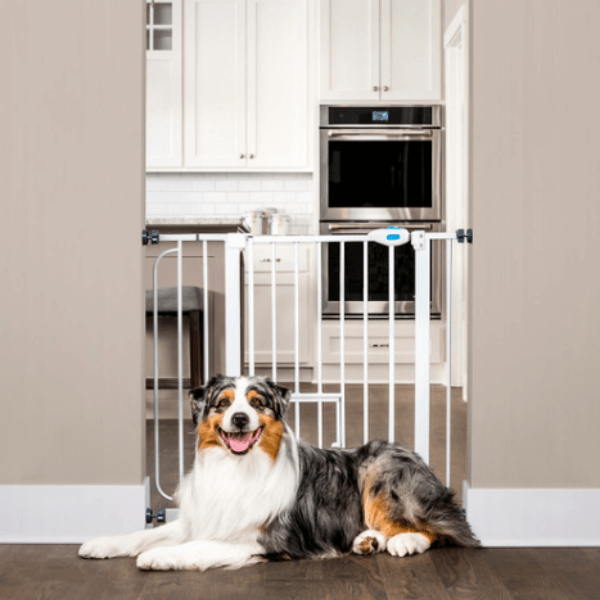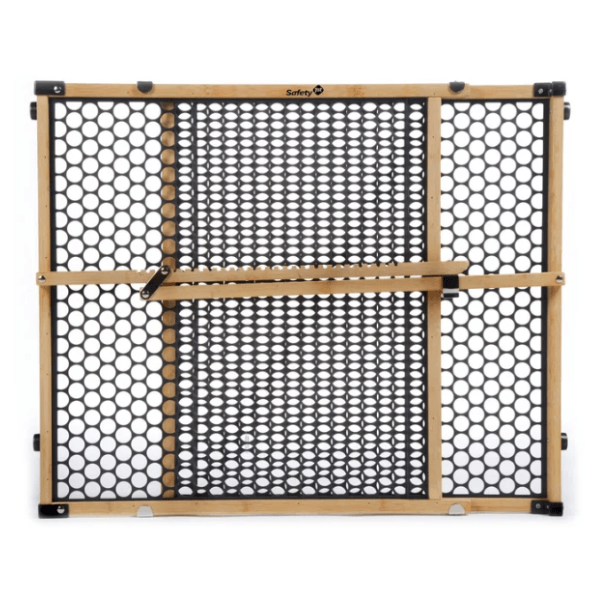 If you're looking for something a little more aesthetically pleasing and eco-friendly, then this gate is a fur-tastic option. It adjusts to fit doorways and openings between 28 and 42 inches wide, is 24 inches high, and is made from a durable bamboo frame and recycled plastic panels.
This pressure-mounted gate requires no hardware or tools to install and sets up easily in doorways and other pass-through areas.
Made of all-steel construction, Regalo's pet and baby gate is a great option for those looking to be more budget-conscious. This pet gate cat proof expands to fit openings between 29 and 34 inches or 35 and 38.5 inches with the included 6-inch extension.
It pressure mounts for easy installation and comes with hardware to install it onto your wall for more stability. At only $39, it's a bargain!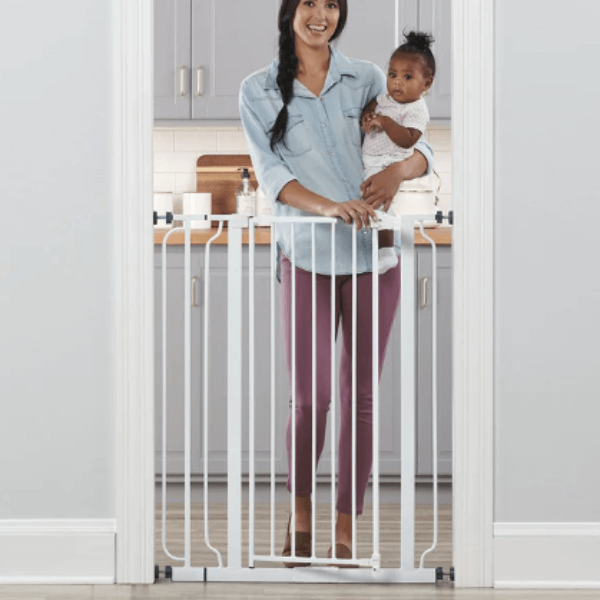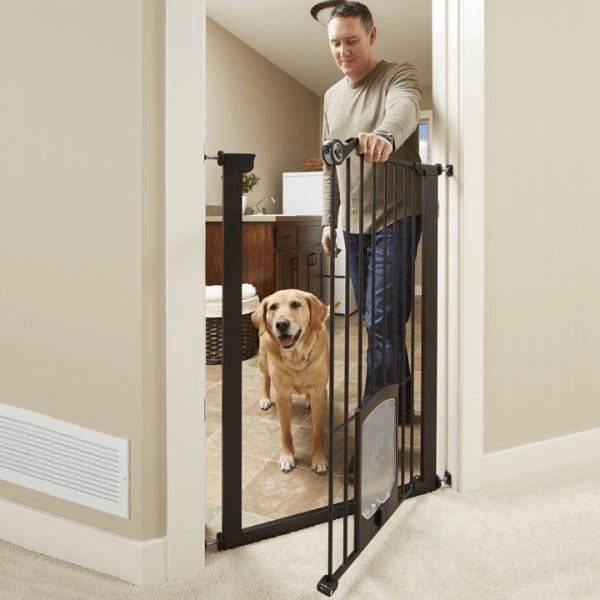 If your doggo is extra tall, then your gate should be extra tall too! This option is super for bigger dogs or households where a bit of additional gate height and strength is required.
This extra tall pet gate features a lightweight and durable metal construction with a stylish geometric pattern that looks great in your home. The double-lock safety release system and self-closing door provide security and convenience.
As one of the longest gates available, the Cardinal Gates XpandaGate Pet Gate fits your normal door openings, and extensions are available should you need to cover more ground.
This gate system features an auto-close and auto-lock door with one-handed operation, is a hardware-mounted gate, and includes sliding, height-adjustable mounting brackets.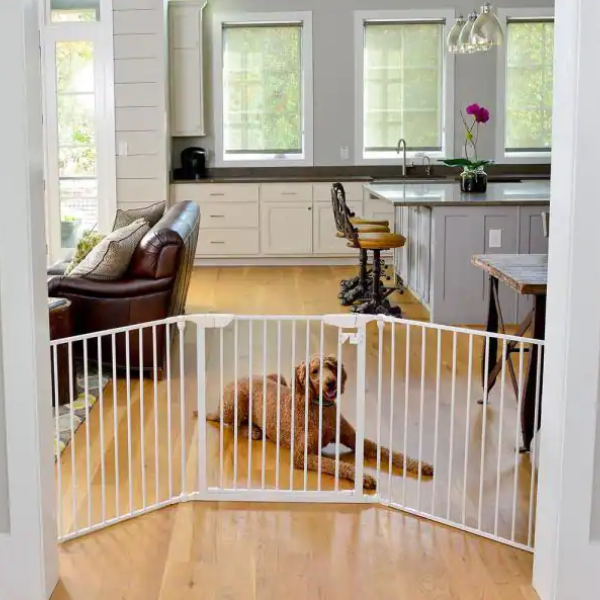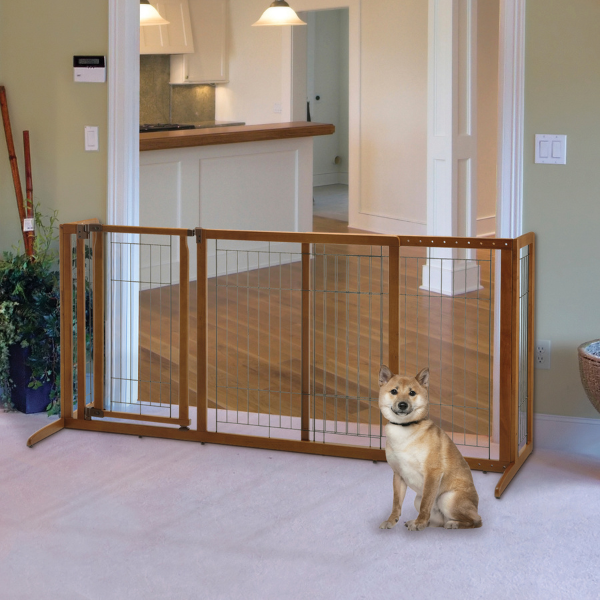 Need the safety of gates for dogs indoors, but don't want a permanent fixture or mounted gates? Richell's Deluxe Freestanding Pet Gate is for you! It fits openings from 61.8" to 90.2" wide, and the side panels keep the gate from tipping over onto your pets or little ones.
Plus, the rubber feet on the bottom protect your floors from scratching/sliding on hard floor surfaces.
This extra tall and wide outdoor retractable pet gate extends up to 59" wide and is 33" tall, suitable for many indoor and outdoor places. The mesh lining can be directly rolled up, saving you space.
This pet gate offers a versatile home safety solution, allowing easy use in high-traffic areas without the trouble of disassembly. It is made for pets from 10 to 40 pounds.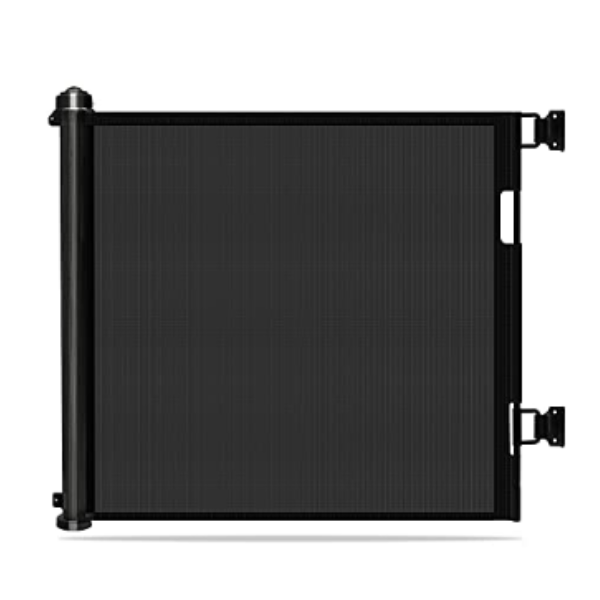 While there is definitely a place for pet gates, especially where stairs are involved, we also have a pet door alternative for you to consider. This pet gate alternative helps create a gap in your door, allowing your door to stay open enough to let the cat through, but not the dog or baby. If you want to avoid the heavy-duty and cumbersome gates, then Door Buddy's adjustable door strap is for you.
Not only does it work on normal door types, but Door Buddy also works on your pocket, bi-fold, and sliding doors, which generally aren't suitable for gates for dogs indoors. Another really pawsome benefit of using Door Buddy is being able to install it quickly and easily, without any cutting or drilling. It's a great way to create a dog proof litter box and dog proof cat feeder!
Our customers have dogs ranging anywhere from 12 to 120 pounds, and they love it. A lot of them are pleasantly surprised at how strong the adhesives are and how well it holds up to any added pressure. We've also included a door stopper that stops the door from closing and prevents pinched fingers, pets from getting locked in rooms, and doors slamming shut as well!
YOUR COMMON DOG AND CAT GATE FAQS ANSWERED
With a better idea of which gate you'd like to install in your home, it's time to answer some of those questions you might have here.
How does the installation work?
When installing your gate, the methods may differ depending on the type of gate you have chosen. Many of the more permanent fixtures require some drilling, but others (like Door Buddy) are super easy to install and just need adhesives. You will find installation instructions with your chosen gate.
What size gate will work for me?
The best way to determine what size gate you need is to measure the size of the doorway where you plan to install the gate and see how many inches wide the opening is. For freestanding gates, you might be able to choose a size slightly smaller than your doorway. However, don't leave too much space if your doggo is known to challenge barriers.
You will also want to consider height. While some large canines will respect a low gate, others will jump or leap over all but the highest gates.
Will a gate still work if my dog is a chewer?
If your dog likes to chew, you should probably consider something metal, as sharp teeth can quickly destroy wooden and mesh gates. You can also consider pet gate alternatives like Door Buddy, which keep your pet out of a room but can be installed high enough that your dog can't get hold of the strap and chew anything.
What if I want to remove the gate?
Removing your gate will depend on how it was installed. If you had to drill into walls or door frames, you would probably need to fill or replace these once you have removed screws and bolts. Gates or gate alternatives that are stuck on with adhesives are easier to remove by following instructions from the brand.
WHEN SHOULD YOU USE A PET GATE?
There are a number of circumstances that warrant the use of a gate. Here are a few reasons why you might need to use one in your home:
Your doggo loves eating cat poop, so you want to create a dog-poof litter box by keeping your pup out
You need to separate multiple animals in the same household who don't always see eye to eye or separate an energetic canine from a toddler, young child, or a cat
You're introducing a new pup or cat into the furmily, and they need space to get to know one another
Your doggo loves to eat your cat's food, and you want to create a dog-proof cat feeder to prevent this from happening
You want to maintain a healthy airflow and an even temperature throughout the house without closing doors and thus closing off rooms
WHY CHOOSE DOOR BUDDY AS YOUR PET GATE ALTERNATIVE?
There are so many ameowzing reasons to choose Door Buddy for all your furbaby and babyproofing needs:
It is quick and easy to install without any cutting or drilling required
It is aesthetically pleasing to look at and won't ruin your decor at home
It is user-friendly and super easy for hoomans to get in and out of rooms where it is installed
The handy door stopper prevents the door from closing on your cats or pinching fingers and tails
Door Buddy is easy to remove and can be moved to other doors as needed
Our adjustable pet door strap works on most doors types (including bi-fold, pocket, and sliding doors)
As pawrents ourselves, we know that a household with cats and dogs can sometimes be a little chaotic. Door Buddy is here to keep the peace while at the same time creating a dog-proof cat feeder and a dog-proof litter box, giving your cat some much-needed space.
Available online and from leading brands (such as Chewy) at an affordable price, this is every cat and dog owner's must-have item! With over 25,000 5-star reviews, why not take a look at why our customers love Door Buddy so much?
CHECK OUT OUR MOST POPULAR CONTENT