TIPS FOR FEEDING YOUR PETS
By: Door Buddy Editors      |     Published: October 31, 2023
These days, a cat or a dog is more than just a pet - your "furbaby" is a member of the family. However, for the sake of your family's health and your pet's comfort, it's important to know there is still a right and wrong way to feed your pet and some human foods are poisonous to dogs and cats.
When it comes to feeding your pets, it can turn into a messy affair. This is especially true when you have both cats and dogs living together. Here are some tips when it comes to feeding your pets that help keep your house clean and your mind at ease.
It's tempting to let your cat eat wherever they want - after all, cats are known to hang out in all parts of the house. That does not mean you should place the food bowl wherever it suits them at the time.
Some tips when it comes to feeding your cats include:
1. Avoid the Countertops
We all know cats like to jump up on the kitchen counter, but it's best not to encourage this behavior by placing the food bowl in this spot. After all, cats walk around in their litter boxes - do you really want their paws up in your food preparation space? We didn't think so!
2. Offer a Quiet Spot
Your kitty will get stressed out if the area where she has to eat is chaotic, so offering a quiet space that is tucked away from the mayhem is best at mealtime. You'll also want to keep her food away from the dogs.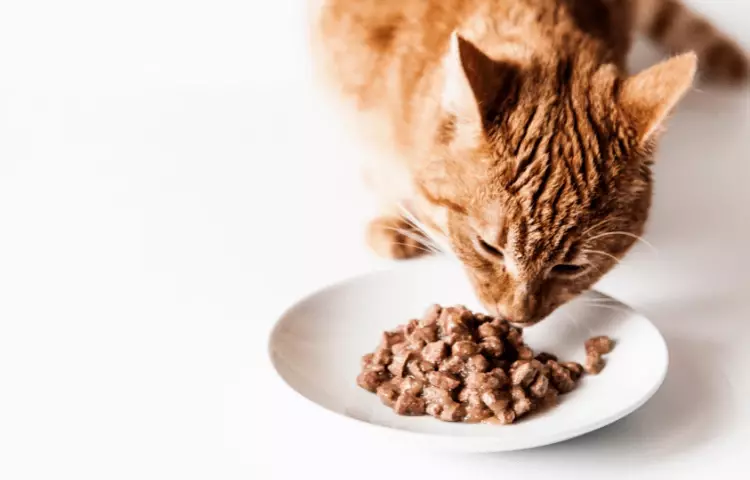 3. Assign Separate Food Bowls If You Have Multiple Cats
If you're a cat lover, chances are you have more than one feline, and we can't blame you. However, letting your kitties share a food or water bowl is not a good idea! Assigning separate bowls to each cat gives them a sense of security and prevents aggression at mealtime.
4. Establish a Feeding Time
Animals, like human beings, appreciate an element of routine. Establish a mealtime schedule for your cat and stick to it. This will make your life easier, too!
5. Do Not Overfeed the Cat
Keep your cat healthy and do not overfeed her. Consider her age and weight to figure out the correct amount.  An alternating diet of wet and dry food is best. How will you know if your floof is on the chonky side? Find out if your pet is overweight here.
You can also have a look at our list of best homemade cat treats to give your furry friend something healthy between meals.
It is just as important to make sure your dog has a healthy and balanced diet to keep them happy.
Some tips when it comes to feeding your dog include:
1. Do Not Hand Out Table Scraps
We know how tempting it is to give your sweet doggie a taste of something you love - but it can actually harm your pooch more than you think. While some pet experts say that the occasional human scrap is OK, it's probably best to avoid the habit completely.
2. Do Not Give Out Too Many Treats
Doggy treats are all the rage these days; entire bakeries are devoted to spoiling your pup! But use caution when offering treats, as they can spoil meals and put extra weight on your pet.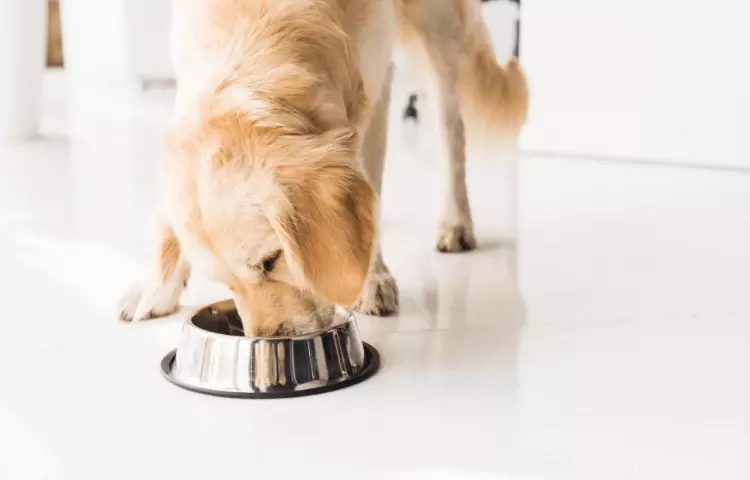 3. Offer a Quiet Spot
Place your dog's water and food bowls away from small children, other pets, and even the family dinner spot. A quiet place away from distractions will help your pup focus on eating slowly and digesting well.
4. Don't Forget Plenty of Fresh Water
Dogs need a lot of fresh, clean water to drink, so fill up bowls frequently, discarding any leftover water each time.
5. Pick a Feeding Spot that's Easy to Clean
Your dog probably has a tendency to make a bit of a mess when he eats, particularly if he's a larger breed. Pick a spot that is easy to keep tidy - not on any carpets or nice rugs, in other words! - and place a pet-friendly mat beneath the bowls to wipe down after meals.
6. Try to Avoid "Bloat" or GDV (Gastric Dilatation-volvulus)
It is important to keep an eye on your dog and make sure they don't eat too fast or exercise too soon after eating. This can cause painful "bloating" and discomfort for your pooch and may require medical attention if it becomes too bad.
7. Take Caution With Elevated Feeders
While elevated feeders work well for some dogs, it is not always recommended for all dogs as it can cause "bloat" (GDV) in certain dog breeds. 
A recent study looking at elevated feeders and the risk of bloat found that elevated feeders can increase the speed at which a dog eats, increasing the risk of GDV. Eating off the floor, on the other hand, facilitates slower eating for dogs.
This is why it's best if elevated feeders are only used for dogs that have health related issues and where lowering their heads to eat is difficult or painful.
8. Keep the Dog Out of the Cat Food
While eating a bit of cat food probably won't harm your dog, eating a lot or doing this on a regular basis is not good for your doggo. It is also frustrating for your cat and can cause them to become anxious and unhappy. Make sure to also read our guide to feeding dogs: from puppy to senior to ensure they stay healthy and happy.
Luckily, there's a solution! Door Buddy is here to help keep your dog away from the cat's food (and the litter box). Not only will your cat be able to eat in peace, but your dog will stay healthier. It's a win-win!
CONCLUSION: TIPS FOR FEEDING YOUR PETS
Feeding pets and creating healthy habits can be quite a challenging task. So make sure you pay close attention to 
where and how you feed your cat and dog.
You can also get some 'ameowzing' insights into what to feed dogs & cats to make sure you keep them 'purrrfectly' healthy.
CHECK OUT OUR MOST POPULAR CONTENT