FIRST AID TIPS THAT COULD SAVE YOUR PET'S LIFE
April is National Pet First Aid Awareness month, which makes it the purrrfect time to highlight the importance of pet first aid for pawrents. While this month focuses on pet first aid, it is super im-paw-tant all year round. From having a pet first aid kit handy to getting that pet CPR certification, there are many things we can do to help our furbabies if an emergency arises. 
Knowing your pet first aid basics can make a huge difference should your pet ever get hurt or sick. While you will still need your vet's help and expertise, you can take action at home, which could save your pet's life. Keep reading for some essential pet first aid tips, from where to do a pet CPR qualification to what to keep in your pet first aid kit. 
ESSENTIAL FIRST AID AND TRAINING TIPS THAT COULD SAVE YOUR PET'S LIFE 
No pet owner wants to feel helpless in an emergency because they don't know what to do, and with the right pet first aid and training, you won't have to. So, we're going to get right down to the im-paw-tant stuff!
Keep a Fully-Stocked Pet First Aid Kit
Do you know the essential pet first aid kit items you need to have on hand? If not, we've compiled a complete list for you here. Just as you would for the humans in your household, having the right pet first aid kit items makes caring for your pet in an emergency easier. Use our checklist to stock up, and make sure your kit is always kept in a safe place where you can access it easily in a hurry. 
Know How to Recognize an Emergency
Recognizing an emergency with a pet is the first step to helping your furbaby. You won't have time to Google 'pet first aid near me' as you will probably need to act quickly before heading to the vet. We're sharing some handy tips on how to recognize an emergency.
Things to look out for is if your pet is:
Struggling to breathe or not breathing at all

Has collapsed and can't get up again

Might have broken bones

Is having a seizure

Is having trouble moving or coordinating movements

May have consumed something poisonous

Has been vomiting or passing diarrhea for more than 24 hours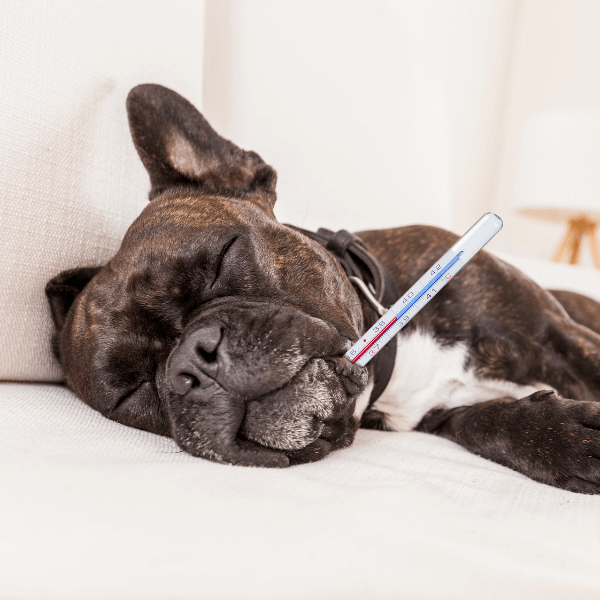 Nobody knows your pets better than you, which makes you the purrrfect person to identify when something isn't right. Trust your gut! 
Familiarize Yourself with Handling a Pet in an Emergency
Once you have determined that there is an emergency, the next step is to be able to handle your pet safely. Here, you want to protect yourself and your animal so that you can administer any first aid and head to the vet. Again, you probably won't have the time to search for 'pet first aid near me,' so you'll want to take note of the below:
Don't try to hug an injured pet, and keep your face away from its mouth wherever possible

Perform any examinations gently and slowly, and stop if your pet becomes agitated

If necessary, and if your pet is not vomiting, it is a good idea to muzzle them to prevent anyone from being bitten.

Try stabilizing any injuries before moving or transporting your pet. Here is where your splints and bandages will come in handy

Keep your pet confined in a small area while traveling to prevent further injury or discomfort.

Call your vet before you move your pet to let them know you are coming so they can be prepared for you.

Keep your pet's medical records in a safe, easily accessible place, and take these with you when you go.
You'll also want to remember that even the most gentle of pets might act aggressively when injured or in pain. It is also important to note that any first aid given needs to be followed by immediate veterinary care.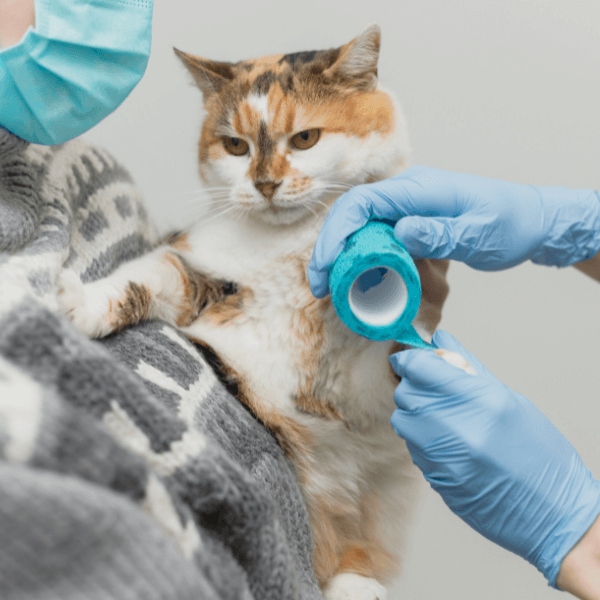 Learn Basic First Aid Procedures
You might not get to know them by heart, but as far as pet first aid and training go, being familiar with some basic procedures and having access to this information quickly will help you a lot!
This type of pet first aid and training includes knowledge of poisoning, broken bones, bleeding, seizures, shock, choking, heatstroke, and other medical emergencies. 
Refer to this American Veterinary Medical Association article for all the necessary information. In fact, we suggest bookmarking it on your phone's browser for quick and easy reference! 
Get Pet First Aid Certified
If you haven't done a pet first aid course yet, this is your sign to book one! Not only will a pet first aid course give you peace of mind to deal with furbaby emergencies, but you will also gain some pawsome new skills and be pet first aid certified. To find a course that works for you, chat with your local vet or look at this Red Cross pet first aid course. 
Another great course to take is pet first aid CPR. If your furbaby is choking or unable to breathe, this course will help you help them. A cat and dog CPR class might already be included in your pet first aid course, which is fur-tastic!
PREVENTING PET EMERGENCIES WITH DOOR BUDDY
While accidents can happen, especially concerning our pets, we can also do some things at home to prevent these situations. One way to do this is to stop your cats and dogs from accessing rooms where items are dangerous or poisonous to pets. By using a pet gate or, even better, Door Buddy's pet door strap, you can prevent your pet from getting its paws on things like detergents, toxic cleaning products, and other hazards. 
Not only will Door Buddy door latch stop doggos from eating from the litter box, but our adjustable door strap makes it possible to keep cats AND dogs out of those no-go spaces in your home. The good news doesn't end there - our pet door strap is also the purrrfect babyproofing solution for your interior doors. Talk about convenience!
Pawrents, we hope you never have to deal with a pet emergency at home, but we hope that with these tips, you will feel more confident should the worst happen. Don't forget that Door Buddy pet door latch is ready to help you keep your floofs safe at home. 
CHECK OUT OUR MOST POPULAR CONTENT