HOW TO BABYPROOF INTERIOR DOORS
As parents, we want to keep our little ones safe, especially when they are in the house. If you're also a pawrent, this means giving your pets (especially your cats) a little space and keeping toddlers out of the litter box and pet food. However, when creating a baby-proof house that's cat-friendly, you may run into some hurdles.

One of the biggest issues we had was figuring out how the heck we were going to babyproof interior doors. If you're reading this post, the chances are that you're thinking the exact same thing!

Between a pet gate, pet door, cat gate, cat door, baby gate with pet door, and gates for pets and babies, there are a lot of options! How do you choose? It all comes down to what works best for your furmily!
Selecting your choice of the best pet gates around doesn't necessarily come down to price and function - you've got to think of practicality too. Sure, baby gates are useful but do you really want to be opening one at every turn? Without further a due, we're taking a closer look at how to baby-proof interior doors. Keep reading!
WHAT TO CONSIDER WHEN CREATING A BABY PROOF HOUSE 
As we've already covered, baby proofing is important, so you'll need to do it right! Luckily, we've created a handy babyproofing checklist for you to use at home.
Before jumping into all the options out there, here are some points you need to know before you babyproof your interior doors:


You want to

prevent your child from using the door

on its own
You want to

prevent your child from injury

from moving parts, such as hinges or slamming doors
You want to

prevent your little one from entering areas they shouldn't

, such as the room where the cat's litter box is, without restricting your cat
So, whether you decide to create a baby-proof house using a cat gate, pet door, pet gate, cat door, baby gate with pet door, or gates for pets and babies, you want to consider these points first. Moreover, what's going to cover these safety points without limiting your own access?
HOW TO CHOOSE BETWEEN A PET GATE, BABY GATE, DOG GATE, OR OTHER OPTIONS
With so many options out there, it can be hard to choose how best to get babyproofing! Where does one even begin when it comes to interior doors? Don't even get us started on babyproofing pocket doors.
Whenever we're stuck, we go to the basics. A great place to start is to look at a few pros and cons of each. Here's the good news, we've done the hard work for you! Below, you can find the pros and cons of pet gates, cat doors, dog gates, and more. We're also sharing our own ameowzing option for your consideration.
Pet Gates
A pet gate can seem like the obvious choice when trying to baby-proof interior doors and keep your little out of your pets' space. It provides a barrier between your baby or toddler and your pet. If everything goes to plan, a pet gate can be a great baby-proof litter box alternative.
However, pet gates can be tricky to install (being wall-mounted), expensive, and are not easy to move or remove once you don't need them anymore. A pet gate is also not always the easiest to open and close, so you'll have to do a little climbing over when your hands are full. This can lead to accidents, and nobody wants that!
Pros: 
Creates an effective barrier
Babyproofs stairs easily
Blocks dogs and toddlers
Cons:
Bulky and unattractive
Difficult for older kids and adults to use
Expensive
Hard to install
Cat Doors or a Pet Door
These days, cat doors or a pet door for interior doors come in all shapes and sizes, making them more aesthetically pleasing in your home. They are generally small enough that your little one can't get through, but your cat or dog can (as long as it's not too chonky).
While this is purrfect for giving your cat some much-needed space, cat and pet doors, much like pet gates, often require some form of damage to your home. You aren't going to need to babyproof your home fur-ever, so you want an option that can adjust as your needs change.
Pros: 
Takes up a little space 
Blends into decor easily
Gives cats easy access to rooms
Blocks bigger dogs and bigger kids
Cons:
Smaller kids can still squeeze through
Requires permanent damage
Expensive
A Baby Gate with Pet Door
As the name suggests, a baby gate with pet door is a gate designed to keep babies and toddlers out of rooms that are off-limits, with a particular space allocated for your small pets to come and go. While you create that barrier without blocking off access to your cat or dog, you're still stuck with a bulky product that requires drilling to install.
While there is definitely a place for baby gates, especially on staircases, they aren't always the most practical for those interior doors.
Pros:
Effective barrier for toddlers and bigger dogs
Cons:
Bulky contraption
Doesn't work on all door types
Expensive
Door Buddy's Adjustable Door Strap
Forget about those gates for babies and pets or any other pet gates, and look to the future. Door Buddy's pet door strap with an adjustable width is the purrfect solution when creating baby-proof interior doors. Not only is it quick and easy to install, but it will work on most door types, including double, bi-fold, and sliding doors.
Our Door Buddy Combo also comes with a handy foam door stopper, which prevents pinched fingers and closed doors. No slammed doors here!
This pet door strap is aesthetically pleasing, unlike bulky pet gates or cat doors. It fits seamlessly into your home, without creating barriers between you and your furry friend. The strap unhooks from the latch easily, making it simple to enter and exit rooms, even with your hands full.
Pros

: 
Works on most door types
Affordable
Blends into decor well
Lets cats and adults into rooms easily
Blocks dogs and toddlers
Keeps fingers safe with a foam door stopper
Installs in seconds
Damage-free installation
Non-permanent
Cons
Dogs that are smaller than the cat can still fit through
HOW CAN DOOR BUDDY'S ADJUSTABLE PET DOOR STRAP HELP WITH BABY PROOFING YOUR INTERIOR DOORS 
Take it from us, after having 2 girls who couldn't stay away from the cat's food and litter box, we know how tired you get shouting "no" all the time. Thanks to Door Buddy's baby proof door lock, keeping your little one safe in your home has never been easier. Parenting is hard enough, who said keeping your little one out of danger has to be?
When we were in the baby proofing era, we were quickly overwhelmed with the options and never-ending to-do lists. Plus, what were we supposed to do about our sliding doors and pocket doors? That's exactly why we decided to create an easier pet door alternative. 
Baby Proofing Sliding Doors
Use our babyproof sliding door strap for your interior doors to keep them open enough for your cats and fresh air to come through, but prevent your little one from entering a room you don't want them in.
To install, all you need to do is attach your latch to your door frame. If a door frame isn't an option, securing the latch to your wall will work too as long as it isn't dry wall. Next, secure your strap to the end of your door in line with your latch, and you're good to go. 
Don't forget to position your Door Buddy a little higher up on your door so that your little one can't reach this babyproof door strap and unhook it. Attach your foam door stopper to prevent pinched fingers. So, there you have it - creating a babyproof sliding door has never been simpler!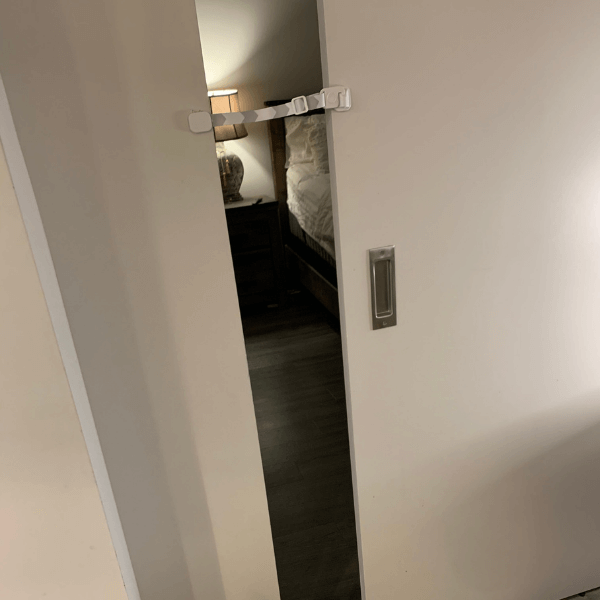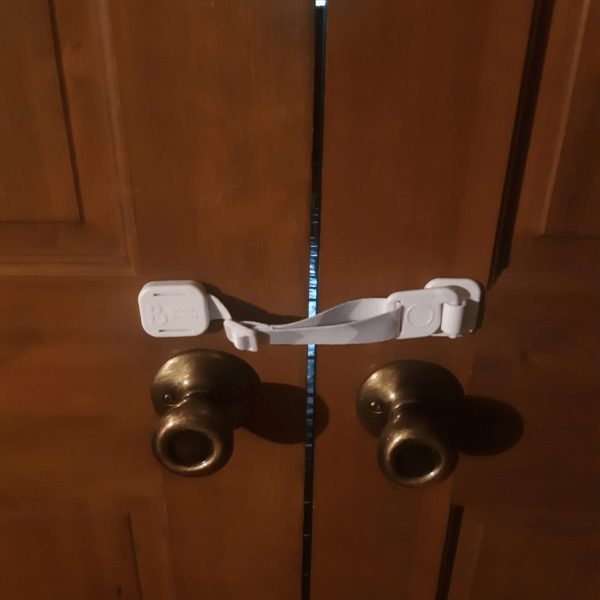 Baby Proofing Double Doors
Your baby blocker gates and cat-friendly baby gates won't work when you want to baby-proof double doors, but Door Buddy will! Attach your latch on one door (preferably the one that you will keep closed).
On the other door (which is most likely to be the one to open), attach your strap in line with your latch. 
You can now open and close your double doors without allowing your toddler through. Attach our door stopper if you don't want your door to close, and prevent fingers from getting slammed.
Door Buddy baby-proof door lock to the rescue again! 
Baby Proofing Bi-fold Doors
If you have bi-fold doors in your home, you're probably wondering how on earth you can babyproof them, right?
Door Buddy baby-proof door lock can help, without requiring any drilling or cutting.
Simply attach the latch to your door frame (or wall if this is not possible), and secure your strap to the edge of the door closest to the frame, in line with your latch. 
Use our foam door stopper to prevent your door from closing on your little one's fingers.
Watch your cat go in and out with ease, while your baby or toddler is kept out of trouble.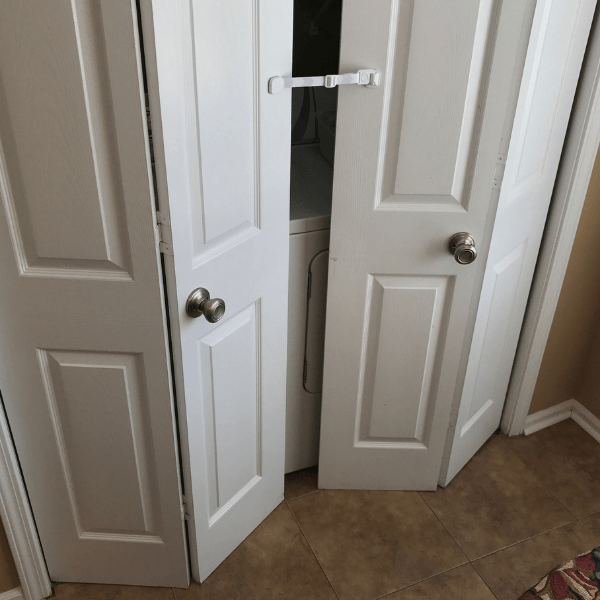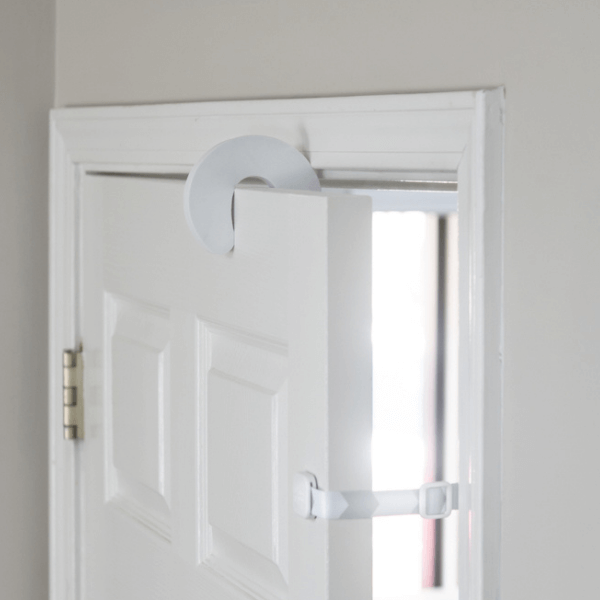 Baby Proofing Normal Interior Doors
There are a number of ways to make your Regular interior doors door lock baby-proof, but our adjustable door strap really does take the cake!
You won't have to do any cutting or drilling to install it, which is especially helpful if you're renting.
Door Buddy also fits seamlessly into your home and is aesthetically pleasing to look at, unlike bulky baby blocker gates. 
There are a few different ways you can attach your Door Buddy. If you have a strong-willed dog or toddler, we recommend Installation Method 3 from our guide. However, the great thing about Door buddy is that it's non-permanent and can be moved around as your needs change.
As we said, the world of baby proofing interior doors can be overwhelming. Who would have thought that there was so much to consider when choosing from cat doors, pet gates, dog gates, baby gates, and door straps?
At the end of the day, you only want the best for your fur and human family. If in doubt, we suggest you take a look into warranties and return policies. For example, Door Buddy offers a 60-day money-back guarantee for you to see if it's the right fit for your home.
Happy baby proofing!
CHECK OUT OUR MOST POPULAR CONTENT