HOW TO TRAIN YOUR PUPPY TO
STAY OUT OF THE LITTER BOX
When it comes to house training a brand new puppy, there are various schools of thought you might want to consider. Puppies are impressionable just like children so it is very important to teach them right from wrong early on in their development.
It may take several months of focused attention to teach your puppy how to go to the bathroom on their designated spot, not bite, and obey your commands. Even though there will be times when you want to lose your marbles, staying consistent is key. 
One particular blood pressure-raising habit your puppy may develop is snacking out of the litter box. This is why puppy training is important - the last thing you want to do is cause havoc with your cat's space!
So, where do you start and how do you keep your puppy out of the litter box? Keep on reading! 
HOW DO YOU START PUPPY TRAINING?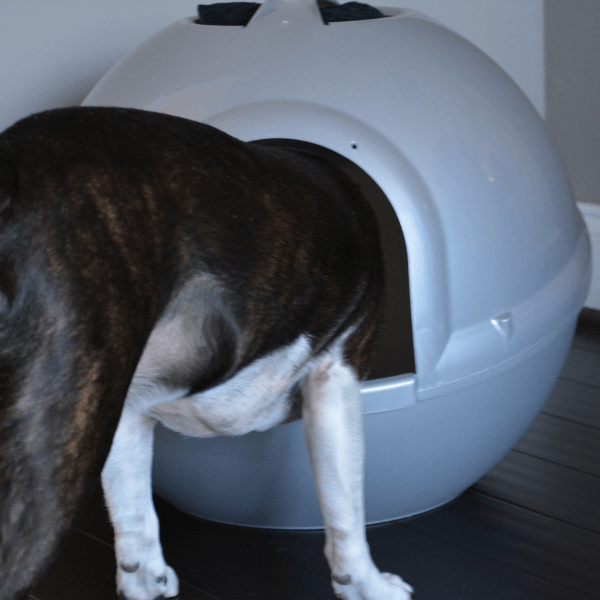 Simplistically, the easiest and most effective solution is to offer a treat or reward when they do the right thing.
Your training style should be consistent and firm and your tone should be gentle. Praise them for a job well done.
This will encourage them to continue with the good behavior.
The reward system can especially come in handy when you're figuring out when to start puppy potty training.
What worked for us is establishing a puppy training schedule. Staying consistent with our boundaries and expectations was a game-changer.  
Of course, then there's the thing that we're all here for - training your puppy to stay out of the cat litter box. It may be easier said than done!
There are various reasons why dogs like to eat cat poop. Your dog may be snacking out of the litter box out of boredom or just to get your attention. Or, she may just like the taste (totally gross, we know!) which will make it hard to train her to stop. Whatever the cause of your dog eating cat poop is, something has to be done! 
HOW TO STOP YOUR PUPPY GETTING INTO THE LITTER BOX 
The easiest way to stop this behavior is to prevent it by making the cat litter box inaccessible to your dog. Outta sight, outta mind!
Then there's a trick that may raise some eyebrows - sprinkle cayenne pepper or Tabasco sauce in the litter box. According to the lore,  this works really well if you remember to do it consistently after the cat goes to the bathroom. Don't take our word for it, we're more of a dog proof the litter box kind of family. 
Another popular puppy training tip is investing in products like a pet gate or a covered litter box. However, some cats may not like to be confined to a covered litter box. Pet gates can certainly be inconvenient for pet owners who may need to access the room with the litter box frequently.
If you don't want to go and add a box of Tabasco to your shopping list or struggle with a pet gate non-stop, what can you do? 
KEEP YOUR DOG OUT OF THE LITTER BOX WITH DOOR BUDDY
We know how hectic becoming a pawrent can be. Between the puppy potty training and trying to keep your cat happy, it can quickly become a cat-astrophe. The last thing you want to add to the equation is an unhappy cat, a difficult pet gate, and more chaos to your home. 
That is why we created Door Buddy as an easier, more convenient, and affordable solution. Give your cat back its space without any hassle! 
Instead of cutting a hole in your door or splurging on a pet gate, our adjustable pet door strap installs in seconds and is easy on the pocketbook. 
For a safer pet home, all you have to do is mount the strap onto the door and door frame. Once up, adjust the width to suit your cat's size, et voila!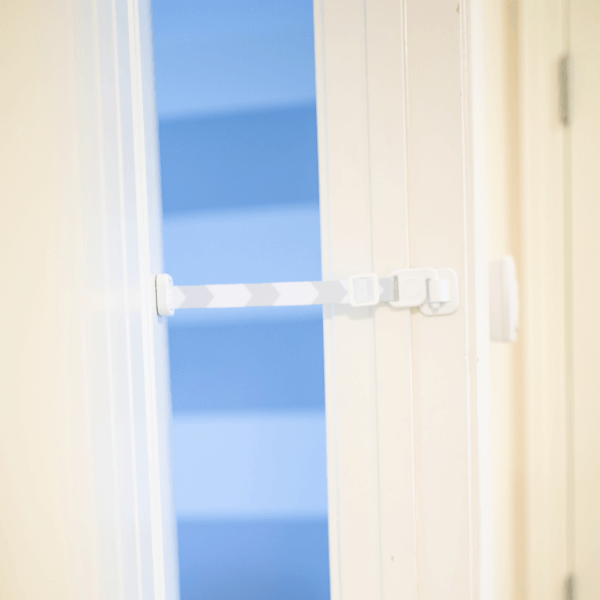 Now, your cat can enter the room while keeping your doggo out of the litter box. It is by far the easiest way to put an end to finding your dog in the litter box! 
With Door Buddy, you can give your cat a safe space with their litter box, food bowl, and water bowl tucked away from the dog. An added bonus is that with our simple door latch system, owners can easily enter the room without dealing with a pet gate too.
Door Buddy is quick and easy to install and doesn't require any drilling or cutting. It also works on all kinds of doors, including sliding, bi-fold, and double doors. If your dog is an adult already, read these tips here.
What more could a pawrent wish for?! Now that your puppy has mastered this, take a look at some more house training tips that'll make your journey together easier. Learn more about how Door Buddy can help you today.
CHECK OUT OUR MOST POPULAR CONTENT