INTRODUCING DOGS TO BABIES
So, you've become a master pawrent, have you? The good news is that your furbaby is excellent practice for your hooman baby… give or take a few sleepless nights and dirty nappies. The next step is to master introducing dogs to babies! Luckily, it won't be as tricky as getting your little one into a solid sleep routine. 
Although we may not be the best when it comes to baby sleep (we've tried, and failed - pass the coffee!), we do know a thing or two about dogs and babies living together!
In this article, we will take you through understanding dog behavior with new baby, how to prepare dog for baby, and the best ways for introducing dogs to babies. By the end of it, you will be well on your way to creating pawsome fur-ends and fur-siblings!
SIGNS DOG IS JEALOUS OF BABY
First up, when it comes to dog behavior with new baby, we've got to look at the signs dog is jealous of baby. Understanding these signs will help you gauge where your doggo is at and prepare accordingly. Think of it this way, it's like seeking out your baby's sleep cues and then reacting with a rock, sway, swing...beg and plead. 
When it comes to introducing dogs to babies, knowing what to look out for when your dog starts getting a bit on the jealous side can help ensure smooth sailing. A jealous doggo isn't necessarily a scary doggo, but it must be managed. This will set up the foundation for a furbulous friendship between dogs and babies!
Here's what to look out for:
Signs of aggression - barking, hissing, or snapping
Frequent marking of territory in the house
Loss of interest, energy, or appetite
Trying to jump up while you're holding or feeding the baby
Most of these signs are mostly an innocent cry for attention. Your doggo used to be your whole world, and introducing this new hooman can be a massive change for them. It's essential to understand why your dog's feeling jealous and to show them a little bit of sympathy. You're their best pal, and they miss you!
HOW TO PREPARE DOG FOR BABY
Adding a new baby into the mix can be a lot, and not just for you! Whether your pooch was an only child or they're used to having a sibling or two, it's a huge adjustment for them. For this reason, the best strategy for introducing dogs and babies is to start early. Preparing your dog for baby will help set up a healthy foundation for what's to come. 
Training is Your Friend
Is your pooch correctly trained? Well, now is as good of a time as any! Establishing your "no"'s, "down"s, and "sit"s, will come in handy once your baby is here. Trust us; when it comes to nursery toys, you will rue the day that you forgot to train your dog! 
Smell is Everything
Scents and smells are vital when you prepare your dog for baby. Getting your dog used to the smells that will soon fill your home will help them feel more comfortable when your baby comes home. You can also try scattering the baby gear around the house so that nothing comes as a surprise.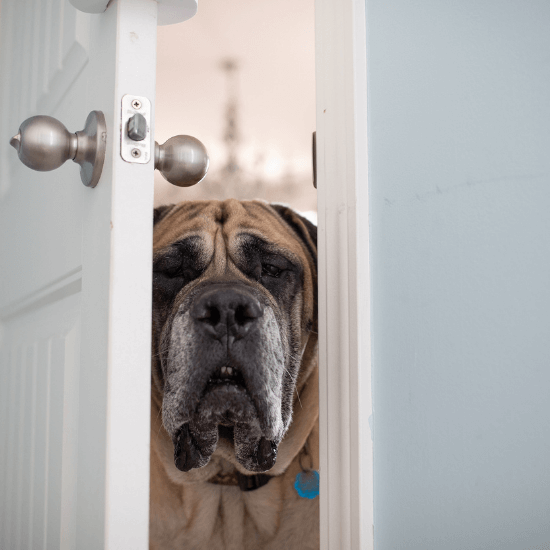 Safety Always Comes First
If you have a nervous doggo, you can probably anticipate that they may become overwhelmed with the crying and the fur grabbing. For this reason, we highly recommend setting up a safe space for your dog. This can be a crate, a mat, or even a whole room that's protected with a Door Buddy. 
This brings us to our next point - there's no harm in baby proofing early! Even though it may be a while before your baby is crawling around your home, this is just an extra precaution you can take. 
Professionals Know Best

Some dogs will take this transition in their stride, while others may need a little extra suppawt. Reaching out to a behaviorist or even your vet can be a serious help in making sure dogs and babies get along purrrfectly. Dog behavior with new baby isn't always predictable, and trusting a professional will help you create a solid game plan.
INTRODUCING DOGS TO BABIES - WHAT YOU NEED TO KNOW
Now that we know a little bit more about dog behavior with new baby, and how to prepare dog for baby, we can dive into the good stuff. Introducing dogs to babies revolve around one crucial point: slow and steady wins the race! 
Don't expect to see your jealous pooch suddenly turn over a new leaf, sometimes these things take time, and that's okay! Instead, place importance on nurturing solid boundaries and a pawsome relationship for your pooch and baby. 
Stay Calm
One thing dogs and babies have in common is their ability to feed off of your emotions. The more frustrated or nervous you feel, the better your chances of running into a faux paw. Keeping calm will trickle down to the room's energy and help everyone keep their cool. 
Staying calm will also help you when you're running through the introductions multiple times a day. At first, you will initiate introductions numerous times over a few days. These bite-sized introductions will not only help you stay confident with the situation, but they will also help you navigate any jealousy or aggression coming from your dog. 
Supervise at All Times
Until your baby is well into their childhood, leaving them unsupervised with any pet is far from a good idea. Your dog or baby can quickly react, and trouble can happen in an instant - even if you think they're best buds! This is particularly key in those first few days. Your dog may want to sniff your baby out, and your baby may want to reach out and feel these new textures. Either way, you have to keep your eye on the prize 24/7. 
Control the Introduction 
Remember, you are the parent! It's your job to make sure everyone is staying safe and the environment stays controlled at all times. You can try placing your dog on a lead as they get to know your baby, or even allow introductions through a slightly cracked door.
Again, this is where Door Buddy will come in handy. Door Buddy will allow you to keep your dog safe in their space, but stop them from being over-friendly and get a bit boisterous. Your dog can sniff your baby through the small gap that our adjustable strap provides - providing you with safety and efficiency for introducing dogs to babies!
Dogs and babies will furever hold a special place in our hearts as pawrents. When introducing dogs to babies properly, you will never regret the time you took to help your doggo and babe become the best fur-ends. After all, your dog is your first best friend!
CHECK OUT OUR MOST POPULAR CONTENT