WHERE TO PUT A CAT LITTER BOX IN
A SMALL APARTMENT
Just because you live in a small apartment doesn't mean you can't have pets (if the rules allow you to). It's totally paw-sible! Creatively using the space available is key to happy pets and owners.
If you have both cats and dogs, then a dog-proof litter box and a dog-proof cat feeder are necessary. Your cat needs its space and you need a break from potential litter box cat-astrophes! Luckily, we have a few helpful ways to keep small dogs out of the litter box here. 
So, if you're trying to navigate where to put cat litter box in small apartment or you've found yourself wondering where to put litter box in studio apartment, this post is for you! Let's get to it. 
LIVING WITH PETS IN A SMALL APARTMENT
Just because you live in a small apartment, doesn't mean you shouldn't be able to enjoy being a pawrent. Our cats and dogs bring so much love and joy into our lives, why would you want to be without them? With the right pet-proofing, and regular trips outdoors (mainly for our doggos), your furbabies can live a very happy life in your small apartment and you won't have to wonder where to put litter box in studio apartment.
If you are transitioning from a larger home to a smaller space, have a little patience with your pets while they find their grove. If you are introducing a new pet to your small apartment, you get to establish a routine and some ground rules right from the start. Lucky you!
At the end of the day, navigating a smaller space will have its challenges. However, with our help, the benefits will fur-ever outweigh the cons.
WHERE TO PUT A LITTER BOX IN A SMALL APARTMENT
The great thing about small apartments is that they often have odd nooks and crannies that aren't useful - unless you need to hide a litter box! As cat owners ourselves, we can relate to the struggles of finding a suitable place for the litter box. Then you have the added puzzle of finding a dog-proof litter box that's right for your furmily! 
These are two challenges cat owners face daily (along with a dog-proof cat feeder), but we're here to provide some answers. When it comes to where to put a cat litter box in a small apartment, we will share some unique and creative ideas for you to try out.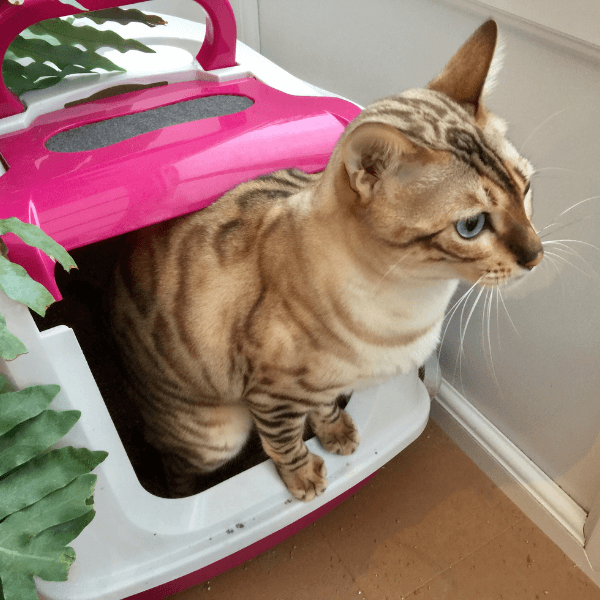 Behind A Screen
If you need to place your litter box in a main living area, a screen may be a good option for you. This can be in the form of a simple room divider, behind which you can place your litter box. You can opt for a litter box enclosure in spaces you'll be spending more time, just to give you and your kitty that extra bit of cover. 
Your room divider paired with a gorgeous litter box enclosure can make a wonder-fur, stylish addition to give your small apartment. These two items will add some character and give your cat the space it needs to do its business. In fact, if your litter box is kept clean, guests might not even know it is there!
Behind A Curtain
If you can hang a curtain in front of a little space in your apartment, you've got yourself the best place to put litter box in apartment. These locations are perfect for a top entry litter box.  
What we love about this cat owner hack is that it easily hides your top entry litter box, but you won't have to worry about your cat getting locked out of the space. Cats and closed doors? No thanks. 
Other ways to hide your litter box with a curtain include:
Under the table

Around a sink

In place of cabinet doors

Between two shelves
In a Piece of Furniture
If you're willing to cut a small door for your cat in your medium to large pieces of furniture, then these can make a paw-tastic place to hide a cat litter box. 
Wardrobe or Chest of Draws
If you have or can find a wardrobe or chest of draws that fits your style and has a decent amount of space at the bottom, this is another best place to put litter box in apartment. Simply cut a hole in the back or side to give your cat access, and you can use the drawer space or doors when you need to clean. 
TV Stand
TV cabinets tend to be long or large, making them an ideal space to hide a litter box. Here, you'll want to make sure your kitty can go in and out. At the same time, you will need to give them enough space inside the cabinet to do their business easily. This may mean removing a shelf or two. 
Cat Litter Box Furniture
Have a quick browse on Amazon, and you'll be able to find a wide range of cat litter box furniture for your apartment. These items look like a piece of furniture you would typically find at home, such as a coffee table, cabinet, or even a potted plant. The best part is that they enclose your litter box too!  
Un-fur-tunately, these aren't always the best option for the spacially impaired.
Get a Door Buddy
When renting an apartment, putting in a cat door is often not an option. Drilling and cutting holes for cat door interior products translate to one hefty deposit loss! On the other hand, investing in cat furniture or renovating your furniture isn't always possible in a smaller apartment.
That's where The Door Buddy comes in. 
Forget those cat door interior products! The Door Buddy's adjustable pet strap gives cats a safe space without damaging your home. Our cat door alternative offers an affordable solution that doesn't require any extra space - making it perfect for figuring out where to put a litter box in a small apartment. 
A few benefits of The Door Buddy include:
Installs in seconds

Gives cats easy access to rooms with the litter box and cat food

Keeps dogs and toddlers out of these rooms
Let's be honest for a second: a litter box is an eyesore! Now you can hide them away in a room without having to close the door completely. Our cat door latch for interior doors keeps your door open wide enough to let cats in while preventing dogs and toddlers from entering. 
If you're worried about the door closing your cat in or out of the room, we've solved this problem for you. The Door Buddy Combo comes with a handy cat door stopper to keep your door open for your kitty. This cat door latch for interior doors works on most door types too!
LITTER BOX TIPS FOR A SMALL APARTMENT
First thing's first, if your cat isn't used to using a litter box, this post is for you. We've got some great training tips that will help fur-miliarize them.
Being in a smaller space, the litter box's hygiene is more important than ever. Smells can easily waft around your home and doggos finding some kitty Roca can be a serious reality. Let's not forget about toxoplasmosis in cats too.
We suggest scooping the litter box as soon as you have seen your cat using it to prevent the odors from spreading around the house. If this isn't always possible, you can try to control the spread of scents with a litter box enclosure.
These work wonders when it comes to trapping bad smells until you can clean it.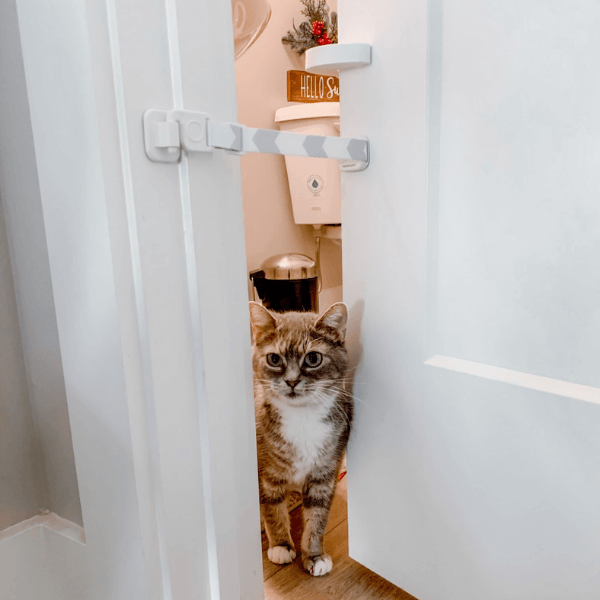 Of course, The Door Buddy will work wonders in keeping the litter box messes to a minimum.
Now that you've got a better idea of where to put a litter box in a small apartment, you're well on your way to making your home the purrrfect place for you and your kitty. 
CHECK OUT OUR MOST POPULAR CONTENT