5 DOG-PROOF LITTER BOX OPTIONS FOR BUSY PAWRENTS
Are you tired of dealing with a dog eating cat poop? We totally get it! Not only is this habit disgusting, but it's also not healthy for our dogs. 
If you're tired of chasing your dog out of the litter box, it's time to make that litter box dog proof! Did we mention that a dog eating cat poop is also unpleasant for kitties? They don't want their canine siblings digging around in their toilet. That's where we can help!
Being the busy pawrent you are, we know that finding the right solution to stop your dog eating cat poop is exactly what you're looking for. Let's jump in and see how we can help you make the litter box dog proof and keep the peace in your home. 
WHY DO DOGS EAT CAT POOP & WHY YOU NEED TO DOG PROOF LITTER BOX?
This is a good question, and there are many theories about why do dogs eat cat poop. Some people think that dogs do this because they lack nutrients in their diets. However, experts say that cat poop carries the aroma of recently-digested cat food, which attracts our doggos.
Here's the thing: whatever the main reason behind why do dogs eat cat poop is, it's worth investigating. If your the dog eating cat poop is getting out of control, you may need to consider a trip to the vet. Your vet will help you rule out any underlying issues and check out your doggo's belly. Litter can be a huge health hazard and cause major damage.
As much as our dogs might enjoy a kitty poop snack, it's not good for them and they are better off without it. By creating a dog proof litter box, you can prevent your dog from snacking on poop and rest easy knowing their stomachs are safe. Dog proof litter boxes and pet gate alternatives are a must in keeping our dogs healthy, preventing them from ingesting litter and poop, and saving you from smelly poop breath!
5 DOG-PROOF LITTER BOX OPTIONS FOR BUSY PAWRENTS
If a dog eating cat poop is something you struggle with at home, there is good news: litter boxes to keep dogs out exist, and there are ways you can dog-proof your home in seconds too. We've put together a few of our fur-vorite dog-proof litter box options that'll make your life easier without much effort.
A Hidden Cat Litter Box
Keeping the cat litter box hidden is easier said than done, right? What if that cat can't find it? What if it causes more trouble than it solves?
Well, these days, pet brands make some really pawsome products, which makes keeping the cat litter box hidden so much easier. Don't worry; we don't mean you literally have to hide the box, but instead, use a box that looks like a piece of furniture. 
You can also choose pieces of furniture specially designed to hide a litter box inside, giving your cat easy access. We love this cat litter box hidden from Tucker Murphy's Gaia Pet Litter Box Enclosure and this purrrfect option from Sikoon.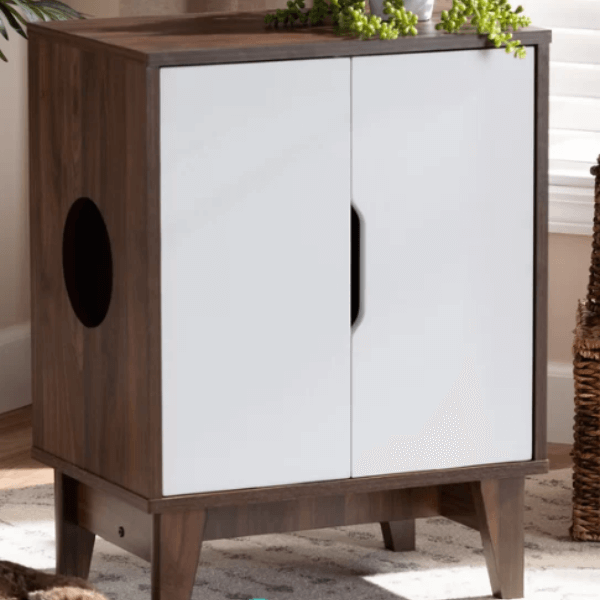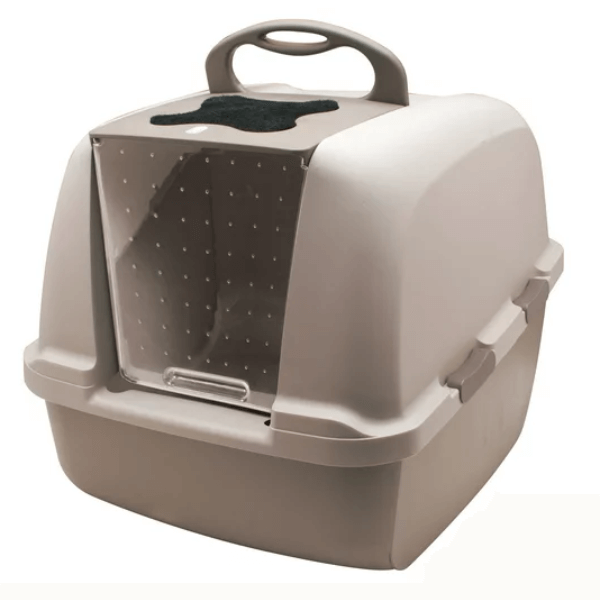 A Covered Cat Litter Box
If a hidden litter box isn't for your cat, then a cat litter box cover might be a better option for creating a dog-proof litter box. This is your standard litter box, but with a lid, so your dog can't get in there.
A cat litter box cover often has a door flap that allows your cat to go in and out easily, but it keeps the smells inside the litter box, preventing temptation for dogs. 
We love Catit's Jumbo Hooded Cat Pan when choosing a cat litter box cover for your home. Petmate's Boda Dome might also be a good option for your furmily if you are looking for a litter box cover that is a little more stylish. However, it's important to note that some cats may feel claustrophobic with this option.
A Cat Litter Box Enclosure
A cat litter box enclosure takes many shapes, depending on your needs. It can be similar to furniture to hide your cat's litter box, or it can be a created space dedicated to housing your litter box. A litter box enclosure can be made by a pet or baby gate or a much simpler solution, like Door Buddy's door latch. 
Creating a dog proof litter box enclosure using a gate or our door latch can give your cat the space that they need and desire. The best part about this option is that it keeps your dog out of the room with the litter box but still allows your cat freedom to enter and exit as they please. 
A Pet or Baby Gate
Using these gates is one way that pawrents are keeping dogs out of the room with the litter box. The gate blocks doggos (and toddlers) from entering the cat's space and snacking on litter box treats. If you don't mind cutting or drilling to install your gate, this is one way to create dog-proof litter boxes. 
You can get many types of pet and baby gates, so we'll share a couple of our top choices. Cardinal Gates Duragate Pet Gate is a solid choice for your home. If your cat is a little older, lazy, or chonky, you might choose a pet gate with cat door. This little door in the gate is especially created for your cat, so that it doesn't need to jump over the cat to access a room. We'd suggest this extra tall gate from Carlson.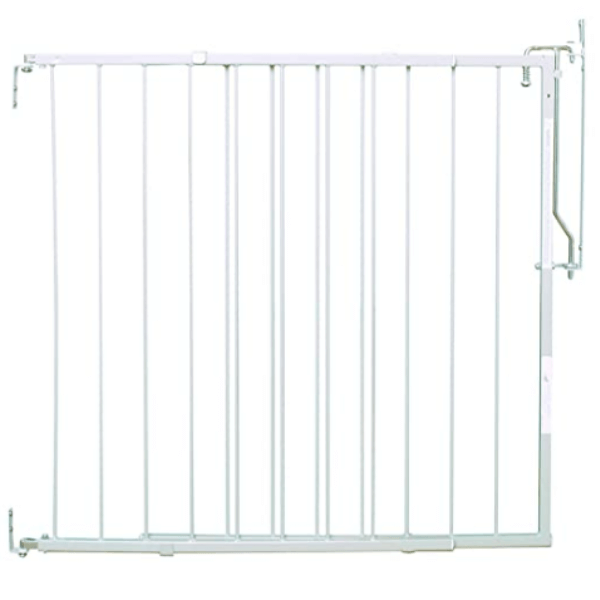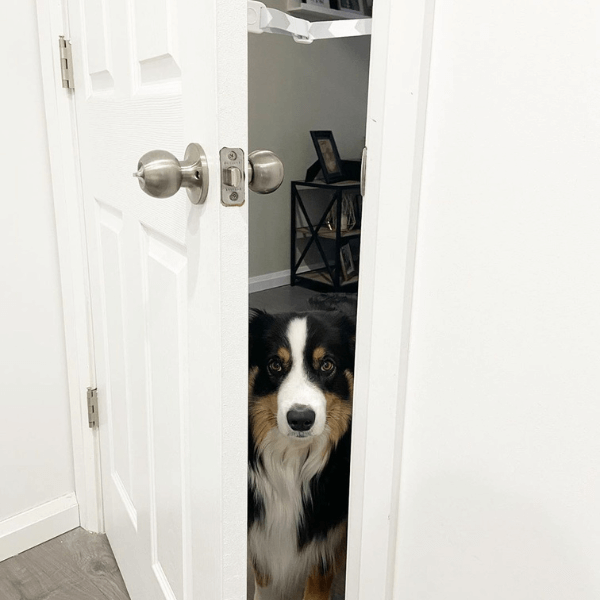 A Door Buddy Cat Door Strap
If you'd prefer a baby or pet gate alternative, you've come to the right place. Gates can be a little bulky and aren't always easy to move around if your hands are full. They also require drilling to install, which isn't ideal, especially if you are renting.
Enter Door Buddy, the ulti-mutt pet gate alternative and adjustable door strap. 
Creating dog-proof litter boxes doesn't get much more straightforward. Our cat door latch keeps your door open wide enough to allow your cat to go in and out but prevents your dog from accessing a room. You can keep the cat's food and litter box in a room and use our adjustable door strap to keep doggos out. 
Door Buddy's adjustable door strap works great for furmilies who want to:
Dog proof the litter box in seconds

Let cats into rooms while keeping dogs out

Dog proof various types of doors, including sliding, bi-fold, and double doors

Stay on budget with an affordable, effective interior cat door solution
What's even better? Our cat door stopper will prevent your door from closing, which might cause pinched fingers and prevent your cat from being able to go in or out. You can purchase a cat door stopper individually or choose our door strap for cats combo pack, which includes the pinch guard. 
WHY OUR PET GATE ALTERNATIVE IS THE EASIEST WAY TO CREATE
DOG-PROOF LITTER BOXES
For busy pawrents, we know you're looking for a quick, easy, and effective solution! Our pet gate alternative is just what your furmily needs to create dog-proof litter boxes without a fuss. Door Buddy door latch installs in minutes, and you don't have to worry about drilling or cutting holes in your door. 
Did we mention that our adjustable door strap works on most door types? We use strong 3M adhesives for a secure hold and easy removal if you need to move your Door Buddy. Most of our customers have doggos ranging anywhere between 12 to 120 pounds, and they love it. They are pleasantly surprised at how strong the adhesives are and how well it holds up to additional pressure, especially when using Installation Method 3. 
Armed with these five dog-proof litter box options, you're one step closer to stopping your dog from eating cat poop and giving your cat a little space! For more tips on how to keep dog out of litter box, read here.
CHECK OUT OUR MOST POPULAR CONTENT