HOW TO TEACH YOUR CHILD TO BE KIND TO PETS
How often have you heard your little one squeal with excitement and happiness whenever they see a dog or cat? For many kids, having a family pet is a dream come true. We don't think there's anything cuter than watching cats and toddlers or dogs and babies interact! If you're welcoming a new family pet into your home or introducing cats to babies, it is never too early to teach your little one about kindness to animals.
While pets are an ameowzing addition to our lives, one of our many pet ownership responsibilities is teaching our children how to show respect and kindness to animals. If you want to achieve those purrrfect relationships between your dogs and babies or your toddlers and cats, start while your kids are young. Take our word for it, childproofing hacks and safety gets a lot harder the older and more determined they get. 
When it comes to cats and babies, cats and toddlers, or even dogs and babies, where do you begin? What lessons do you need to teach your kids about kindness to animals? This blog post has it all!
THE IM-PAW-TANCE OF PET OWNERS TEACHING THEIR KIDS TO BE KIND TO ANIMALS
Whether you own a family pet or not, the chances are that your little one will come into contact with a cat, dog, or another animal at some stage. Teaching your kids to be gentle with animals will help provide a secure, peaceful environment for you and your pets. It could help prevent any potentially unpleasant interactions, such as dog bites, with unknown animals down the line.
No matter how well-behaved your child is, as their parent, you should always keep an eye on them when they're around animals. This is particularly important during the transition phase as your cats and babies or pets get used to each other. Even the gentlest little one can hurt, frustrate, or aggravate a furbaby without meaning to which is why child locks for door are essential.
After researching what cats are kid-friendly, you've got to make sure your efforts are well-complimented with a child proof door lock, like Door Buddy! No one wants your perfect family picture to turn into a cat-astrophe.
HOW TO TEACH YOUR CHILD TO BE KIND TO PETS
All we want to do for our kids and furbabies is to keep them safe, happy, and healthy. Your cat and dog owner responsibilities involve teaching your kids how to treat their fur-siblings properly. In turn, you will also show your pets how to interact with your children. But how do you start?
Keep reading for our top tips and activities to teach your children how to care for animals properly. 
Start as Early as Paws-ible
Did you know that around 70% of dog bites happen to children under 10? 77% of those bites are from dogs owned by family and friends. Before you start to worry, there are a lot of proactive steps you can take that ensures this won't happen in your furmily. 
This guide for new parents is a great place to begin when you're planning on introducing pets and babies! We take you through what needs to be done BEFORE baby or your pet arrives home, including some pawsome pet and childproofing tips. By taking the time to prepare, you'll be in a much better position to start building healthy relationships from the start. 
Some Im-paw-tant Dos and Don'ts
As soon as your child is old enough to start interacting with a pet, you'll want to make proper introductions to your cat and dog. Once these are out of the way, show your child how and where to pet a dog or cat, including in which direction the fur goes. Gently but firmly discourage any grabbing, smacking, or tail-pulling and tell your child what they can do instead.
Another essential lesson to teach your kids early on is to never get near a dog while they are eating or drinking and never try to take a toy away from your pet. Your parent, cat, and dog owner responsibilities will also include making sure your little one knows that they shouldn't startle a pet, throw something at them, or yell in their face. Also, if you notice cats or dogs playing or fighting, teach your child not to interrupt or get involved, as this could be dangerous.
Help your Kids Identify Animal Body Language
Talk to your kids about how your family pet might act when it is feeling irritated, angry, hurt, or scared. By learning what signs to look for, they will be able to tell if their actions are making your furbaby unhappy or uncom-fur-table.
Little ones are learning daily, and if you have a family pet at home, teaching them how to read your cat and dog's body language is a handy skill.
Another im-paw-tant point to get across to your kids is that if your pet is trying to get away, they need to let them go. There will be more time to play again later.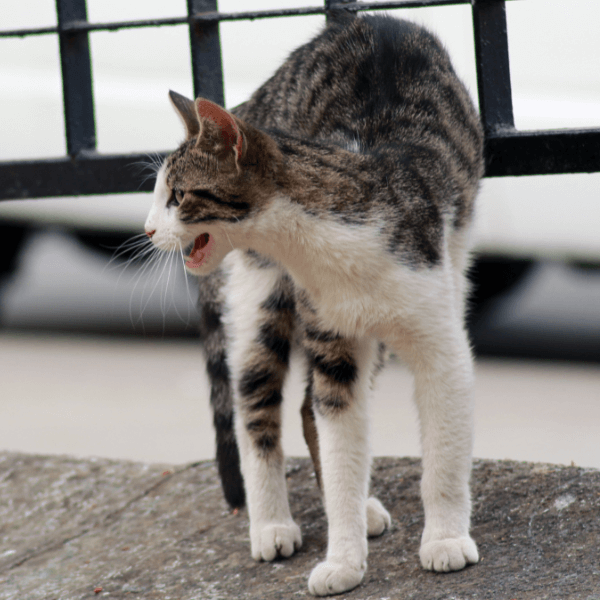 Teach your Child to Ask for Permission to Pet Other Animals
While you have a good idea of how your own family pets will react to your little one, knowing the same about a stranger's pet is difficult. For this reason, it's always a smart idea to ask before you just go ahead and pet an unfamiliar dog or cat. Not only does this show respect for the animal, but also for the owner of that pet.
Encourage and Reward Healthy Behaviors
In addition to leading by example to show animals kindness, it's also a good idea to encourage and reward your little ones when you see them acting positively towards pets. Behaviors that should be encouraged and rewarded include:
General gentleness and respect when interacting with animals

Playing calmly with an animal

Leaving animals (especially dogs) alone while they are eating

Understanding the proper ways to pet animals and doing this calmly

Not smacking, poking, yelling, or showing other abusive behavior toward animals

Not chasing after pets who want to be left alone

Asking to approach and touch any unfamiliar pets



Just as you reward your little hoomans for their gentle behavior, we'd suggest doing the same for your furbabies. They too should enjoy a little something when they behave the way you want them to towards your children. 
Instill Compassion for Animals
If your kids are old enough, you can start looking at activities to do together that will instill a sense of compassion for animals. Some ways to do this include:
Volunteering at an animal shelter

Organizing a class pet food drive or pet toy drive and donate to your local shelter

Visiting or taking part in education programs at your local zoo

Reading books or watching series or movies that focus on animal kindness

Playing pretend with a stuffed animal so your child can learn how to talk about how their pet is feeling and what their pet needs
Teaching your children to be kind to animals may seem daunting, but it is an essential life skill for your little one to have and one that will make the world a better place.
HOW TO HELP YOUR CAT AND DOG ADAPT
Teaching your kids how to treat your family pet is not only trying for parents but also for your furbabies. To ensure the best chance of success, you'll want to make sure your pets (especially cats) have a space of their own that they can run to whenever they need a break. This is where Door Buddy can help with childproofing hacks and our child-proof door lock!
Our adjustable door strap makes it easy to allow your cat a room of its own to which your little one has no access. This is a safe space where your cat can eat, sleep, and use the litter box. Using Door Buddy's adjustable door strap, you'll be able to create a gap with the door where your cat can come and go as it pleases, but your child can't fit through. It's the ultimate, easy-to-use child-proof door lock.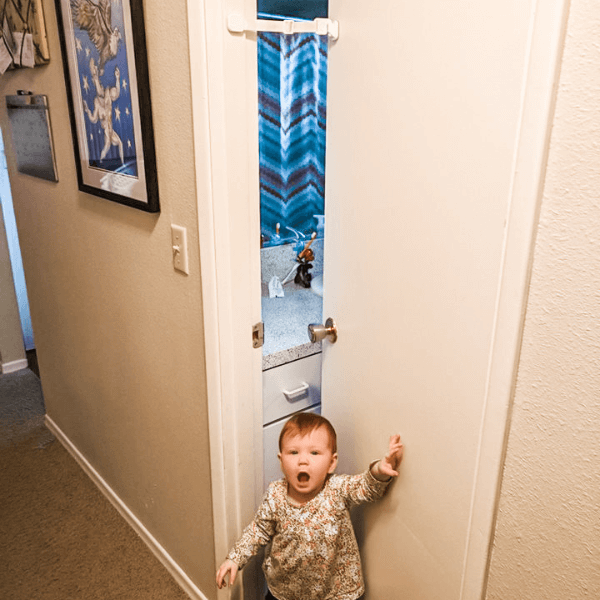 Door Buddy is the purrfect solution for keeping a toddler away from the litter box if you're looking for childproofing hacks and door locks for kids' safety. While your toddler might love your kitty, the litter box is never where you want to see your children playing.
With Door Buddy's combo option, you'll never need to wonder how to keep a toddler away from the litter box or worry about pinched fingers again.
Door Buddy is also a fur-tastic aid while introducing pets to babies. You'll be able to allow your kids and pets to interact safely through the gap in the door, before introducing them fully.
If you have a little one who needs a little more practice leaving the dog alone while eating or drinking, Door Buddy door locks for kids' safety can help. Put your dog in a room with a Door Buddy on the door while they enjoy their meal, and your child can watch from a safe distance.
SET THE PURRRFECT RESPONSIBLE PET OWNER EXAMPLE!
Now that you're all set with childproofing hacks, pawsome pet owner tips, and activities to help teach your children about kindness to animals, there's only one thing left to do - lead by example. Our little hoomans learn so much just by watching us, so we need to show them, through our actions, how to treat animals with care and respect. You've got this, moms and dads, and our door lock for kids' safety is here to support you!
CHECK OUT OUR MOST POPULAR CONTENT