4 BEST BABY GATE ALTERNATIVES FOR 2023
Being a parent is the most wonderful job in the world, but it certainly comes with its own challenges. Have you ever tried to work out all that babyproofing in your home? Yes, keeping your kids safe at home is undeniably important, but it can get complicated for us adults real quick. Let's not start with the baby gate with pet door set up.
Out of all the cumbersome child locks out there, we can agree that the baby gate holds the number one spot. As effective as they are, there has to be a baby gate alternative that's easier to use and is a little more convenient. 
Ready to learn more about our top alternative to baby gate picks? Grab your baby-proofing checklist, and let's get to it. This post will go through a few child locks for doors options, barriers, and even a baby door stopper that work like a charm.
WHY IS BABY PROOFING SO IMPORTANT?
Once your little one starts crawling and walking, you'll find they get into anything and everything. With so many items threatening their health and safety, babyproofing is an effective way to keep our babies and toddlers safe. From cupboards and drawers to doors and stairs, many objects require baby-proofing in our homes to keep those curious explorers out of trouble. 
If you're a pet owner, there's a good chance you've had to chase your child out of the litter box or pet food, or you've spent a fair amount of time worrying about it. Trust us, so has your cat! Having a baby proof litter box solution is essential for keeping your cat happy and your child safe. Not only is the litter box full of nasties, but it can also be a huge choking hazard (as is pet food!). That's where a baby gate with cat door or baby gate alternative comes in handy. 
Then there's also the fact that baby-proofing makes your job as a parent easier. All you gotta do is slap some door locks for kids safety, and you're good to go! No more worrying about if that door was closed correctly, if your partner put the medication in an out-of-reach area, or where you can buy a baby proof litter box. 
WHAT TO CONSIDER WHEN CHOOSING A BABY GATE ALTERNATIVE
There are some really innovative baby gate alternatives out there, and you might find a combination of options that will work well in your home. To help you make the right choices, we've put together a list of things to consider when choosing baby gate alternatives. These include:
Your Budget: How much do you have to spend on babyproofing?

Installation Methods: Do you need to cut or drill to install the baby gate alternative?

Aesthetics: Will the item stick out like a sore thumb or fit in with your home aesthetic?

Pets: If you're a pawrent too, will the baby gate alternative fit in with your pets' lifestyles?

Customer Reviews: What are other parents saying about a particular baby gate alternative?
BABY GATE ALTERNATIVES TO TRY THIS YEAR
Now that you know what to look for in an alternative to baby gate, let's take a closer look at some of the baby gate alternatives to try in your home. 
Door Buddy Door Latch & Baby Door Stopper
Regarding baby gate alternatives, the Door Buddy door latch and baby door stopper is about to become your best friend (if it's not already). This door latch lock childproof must-have offers the same security as a baby gate with cat door, letting cats move freely while keeping little ones (and dogs) out. If you want to baby-proof your interior doors without installing a baby gate, look no further. 
Door Buddy door latch uses strong 3M adhesive to attach to your door and door frame. The adjustable strap creates a gap that is too small for your baby or toddler to get through but will still allow for ventilation and cat movement. Whether you need to keep your little one out of the bathroom, kitchen, basement, or away from the litter box and pet food, our door latch and baby door stopper are the way to go. 
Installing your Door Buddy can be done without any tools, cutting, or drilling, which is perfect if you're renting (and for parents in a hurry!). Worried about pinched fingers? We've included our handy foam baby door stopper in our Combo option to prevent doors from closing on your little one and furry friends. You can also use our door latch on most door types, including sliding, bi-fold, and double doors.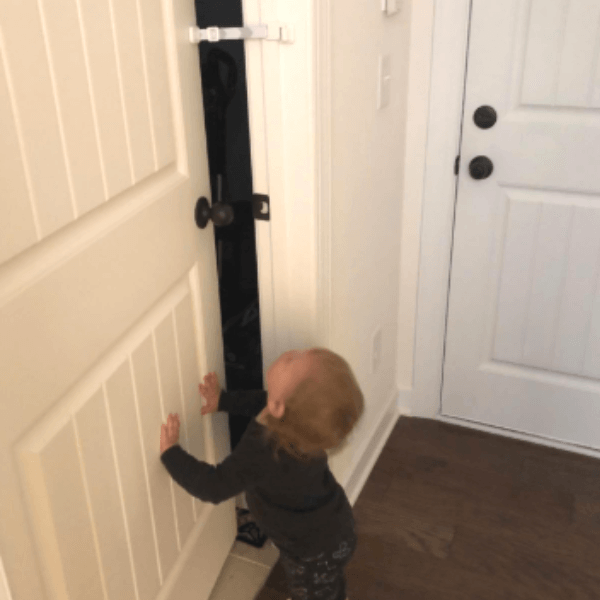 Last but not least, Door Buddy has over 25,000 5-star reviews from parents just like you. These testimonials prove how reliable our door latch is in keeping babies and furbabies safe and happy. Our products are the door latches baby proof checklists need to have on them! 
A Fabric Barrier
If you need to keep your kids away from stairs, a fabric barrier, like The Stair Barrier, is a fabulous alternative to baby gates. This fabric barrier is a much more aesthetically pleasing option if you want to replace baby gates for doorways leading to stairs or block off staircases in your home. While installing a fabric barrier often requires drilling, there are options to install using straps, especially where staircases are concerned. 
Unlike a baby gate with pet door, a downside to fabric barriers is that your pet needs to be able to jump over the boundary to go in and out of an area. This can particularly be troublesome for older cats and may not be the best baby gate with pet door alternative. However, as far as alternatives to baby gates for doorways leading to stairs or blocking off staircases, a fabric barrier might be just what you need. 
A Door Lever Lock
This type of child proof door lock involves a lock mechanism that installs around your door handle, preventing your child from being able to use the handle to open a door. Many child-proof door lock options are available, so it comes down to personal preference when choosing the right door lever lock for your home. 
Whether you need to cover a doorknob or prevent a door handle from moving up and down, or need to prevent pinched fingers, you'll find a child proof door lock to suit your needs. However, this baby gate alternative won't work if you're looking to replace a baby gate with pet door. You may also struggle if you need to babyproof double, sliding, or bi-fold doors. 
Top Lock Child Locks for Doors
Another alternative to baby gates is top lock child locks for doors. If you haven't heard of these before, they are gadgets you place at the top of the door, out of your child's reach, to keep the door locked. Parents can open top lock child locks for doors using a latch that little ones can't reach, which can be done from either side of a door.
The downside to top lock child locks for doors is that they often require some drilling and tools to install, which is especially inconvenient if you are renting. Babyproofing is also generally not permanent, so you'll need to fill holes and paint when you don't need the locks anymore. These locks generally only work with your standard doors and when the doors are closed entirely. 
And there you have it, moms and dads. As you can see, when it comes to babyproofing those interior doors and staircases, you do have a few baby gate alternatives that you can try. After all, it's no fun trying to navigate around a bulky date when you've got your hands full. 
Between door locks for kids safety and Door Buddy door latch with door stoppers, you're well on your way to keeping your little ones (and pets) safe and happy!
CHECK OUT OUR MOST POPULAR CONTENT